THE 5 BEST GRAPHITE PICKLEBALL PADDLES — ULTIMATE GUIDE
Nowadays, pickleball paddles seem to come in an endless combination of material, size, and weight. Then there's the interplay between different face materials and cores. Given all these factors, it can be hard to narrow down the right pickleball paddle for you! But players looking to dominate using primarily power shots will want a powerful yet lightweight, maneuverable paddle. All these factors together means they will do well to turn to one the 5 Best Graphite Pickleball Paddles!
Not familiar with pickleball paddles? Make sure to take a look at our Ultimate Guide to Pickleball Paddles before reading this post!
The 5 Best Graphite Pickleball Paddles — Overview
Please Note: This post contains affiliate links. An affiliate link means that we may earn advertising/referral fees if you make a purchase through our links.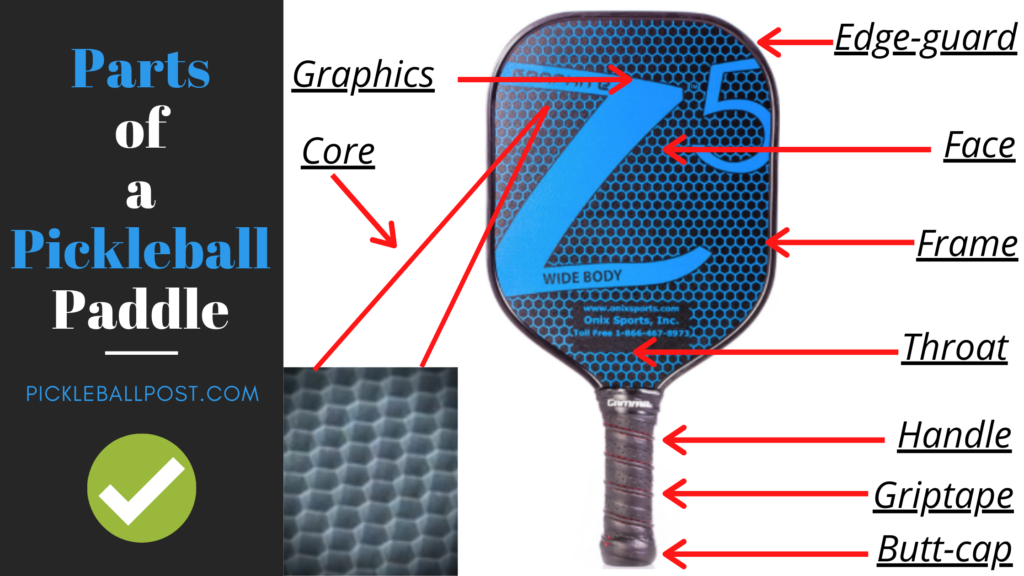 Why graphite? These paddles give players the opportunity to execute excellent power hits every time they come into contact with the ball, while their generally light weight preserves player stamina for extended games.
Of course, the graphite face covers a variety of cores — from polymer to aluminum to nomex, each with their own unique attributes — but in general, graphite paddles are very responsive, easy to handle, and durable.
There are different paddle surfaces for different aims: carbon fiber paddles are best for spin techniques, graphite paddles are best for power, and composite/fiberglass paddles strike a good balance between power and control. Of course, with the right technique, any of these paddles can produce some kind of spin, but these materials simply help orient shots one way or another.
Generally, graphite paddles are durable, strong, and highly maneuverable. They're great for beginners as well as more seasoned players. And though it is a lightweight material, the graphite's high density and smoothness easily facilitate strength-based shots.
Furthermore, graphite paddles tend to be the most expensive kind of paddle out there. But you'll find that the prices for the products we picked below don't even come close to the most expensive paddles on the market! So part of the purpose of this review is to let you all know about these great paddles with very fair price ranges.
This post will be all about the 5 Best Graphite Pickleball Paddles on the market in 2020, ranked by PickleballPost. We'll be looking at all the factors that make them the best graphite paddles, including how they feel combined with certain grips, cores, and more.
Ready to learn what the 5 Best Graphite Pickleball Paddles are? Let's get right into it!!
The 5 Best Graphite Pickleball Paddles — Definitive List
Please Note: As an Amazon Associate, I earn from qualifying purchases.
5 Best Graphite Pickleball Paddles — The Winner
The Face
The Niupipo pickleball paddle is our top pick for best graphite paddles on the market. Why? Well, usually graphite paddles are lightweight, which also means they're more brittle compared to other materials. But this paddle's graphite face is actually reinforced within by fiberglass.
The result is that you get all the benefits of a graphite paddle's maneuverability as well as the added durability of fiberglass.
The Surface Area
Not only is the face made of a strong, responsive material, but the surface area gives players an expansive sweet spot.
At 15.5 inches in length and 8.3 inches in width, including the handle, this paddle is the ideal size: wide enough to pull off spin shots when you want but compact enough to be easily handled. This paddle's size is standard and reliable in the pickleball world.
The Weight
Weight is also an essential factor that makes or breaks a pickleball paddle. The Niupipo paddle comes in at an even 8 ounces, right in the middle of the medium weight range. Some graphite paddles are lighter, often at the cost of the player's potential for power shots.
However, this paddle's weight is comparable to that of heavier paddles, like wooden ones. But unlike wooden paddles, the technology on this paddle absorbs shock much better and even gives you added control. So as a player you'll get the heft of these powerful paddles with the capability to control the ball that a typical light graphite paddle would allow. Sounds like the best of both worlds to us!
The Grip Size and Feel
Equally key to a paddle's performance is how it feels in your hand. The Niupipo paddle's grip measures 4.5 inches long, with the standard 4.25-inch circumference.
This grip is textured with a spiralized, perforated texture that makes it easy for your fingers to orient themselves by feel while playing. It's cushioned and designed to absorb perspiration so that your grip stays sure and comfortable throughout long plays.
The Core
The polymer honeycomb core on this paddle is perfect for distributing impact throughout the paddle, so if tennis elbow is a worry of yours, you'll find that this paddle is a great choice. Polymer honeycomb cores are also known for being quiet and compliant with noise-restricted facilities. And as we mentioned before, the core is further sandwiched between two thin sheets of fiberglass as a sort of reinforcer underneath the graphite face.
Looking above, you see that you actually get TWO Niupipo pickleball paddles at a great price. Both are USAPA-approved and come with protective covers for when you're not playing.
5 Best Graphite Pickleball Paddles — Runner Up
The Face
Like our winner, this paddle by the same brand is a strong choice for players seeking a graphite paddle. It's also reinforced by composite material underneath the face, meaning that you can expect more durability from this paddle than you would from other graphite models.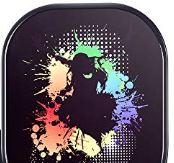 As a result, the rigidity of the graphite surface knocks out great power shots while the composite layer preserves the integrity of the product for as long as possible.
The Surface Area
In order to be successful at a game of pickleball, the surface area of your paddle must be right for your playing style. This paddle has dimensions of 15.5 inches by 8.3 inches, including the handle, making it a typical "wide" body type of paddle.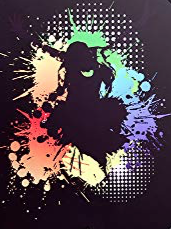 At this size, it's the preferred paddle type for the average player — wide enough to execute spin shots yet within the USAPA's regulations for official play.
The Weight
At 8 ounces, this paddle falls in the medium weight range, the ideal weight that you want in a paddle that is good at spin shots as well as power hits.
The Grip Size and Feel
How the grip feels while playing is another important consideration when choosing a paddle. Too narrow in your palm and your fingers overlap uncomfortably, but too wide and you lose the ability to spin the ball and maneuver properly — not to mention it might slip out of your hand in the middle of a game.
The grip on this paddle is the standard 4.25 inches in circumference and 4.5 inches in length. Usually this circumference fits most players, but if it doesn't fit you, you can always add 1/16-inch thick overgrips that mold to the original grip as needed. This paddle also features a perforation-style textured grip that makes it easy for your hand to find purchase without you having to look down to adjust your hold.
The Core
The heart — or core — of every paddle is key to how it feels, performs, and sounds on the court. This paddle's honeycombed polymer core is designed to absorb vibration, minimizing negative effects on sensitive joints. The loose O's of the honeycombed polymer pattern also reduce noise, so you can play in comfort knowing that your paddle doesn't violate noise restrictions at indoor facilities. And remember: the core is coated with a composite/fiberglass layer on both sides as an extra longevity measure.
The only main difference that separates this paddle from the first place winner is price — the set of 2 gives you a better deal, but if you really only need one paddle, the runner up is perfect!
5 Best Graphite Pickleball Paddles — Third Place
The Face
Our third place graphite paddle winner is the Uteeqe U1 pickleball paddle, which also comes in a set of two.
The textured face of this graphite paddle allows you to spin with ease. The surface is so important when it comes to spin because you want a paddle that is able to "grab" the ball for a fraction of a second during a hit, to send it spinning instead of merely bouncing off.
The Surface Area
The best paddles also must possess ample surface area. With this one, it measures 15 ⅞ inches in length by 7 ⅞ inches in width.
While not the widest paddle on the market, the Uteeqe U1 gives players plenty of room to practice their spin techniques as well as power shots.
The Weight
Not only do the best graphite paddles have a textured face but they also must have the right amount of heft. This paddle weighs in at about 7.8 ounces, right in the middle of the medium weight range for pickleball paddles. It's just right — heavy enough not to sacrifice too much power but light enough for easy manipulation.

Some graphite paddles are slightly heavier to give you just that much more of an edge when it comes to power, but generally most graphite paddles are just under 8 ounces.
The Grip Size and Feel
If the grip isn't comfortable in your hand, it doesn't matter how high-tech or high quality the rest of the paddle is.
The Uteeqe U1's grip measures 5 inches long, with the standard circumference of 4.25 inches. These dimensions are usually comfortable for most people, but should you need a smaller grip, downsize the paddle accordingly. If you need a thicker grip, overgrips will work just fine on any paddle, since they simply add onto the existing grip.
This paddle has a cushioned, contoured grip that easily absorbs perspiration, so you don't have to worry too much about it becoming a dangerous projectile during long periods of play.
The Core
The core on this paddle claims to give players the "benefits of both nomex and aluminum in one unstoppable package."
Indeed, the polymer core seems to blend the controllability of aluminum and the responsiveness of nomex. It also has a large sweet spot, perfect in guiding beginner pickleball players toward consistently good shots.
5 Best Graphite Pickleball Paddles — Honorable Mention
The Face
Any good shot starts at the paddle face. The Rally NX Graphite paddle features a "unidirectional" textured graphite face that allows you to spin the ball when you want.
The unidirectional detailing doubly ensures that your spin technique sends the ball consistently and accurately to where you want.
If you just want to strike the ball past your opponent, you can do that with this paddle too, thanks to its balanced weight — but more on that later.
The Surface Area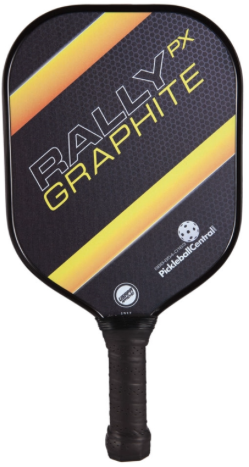 Measuring 15.75 inches by 8.25 inches with the handle, this paddle is a wide body paddle with plenty of surface area for spin techniques.
It's not the widest paddle on the market, but that's a good thing — too wide and the balance will be off.
On the other end of the spectrum, too narrow and it'll be harder to hit the ball, let alone find the sweet spot.
The Weight
Now, about weight: you might think that lightweight paddles fare better on the court because of how easy they are to handle. But if your paddle is too light, it won't deliver the substantial shots you're looking for.
That's why medium weight paddles hit the sweet spot (pun intended) when it comes to balance. The Rally NX Graphite paddle is one such paddle, at 7.6 ounces.
It's a little on the light side of the medium weight scale when compared to the previous three paddles we discussed, but this paddle still does a great job of giving your hits enough weight as well as control.
The Grip Size and Feel
With a grip that measures 4.75 inches long and 4.25 inches in circumference, this paddle is designed to fit the average player. It's a little shy of 5 inches long, meaning just that much more reach for the flat hitting surface itself.
Furthermore, the "Winn Dry Grip" technology makes for a lightly cushioned and moisture-absorbent grip.
Like the previous paddles we talked about, this paddle also features an ⅛-inch edge guard to protect it from hard surfaces.
The Core
The nomex honeycomb core on this paddle — compared to polymer cores, for example — hits more loudly and features more tightly packed O's for crunchier returns.
So if you play at a noise-restricted facility, you might want to consider a quieter polymer core paddle. But the Rally NX Graphite paddle is definitely durable and resists unwanted reshaping from repeated use.
5 Best Graphite Pickleball Paddles — Honorable Mention
The Face
Our last pick for top 5 best graphite paddles goes to the XS XSPAK pickleball paddle, which also comes in a set of 2.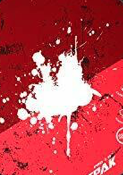 The graphite face on this paddle, like the other paddles discussed in this guide, is textured and designed to give players a good spin in addition to the power of typical graphite paddles. It's advertised as best for intermediate to advanced players, but beginners should still be able to get a good play out of this paddle.
The Surface Area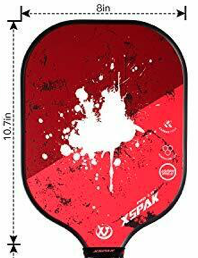 At 15.6 inches by 8 inches, this wide-body paddle is comparable to its peers on this list.
The surface area of the flat side only is 10.7 inches by 8 inches. It's the optimal size if your playing style mixes finesse and power hits.
The Weight
This 8-ounce paddle is solidly in the medium weight category. It's slightly heftier than the 7-ounce paddles out there, so be confident that this paddle can deliver sufficiently powerful shots just fine.
This paddle is also a good choice for those worried about the symptoms of tennis elbow, as medium weight paddles tend to be best at buffering the irritation characteristic of the condition.
The Grip Size and Feel
Before thinking about all the different features of this product, however, you'll need to get a grip on the right paddle handle for you. This one has a 4.9-inch handle and the typical circumference of 4.25 inches, the standard grip when it comes to paddle grip sizes.

This shouldn't be a problem for most players, but if you need a bigger grip, overgrips help thicken the original grip to your desired size.
The texture on this paddle's grip is also perforated and allows for maximal perspiration wicking.
The Core
The honeycombed polymer core on the XS XSPAK paddle is the ideal material for quiet play. So no worries if you play in a space that has noise level requirements.
Moreover, the relatively loose O's of the honeycomb pattern ensure better spin as well as a sizable sweet spot. Really, you can't go wrong with this paddle, as it offers quality materials at a great price.
Frequently Asked Questions
To Which Proficiency Levels Are Graphite Pickleball Paddles Best Suited?
Graphite paddles are perfect for beginners. This is usually because graphite paddles, especially paired with a nomex core (like our fourth place pick, the Rally NX Graphite paddle), tend to have the largest possible sweet spot. Beginners will get a great response from graphite paddles even if they haven't quite yet figured out proper technique.
That said, graphite paddles are great for all playing levels. Intermediate and advanced players, using their knowledge and experience with complex wrist techniques, are even better able to take advantage of the sizable sweet spots on graphite paddles.
Why Are Graphite Paddles So Popular?
Graphite paddles are some of the most popular paddles on the market because they are lightweight yet deliver meaty hits. They also tend to be the most expensive paddles out there, but this list proves that the best is not necessarily the most expensive. There are graphite paddles out there that cost upwards of $150, but you won't find any of those here.
Not to say that those more expensive paddles are simply overpriced — factors such as labor and materials influence the prices of different products. We simply want to say that, contrary to their pricey reputation, great graphite paddles can be had at very reasonable prices.
Why Should I Choose a Graphite Paddle over Composite or Carbon Fiber?
If you're a player that loves smashing hits past your opponent — as opposed to using spin techniques to outwit them — a graphite paddle is the one for you.
Now, that doesn't mean that graphite paddles can't spin when wielded to do so. Our list comprises quite a few textured-face paddles that effectively "hold" the ball for a fraction of a second longer to add that spin upon return.
If you're looking for paddles better suited for spin, check out our list of the 5 Best Pickleball Paddles for Spin! But if you seek a paddle that strikes an equal balance of spin and power ability, go for composite paddles coated with a fiberglass surface.
Are Graphite Paddles Better for Spin or for Power?
Graphite paddles are better for power shots. This is because they tend to have denser, harder surfaces than their composite or carbon fiber-faced counterparts. The harder surface means that the ball bounces more readily off the face.
As we mentioned before, certain graphite paddles can spin — including those discussed in this review — but that's due to the added rough texture. Generally, graphite paddles are relatively smooth, but adding texture will make it competitive with spin-specialty paddles.
Is a Graphite Paddle Durable Enough for Me?
Graphite paddles are some of the most durable on the market. That said, carbon fiber paddles are generally the most durable, but any top quality paddle should last you a good while as long as you take care of it.
How should you care for your paddle to prolong its life? UV rays slowly destroy the integrity of the paddle's construction — especially polymer paddles — so avoid too much exposure to the sun. This means putting your paddles away in a case whenever it's not in use, especially before and after outdoor play.
Some high-quality paddles are sprayed with a special UV protective vinyl covering, but just to be extra careful, protect your investment by limiting your paddle's exposure to sunlight.
Moisture also adversely affects paddle wear, so if your paddle gets wet, make sure it dries completely before returning it to its case. Also try not to play outside when it's raining.
Can I use my Graphite Paddle Outdoors?
The short answer is yes! Keep in mind, however, that unless it is coated in a UV protectant (usually epoxy), your paddle is susceptible to sun damage, just like our skin. So if you play outdoors, keep it in a case when it's not in use. And try to refrain from playing outside in the rain, as wetness can also compromise the integrity of a paddle over time and create "dead" zones.
There are also noise restrictions to take into consideration at certain facilities, since the sound of paddles on impact can get quite loud. So if you play at an indoor, noise-regulated facility, you might do better with a quieter polymer-core paddle, or other so-called "Green Zone"-approved paddles. But always double check that whatever product you want to buy is compliant.
How Loud are Graphite Paddles?
It isn't so much the surface material that determines loudness as it is the core material. Polymer cores — like the ones on the Niupipo, Uteeqe U1, and XS XSPAK pickleball paddles covered in this guide — tend to be quietest, while wood, aluminum, and nomex core paddles — such as the Rally NX Graphite — are louder.
So look out for core materials rather than surface to influence noise level.
What's the Difference Between Graphite and Carbon Fiber Paddles?
Both are made of carbon, but graphite tends to be lighter in weight and denser than carbon fiber. Carbon fiber, on the other hand, is not as dense, but it is known to be very strong due to its heavier weight. But as our top two picks for best graphite paddles demonstrate, graphite paddles are also strong, especially when reinforced by fiberglass.
When comparing graphite and carbon fiber paddles, consider the weight of the paddle as a whole rather than the weight of just the face material. After all, you won't be wielding just the face on the court.
Are Graphite Paddles Good for Players with Wrist or Elbow Issues?
Surface material isn't such an important factor when it comes to minimizing wrist or elbow issues. Rather, it is the core material and pattern that will determine how well the paddle absorbs impact instead of passing it onto your arm. Honeycombed polymer cores tend to work best at reducing hit vibration, and most of our graphite paddle picks do possess this core.
With conditions such as tennis elbow or arthritis, it can be difficult to find a comfortable paddle. Lighter paddles are recommended for people with arthritis, while medium weight paddles are best for players with tennis elbow. However, it ultimately comes down to the individual player — perhaps certain players with arthritis might feel more comfortable with a medium weight paddle, for example.
Grip feel is another important consideration. The more cushioned and tacky it is, the better able it'll be to absorb shock while preventing you from having to grip too much for it to stay in your hand.
If you're able, try out different weights and grips at your local pickleball facility — most should have paddles on loan that you can test. Then, if you're ready to purchase your own based on your personal comfort level, get the paddle that's best for you.
Are Graphite Paddles Better for Playing Singles or Doubles?
Graphite paddles work very well for both singles and doubles games for different reasons.
For singles, the power you get from graphite paddles make it more likely that you'll be able to smash hits past your opponents with greater ease. For doubles, it's harder to get hits past your opponents just because of the fact that two players cover more court ground than one.
However, doubles games do tend to last longer than singles games. In these situations, you'll be glad for the lighter weight and good maneuverability of graphite paddles because you'll tire more slowly than you would if you were using a heavier paddle. All the more reason to get a graphite paddle!
Conclusion
That sums up our extensive guide on the 5 best graphite pickleball paddles of 2020. If you made it this far, congratulations! We hope you've learned a great deal about the unique properties and characteristics that graphite pickleball paddles have to offer.
We discussed the face material, surface area, weight, grip, and core of each product and how each factor goes into its performance. We looked at what makes graphite paddles so good not only at power shots but also controlled hits, given the right textured face and techniques. We compared each pick's features to its peers — you be the judge of which features are most important to you. And finally we answered some common questions that people in the pickleball community have asked regarding graphite paddles.
Comments
What do you think of our picks? Do you have any of these paddles in your collection? If so, what are your thoughts on them? If not, are you considering these or any other graphite paddle? Is there a graphite paddle we missed that you think deserves to be on this list?
Or, if you have more information regarding one of the FAQs, what would you add to our responses?We love hearing from our friends in the pickleball community, one of the most rapidly growing categories of sportspeople in the U.S. Leave a comment below and we'll get back to you as soon as possible. Until next time!