NIUPIPO GRAPHITE PICKLEBALL PADDLE (Single) — INTRO
If you're in the middle of searching for your next pickleball paddle, you know that the possibilities are pretty much limitless! Some questions you may have: What should my paddle be made of? What is the right grip size for me? Will this paddle last me a long time? Well, this review — for the Niupipo Graphite Pickleball Paddle (Single) — should help you narrow things down a bit!
The following review is for our second-place pick from our top 5 Best Graphite Pickleball Paddles review. Check out the full list if you want a run-down of all our choices, including a helpful question-and-answer section tackling some commonly asked concerns. Also be sure to check out our Pickleball Paddle Ultimate Guide for an extensive look at ALL the pickleball paddle options out there, if you're not already familiar with them!
Graphite paddles — like the Niupipo Graphite paddle — are a strong choice for players who like harnessing the power it takes to hit shots past their opponents. Read on to find out more about this awesome paddle!
Niupipo Graphite Pickleball Paddle (Single) — Overview
Please Note: This post contains affiliate links. An affiliate link means that we may earn advertising/referral fees if you make a purchase through our links.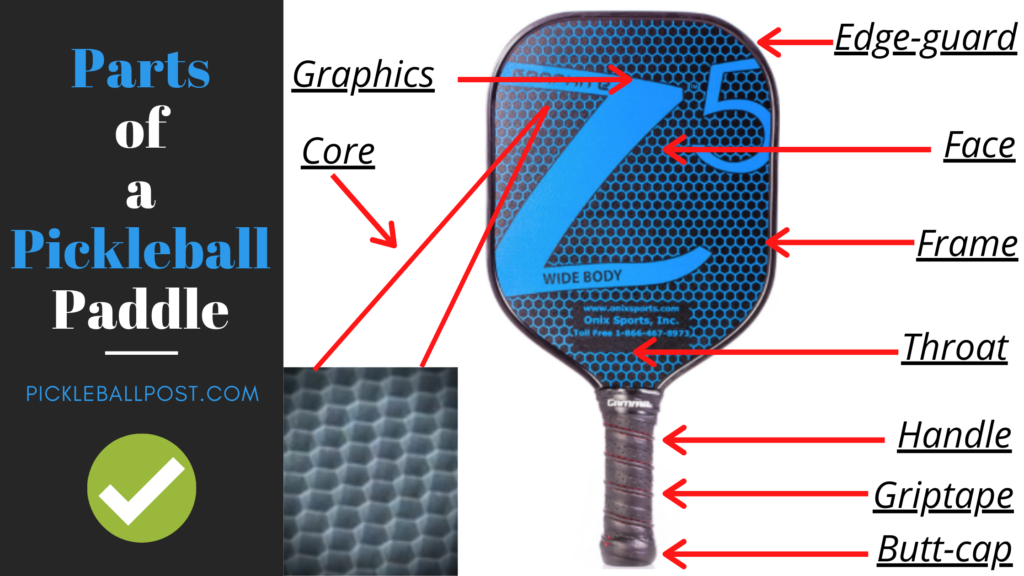 The Niupipo Graphite paddle is a great pick for anyone who likes winning by using smash hits, while retaining all the benefits of a lightweight, easily maneuverable paddle. Graphite paddles are known for these handy features, but there's a significant plus you get from this particular graphite paddle.
Below we'll tell you all about this special feature, in addition to factors like weight, grip, core, and more — they all come together in this paddle's ability to perform at its best. Ready to learn what makes this graphite paddle so special? Let's get right into it!
Niupipo Graphite Pickleball Paddle (Single) — The Basics
Please Note: As an Amazon Associate, I earn from qualifying purchases.
The Face
As we mentioned in the intro, the face of the Niupipo Graphite pickleball paddle is made of graphite, but that's not all. It's actually reinforced by composite material on both sides underneath the face, so you can expect more sturdiness and strength from this paddle than you would from others.
Thus, you'll find that the rigidity of the graphite surface delivers great power shots while the composite layer ensures the longevity of the product through long, extensive use. How's that for durability?
The Surface Area
Surface area is an important consideration when looking for a new pickleball paddle. Including the handle, this paddle has dimensions of 15.5 inches by 8.3 inches, a typical "wide" body paddle. Of course, it's within the USAPA's regulations for official play, so you don't need to worry about that if you ever start competing in an official capacity.
Wide body paddles are widely accepted within the pickleball realm as the paddle type of choice, as they have an optimally-sized sweet spot for knocking out spin techniques as well as power shots.
The Weight
At 8 ounces, this is a medium weight paddle, the ideal weight that you want in a paddle that is good at power hits while staying light enough for long periods of play. Though many graphite paddles tend to be on the lighter side of the weight spectrum, it's all up to your personal preference.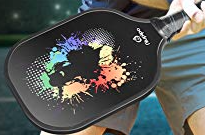 We recommend this paddle for its heft — use the extra weight to your advantage by putting more weight behind your spin, or even more strength behind your power shots! You'll be pleased at how well this paddle rises to the challenge.
The Grip Size and Feel
The grip must also feel comfortable in your palm to allow for good handling. If it's too narrow, it won't feel right because your fingers overlap. But if it's too thick, you run the risk of losing hold of the handle in the middle of a game, as well as a decreased ability to perform techniques of finesse.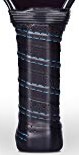 The Niupipo Graphite paddle's grip is the standard 4.25 inches in circumference and 4.5 inches in length. This circumference is meant to fit most players, but if it's too small for you, you can always add overgrips as needed. These 1/16-inch thick adhesives mold to the original grip to give you more traction and grip circumference.
But if you don't need the overgrips, you'll benefit from this paddle's perforated, textured grip that absorbs perspiration and allows you to orient your hand with ease.
The Core
This paddle has a honeycombed polymer core that is designed to distribute vibration throughout the paddle rather than up through your arm. The loose O's of the honeycombed pattern also reduce noise, so it should be perfectly compliant with noise-restricted indoor facilities.
On top of that, remember that the core is sandwiched between two thin layers of a composite/fiberglass material on both sides of the face, making the paddle even more vibration-absorbent and durable.
Pros
light feel of graphite but with composite reinforcement
polymer honeycomb core absorbs impact
comfortable perforated grip
broad surface area and sweet spot
comes with protective neoprene case
Cons
graphite face is not textured specifically for spin
Not sure if this particular paddle is the right one for you? Take a look at the Uteeqe U1 Pickleball Paddle and the XS XSPAK Pickleball Paddle to see whether one of these models may be a better fit for you! The Rally NX Graphite Pickleball Paddle is quite popular as well!
Conclusion
That concludes our review of the Niupipo Graphite pickleball paddle! We hope we've helped you narrow down your next selection of pickleball paddle.
If you've read our previous review on the set of 2 Niupipo Graphite pickleball paddles (our #1 pick from our 5 Best Graphite Pickleball Paddles post), you'll notice that the main differences between those paddles and this one are aesthetics and price. They each feature a different beautiful design on the face, but the set of two paddles gives you a better deal price-wise. However, if it's really only one paddle you need, we absolutely recommend getting this one!
Comments
Have questions about anything we covered in this review? Or, have you tried this particular paddle and have something to share about its performance? We'd love to hear from you! Pickleball is one of the fastest-growing sports in the U.S., so we know there's plenty of valuable experiences people can share that will benefit newer players. Leave a comment in the forum below, and we'll do our best to get back to you as soon as possible!
Hope to see you in the next review!