GAMMA COMPASS NEUCORE PICKLEBALL PADDLE — INTRO
When playing pickleball at a high level, your choice of paddle becomes more and more important. In this blog, we'll tell you all about the Gamma Compass NeuCore pickleball paddle, a preferred paddle for more advanced players!
It's the last honorable mention in our 5 Best Pickleball Paddles for Spin post, so this paddle is also a particularly good spinner. We'll break down all the details that we think make it a great fit for players looking for a high quality, easily maneuverable paddle. Want a quick refresher on all things pickleball paddle? Check out our Pickleball Paddle Ultimate Guide!
Gamma Compass NeuCore Pickleball Paddle — Overview

Please Note: This post contains affiliate links. An affiliate link means that we may earn advertising/referral fees if you make a purchase through our links.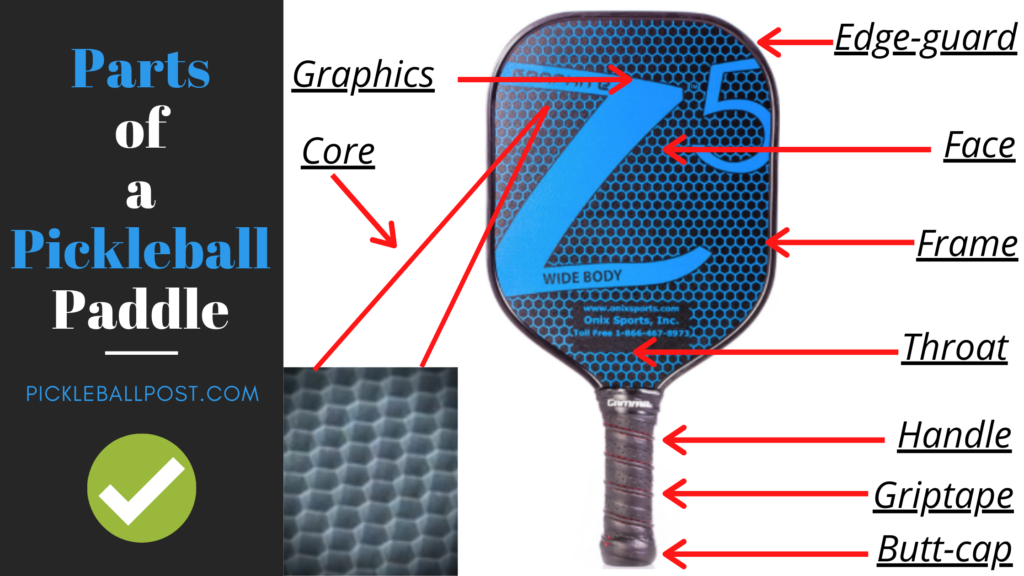 From its face to its grip to even its size and weight, the Gamma Compass Neucore paddle has unique features that make it a great spin paddle that also gives players an extra edge! If you've read our reviews of other great spin paddles — for example, the Paddletek Tempest Wave II or the Engage Pickleball Encore Pro paddle — you might notice that this paddle looks a little different.
Are you ready to learn how these different features contribute to this paddle's performance? Let's dive in!
Gamma Compass NeuCore Pickleball Paddle — The Basics
Please Note: As an Amazon Associate, I earn from qualifying purchases.
The Face
The graphite face on this paddle gives players a nice balance of power and control, as most graphite paddles do. This means that you have a choice between executing good power shots or good spin shots with every hit.
Unlike fiberglass or carbon fiber, the softer graphite texture provides a more responsive feel, giving you more control over your game.
The Surface Area
Including the handle, this paddle's surface area measures approximately 16 ½ inches in length by 7 inches. This makes it a little taller and narrower than typical wide body paddles, so you'll find that this paddle gives you that much more reach on the court.
However, the added range comes at the expense of an inch in width, so if you're more used to playing with standard wide body, 8-inch-width paddles, you'll have to adjust accordingly with this one.
But if you're an advanced enough player, being able to spin with this paddle shouldn't be a problem.
The Weight
Weighing in at about 7.8 ounces, this paddle is right in the middle of the medium weight range of pickleball paddles. Medium weight paddles are known for offering the perfect balance of spin control and power, and the Gamma Compass NeuCore paddle is no exception.
It's neither too light to take away from the strength behind power shots, nor too heavy to perform quality spin shots. That makes it an excellent choice in our book!
The Grip Size and Feel
The grip length is 4 ¼ inches — shorter than you'll see on standard wide paddles, which measure at least 5 inches — while its circumference is 4 ⅛ inches. This is also considered smaller than average, since the standard grip circumference is 4 ¼ inches. It isn't comfortable to use a grip that's too small for your hand, and it'll result in a reduced ability to spin.
That's where overgrips come in. Overgrips are 1/16-inch thick strips you can place over the original grip to gradually make it big enough for your hand, should you need it.
But if this size suits you, you'll be able to benefit from what the company calls "Signature GAMMA Honeycomb Cushion Grip." Yes, the grip, too, has a textured honeycomb pattern! This will allow your fingers to sit even more comfortably on the grip for longer periods of play.
The Core
You'll notice that this paddle is a little thicker than others on the market. Indeed, the core is 25% thicker and features larger cells in the core's honeycomb pattern.
The company claims that these added features help distribute both vibration and sound for more comfortable, quieter play.
Like with other honeycomb pickleball paddles, this paddle allows the player greater spin control than on, say, wooden paddles.
Pros
graphite face gives good balance of power and control
added length provides greater reach
honeycomb textured grip for extra comfort
thicker honeycombed core absorbs more impact and sound
Cons
grip is on the small side
more expensive than comparable paddles
narrower width may compromise spin
Not sure if this particular paddle is the right one for you? Take a look at the Pro-Lite Supernova Black Diamond Pickleball Paddle or the Selkirk Amped Pickleball Paddle!
Conclusion
We hope this guide comes in handy when you're thinking of the next pickleball paddle to add to your collection. The Gamma Compass NeuCore paddle is a great addition if you're looking for something a little different than the standard wide paddle, and even better if you want to boost your skill level by trying a narrower paddle.
Comments

If you decide to give this paddle a try, first of all, good for you! Now, what do you think of its performance? How does it differ from other paddles you may have tried, specifically as regards spin ability? Let us know in the comments below! We love interacting with our friends in the pickleball community, so don't hesitate to reach out with any input about the game. We'd love to learn from you and we're sure others in the community would, too.