RALLY NX GRAPHITE PICKLEBALL PADDLE — INTRO
You may be wondering — out of all the pickleball paddles out there to choose from, what's the best one for me? Well, if you're a player who likes using smash hits to beat opponents, it may be that you're looking for a graphite paddle. Maybe even the Rally NX Graphite pickleball paddle!
Why this particular paddle? We covered it in our 5 Best Graphite Pickleball Paddles review, so it's a standout in the paddle marketplace. Not familiar with all the options out there? Be sure to have a look through our comprehensive Pickleball Paddle Ultimate Guide to learn more!
After sifting through countless graphite paddles on the market, we're excited to tell you all about the Rally NX Graphite paddle. It's got some really cool features that make it stand out from the pack. Ready to learn what they are? Let's find out!
Rally NX Graphite Pickleball Paddle — Overview
Please Note: This post contains affiliate links. An affiliate link means that we may earn advertising/referral fees if you make a purchase through our links.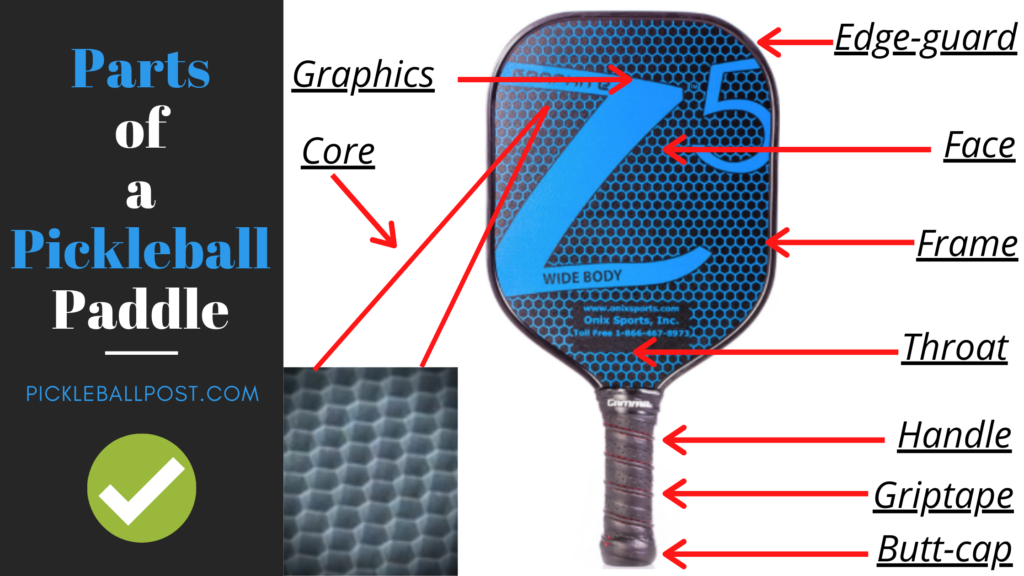 In addition to having an effective playing style, players should consider all the advantages (and any potential disadvantages) of the paddle they're using. If you're considering a change, keep in mind that a paddle's many component parts are important because of how they affect overall performance.
For the Rally NX Graphite pickleball paddle, we've broken down all these parts for you below — including the racquet's face, surface area, grip, core, and weight — so that you can make the most informed decision possible. This paddle is different from others we've reviewed, so let's start going over what makes this paddle so unique!
Rally NX Graphite Pickleball Paddle — The Basics
Please Note: As an Amazon Associate, I earn from qualifying purchases.
The Face
The paddle face is the best place to start if you want to know how the paddle performs. The Rally NX Graphite paddle features a "unidirectional" textured graphite face.
This unique feature allows you to create spin with your returns, giving you an extra edge over your opponents. The unidirectional detailing locks in more consistency in terms of sending the ball where you want.
This is why we think this paddle is so versatile — it has the capability to spin or strike hard at the player's whim.
The Surface Area
With a 15.75-inch length (including the 4.75-inch handle) and an 8.25-inch width, this paddle is considered a wide body paddle, meaning it offers a generous sweet spot for all kinds of hit techniques.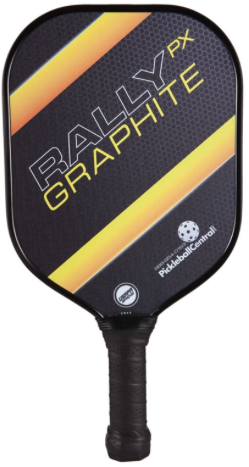 Although it's called "wide," that doesn't mean it's wider than average; in fact, wide body paddles are the most commonly used in the pickleball world.
The classic shape strikes a nice balance between good size and controllability. Too wide and the balance won't be comfortable enough to maneuver. On the other hand, too narrow and it'll be harder to hit the ball consistently.
The Weight
One might think that the lighter the paddle, the better. But if the paddle is too light, it won't be able to execute good power shots.
This is the main reason why most people prefer medium weight paddles, as opposed to light or heavy weight ones. The Rally NX Graphite paddle is an example of a medium weight paddle, measuring 7.6 ounces.
You might point out that it's a little on the light side of the medium weight spectrum when compared to other medium weight models, but this paddle still does a great job of delivering substantial power shots while allowing you as much control as possible. And you can experience the difference in weight when it comes to longer periods of play — playing with a heavier paddle means you generally tire faster.
The Grip Size and Feel
The grip on this paddle measures 4.75 inches long and 4.25 inches in circumference. With this circumference, it's designed to fit the average player.
Some grips are 5 inches or longer, so this paddle will give you a little extra surface area on the face itself.
Regarding the grip material, the company's "Winn Dry Grip" technology makes for a lightly cushioned, sweat-absorbent grip.
The Core
The nomex honeycomb core on this paddle indicates that hits will come off more loudly (at least compared to honeycombed polymer cores) because of the pattern's more tightly packed O's.

This is something to consider if you normally play at a noise-regulated facility.
But the fact remains that the nomex core of the Rally NX Graphite paddle is durable and rigid enough to withstand prolonged use.
Pros
textured graphite face is good for spin techniques
lightweight but powerful
comfortable grip
generous sweet spot
Cons
Not sure if this particular paddle is the right one for you? Take a look at whether the Uteeqe U1 Pickleball Paddle would be a good fit! The Niupipo Graphite Pickleball Paddle (single) is also a popular choice as of recent (it also comes in a set of two)!
Conclusion
There you have it — our complete review of the Rally NX Graphite pickleball paddle, an honorable mention from our post on the 5 Best Graphite Pickleball Paddles. We went over the unique features of this product and how they all come together to influence its performance.
We hope you were able to learn all there is to know about this product, and that we've helped you narrow down your next choice in pickleball paddles!
Comments
Do you have any questions or comments about anything we covered in this review? Have you tried this paddle? How does it compare to other graphite paddles you may have used in the past?
Do you prefer a certain kind of paddle, be it graphite, fiberglass, wide body, elongated, or other? We'd love to know your thoughts! Every voice in the pickleball community deserves to be heard, so feel free to share and one of us will get back to you as soon as we can.