NIUPIPO GRAPHITE PICKLEBALL PADDLE — INTRO
Welcome to another one of our pickleball paddle reviews! This time we're going to talk about our top pick from our 5 Best Graphite Pickleball Paddles review: the Niupipo Graphite pickleball paddle! Not only is this a high-performing paddle, but this amazing product also comes in a set of two! Compared to the individually sold product, it's a great deal!!
We've talked at length about the best paddles for spin in our 5 Best Pickleball Paddles for Spin post, as well as in our individual product reviews. Now we're excited to bring you more reviews about the best graphite paddles on the market, ranked by us. But wait – Not familiar with pickleball paddles in the first place? Make sure to check out our Pickleball Paddle Ultimate Guide!!
Down below we'll go over everything you need to know about this paddle, as well as what makes graphite paddles so wonderful. Every detail contributes to the paddle's performance as a whole, so let's get started!
Niupipo Graphite Pickleball Paddle — Overview
Please Note: This post contains affiliate links. An affiliate link means that we may earn advertising/referral fees if you make a purchase through our links.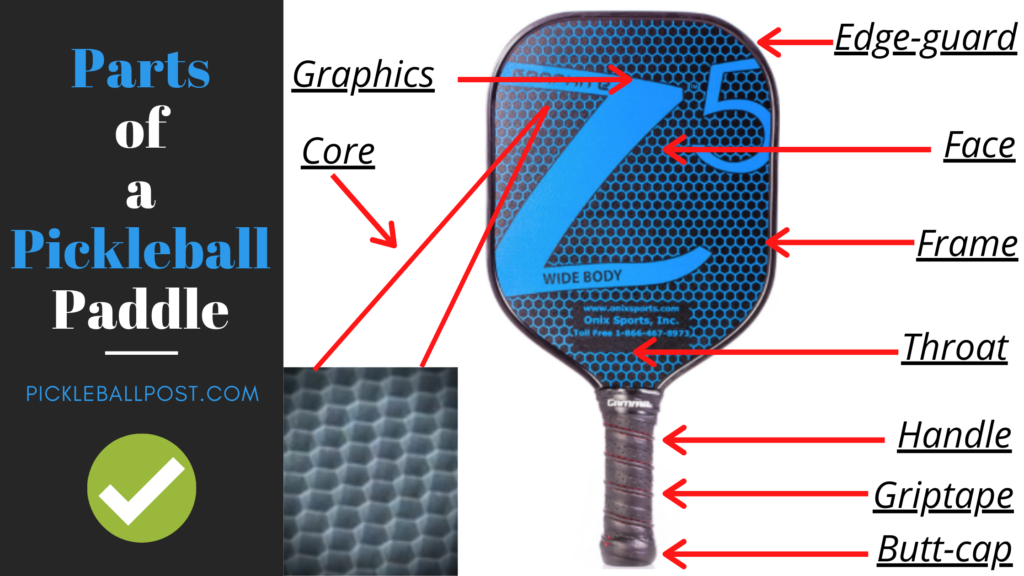 The Niupipo Graphite pickleball paddle has unique features to its face, surface area, weight, grip, and core. All of these factors have an impact on the court that you should be able to feel should you choose this as your next paddle. It's a little different from other paddles we've reviewed, such as the Pro-Lite Supernova Black Diamond and the Selkirk Amped pickleball paddle, in a few key ways.
Ready to learn why we think so highly of this graphite paddle? Let's dive right into it!
Niupipo Graphite Pickleball Paddle — The Basics
Please Note: As an Amazon Associate, I earn from qualifying purchases.
The Face
The Niupipo Graphite paddle's face is made of high quality graphite, meaning that it's particularly good at power shots. As a light material, it also gives players an edge in terms of perseverance during a match — the lighter handling means getting tired less easily.
If you recall our Ultimate Guide, you might remember that graphite paddles are more brittle compared to other materials. While this is true for most graphite paddles, this paddle is actually reinforced by fiberglass. As a result, you get all the maneuverability of a graphite paddle's light feel as well as the hardness and strength of fiberglass.
The Surface Area
Surface area happens to be another important consideration when buying a new pickleball paddle. On this paddle, its responsive material and enhanced sweet spot means it takes full advantage of its 15.5-inch length and 8.3-inch width. These measurements include the 4.5-inch long handle.
This paddle has the typical dimensions of a "wide" body paddle.
There's ample surface area for you to be able to pull off spin shots as well as power shots — whichever fits the moment.
The Weight
The Niupipo paddle weighs 8 ounces, right in the center of the medium weight range. This isn't unusually light for a graphite paddle; in fact, it's pretty similar in weight to a lot of other paddles we've reviewed.
Because it's got a fair bit of weight to it, it absorbs shock very well, making it a good choice for those suffering from conditions like tennis elbow. But it isn't so heavy that you lose spin ability — it would just take the right technique and finesse to pull off. So we think this paddle actually strikes a great balance between power and control.
The Grip Size and Feel
It's a given that how a paddle feels in your hand takes precedence over all the other factors. If the grip doesn't give you enough traction or if it's too narrow, it won't matter too much how good a player is.
The Niupipo paddle's grip is 4.5 inches long, with the standard 4.25-inch circumference. The grip is textured with a perforated, spiralized texture that makes it easy for you to position your fingers without looking.
Furthermore, it's cushioned and sweat-absorbent, much like the best of tennis racquet grips.
If these measurements are too small for your hand, you might need to find a paddle with a smaller grip (grips cannot be made narrower). However, if you find you need a bigger handle but like the rest of the paddle, you can simply add overgrips by 1/16-inch increments to make the grip fit your hand. This is a wise move if you want to prevent blisters and calluses!
The Core
This paddle's polymer honeycomb core is perfect for distributing impact and absorbing sound throughout the paddle, so if tennis elbow or noise level is a worry of yours, this paddle is a great option. Polymer honeycomb cores are usually compliant with noise-restricted facilities, but always double-check if you're not sure.
Moreover, as previously mentioned, the core is enforced by two sheets of fiberglass underneath the graphite face.
All this is sealed off by a proprietary edge guard that protects the paddle from inevitable contact with hard surfaces like the ground, usually during low returns.
Pros
light feel of graphite but with fiberglass reinforcement
polymer honeycomb core absorbs impact
comfortable perforated grip
broad surface area and sweet spot
Cons
graphite face is not textured specifically for spin
Not sure if this is the right paddle for you? Check out the Uteeqe U1 Pickleball Paddle, the Rally NX Graphite Pickleball Paddle, and the XS XSPAK Pickleball Paddle to see if one of those models is a better fit for you!
Conclusion
We've come to the end of our review of the Niupipo Graphite pickleball paddle. In addition to all the reasons mentioned above, we think this product is a great choice among pickleball paddles made of any material because it comes in a set of two at a great price.
It is USAPA-approved and comes with protective covers for when you're not playing, so you can save money andprotect your investment from the elements. And it doesn't hurt that the visual graphic of the face is vibrant and stunning.
Comments

Now that you know all that this paddle has to offer, what do you think? Are you swayed to purchase it? Do you own it already? What do you make of its performance compared to other paddles you may have tried, graphite or not? Is there anything else we or your fellow picklers should know about this product, or graphite paddles in general?
You know we love hearing from our readers in the pickleball community — everyone has a unique perspective that can benefit other players. So get in touch with us in the comments section! We'll be sure to get back to you as soon as possible, and see you in the next review!