UTEEQE U1 PICKLEBALL PADDLE — INTRO
Regardless of skill level, there's always a way to up your pickleball game! Usually that means adjusting your technique or style, but sometimes it means getting a shiny new paddle. If you're in the market for the latter, we've got just the one for you: the Uteeqe U1 pickleball paddle.
This versatile paddle is our third place pick from our 5 Best Graphite Pickleball Paddles post, so it's a very good choice especially for those looking into graphite paddles. Need a refresher on how graphite paddles are special? Head over to our Pickleball Paddle Ultimate Guide for that and more information.
If you're a player who loves overpowering your opponent with strength-focused shots, a graphite paddle may be exactly what you need. Ready to learn why we think so highly of this particular paddle? Let's dive into it!
Uteeqe U1 Pickleball Paddle — Overview
Please Note: This post contains affiliate links. An affiliate link means that we may earn advertising/referral fees if you make a purchase through our links.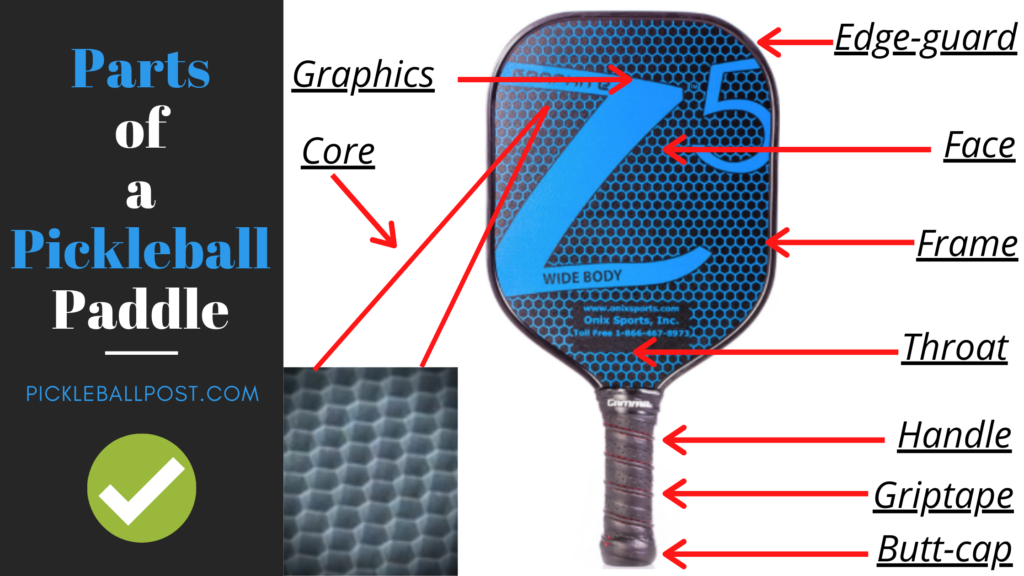 In this review, we'll tell you all about what makes the Uteeqe U1 pickleball paddle such an outstanding graphite paddle, including its face, surface area, weight, core, and grip. These factors all contribute to the overall performance of a paddle, so you'll want to weigh each of these specs carefully.
The best graphite paddles are the ones that can deliver great power shots while remaining lightweight in the player's hand. This is one example of a paddle that's great at doing just that. Let's learn more about its specific features!
Uteeqe U1 Pickleball Paddle — The Basics
Please Note: As an Amazon Associate, I earn from qualifying purchases.
The Face
As we've already established, this paddle has a very responsive graphite face, which makes hits bounce off it consistently and accurately.
Moreover, it has a textured face that allows for spin techniques to come off with ease.
A textured surface is so important when trying to spin because the paddle will have to be able to "bite" into the ball for a fraction of a second, so that it goes spinning instead of merely ricocheting off like a normal hit.
The Surface Area
In addition to having a textured face, this paddle has ample surface area through which spin techniques can be achieved. It measures 15 ⅞ inches in length by 7 ⅞ inches in width.
Compared to other paddles on the market, it isn't the widest, but the Uteeqe U1 offers players a generous sweet spot on the face, with plenty of room to practice controlled and power shots.
The Weight
Graphite paddles are known for being powerful yet lightweight. This paddle weighs about 7.8 ounces. That puts it right in the middle of the medium weight range for pickleball paddles. To us, it's just the right amount of heft for powerful hits but still light enough for easy maneuverability.
Some graphite paddles come heavier, but it's all up to individual taste. We will point out that a difference of 0.2 ounce doesn't seem like much in the beginning, but it may make a difference over the course of a longer game.
The Grip Size and Feel
The face and weight of the paddle alone aren't the only things that make or break a paddle. It also needs to fit your hand comfortably. The Uteeqe U1's grip measures 5 inches long, with the standard circumference of 4.25 inches. It comes cushioned, with a raised contouring that easily guides your fingers and absorbs perspiration.
Given that the 4.25-inch circumference is standard, it's usually comfortable for most people. But if you need a smaller grip, you'll have to choose an entirely different paddle with a narrower grip. But if it's a thicker grip you need, simply place overgrips over whichever paddle you'd like to make bigger. Overgrips thicken by 1/16th-inch increments and should come with traction.
The Core
This paddle's core claims to offer the "benefits of both nomex and aluminum in one unstoppable package." This just means that the core — which comprises a proprietary, honeycombed and polymer oriented pattern — combines the controllability of aluminum and the responsiveness of nomex.
It also means a large sweet spot, which we covered previously, so rest assured that even beginners can pull off consistently good shots with the help of this special core.
Pros
light but powerful graphite face
textured face good for spin
comfortable, contoured grip
large sweet spot
edgeguard for added paddle protection
Cons
grip might be long if you're looking for slightly more surface area
Not sure if this particular paddle is the right one for you? Take a look at the Niupipo Graphite Pickleball Paddle (single) to determine whether it is the right pickleball paddle for you (the Nuipipo also comes as a set of two if you are playing with a friend)! The XS XSPAK Pickleball Paddle is also a good option to consider!
Conclusion
Let's wrap up what we covered in this review of the Uteeqe U1 pickleball paddle. It's got all the features you want in a great paddle: power, spin ability, light weight. Which is why it's even more amazing that this product comes as a set of two, in addition to two pickleballs!
So the price — as well as the value you get from the paddle's performance — is a great reason to consider the Uteeqe U1. On top of that, each paddle sports a beautiful geometric, minimalist design on the face.
Comments
If you have this paddle — what do you think of it? How does it measure up to other graphite paddles, or even just other paddles in general? Do you have a preferred graphite paddle? We want to know!
Leave a comment below and we'll make sure to get back to you as soon as we can. Every pickler has something valuable to contribute to the community, so don't hesitate to tell us your thoughts.
Until the next review!