WIN SPORTS WOODEN PICKLEBALL PADDLE (SET OF 2) — INTRO
For the easiest possible way to pick up pickleball, we recommend choosing a paddle set that comes with more than one paddle as well as multiple pickleballs! This is especially true for younger players, to whom ease and convenience are paramount. That's why we recommend the Win SPORTS Wooden Pickleball Paddle set, which comes with all the accessories necessary to get started!
This is the third paddle from our list of the 5 Best Junior Pickleball Paddles, which rates the very best junior paddles on the market! Each product was selected based on the specific values of a younger player in mind, namely durability, weight, and feel.
But juniors aren't the only ones who can benefit from paddles specialized just for them — browse our site for other paddle-specific lists, such as elongated and spin-oriented paddles. Or, if you want a one-stop shop for a general overview of pickleball, check out our Pickleball Paddle Ultimate Guide!
But stay right here if you're ready to learn more about the Win SPORTS Wooden Pickleball Paddle!
Win SPORTS Wooden Pickleball Paddle (set of 2) — Overview
Please Note: This post contains affiliate links. An affiliate link means that we may earn advertising/referral fees if you make a purchase through our links.
If you (or your child) like simplicity and durability, this product might just be the one for you! The Win SPORTS Wooden Pickleball Paddle comes with two classic wood paddles and four pickleballs. That's everything a player needs to get started, so you won't have to worry about searching elsewhere to pull all these items together!
This review will discuss how this paddle's face, surface area, weight, grip, and core add up to the racquet's overall performance on the court. Then we will pull all these features together in a concise pros and cons list so you can see for yourself if this is the paddle set for you or the junior in your life!
That's quite a bit to get through, so let's get started!
Win SPORTS Wooden Pickleball Paddle (set of 2) — The Basics
Please Note: As an Amazon Associate, I earn from qualifying purchases.
The Face
This paddle set is ideal for juniors who aren't fussy about their paddles and just want the right tools to start playing.
They'll get both sturdiness and reliability with these 7-ply wood paddles, which happen to be among the most durable kinds of paddle out there.
It's also edgeless, so players can take full advantage of the entire face to return shots.
Wood paddles have been around for a while — pickleball was first played with this type of paddle — so it won't let junior players down any time soon!
The Surface Area
Each paddle measures 15 ⅗inches by 7 ½ inches, meaning that they are both typical wide paddles.
Good news is that this paddle size is the size of choice for most players because they're the best mix of controllability and power!
In other words, they are compact enough to maneuver but not so compact that the hitting face is compromised.
In fact, for these reasons they're perfect for juniors just starting out, since they'll likely do best with a paddle that has a good balance of control and power.
The Weight
It's normal for wood paddles to weigh more compared to paddles constructed of other materials.
For the Win SPORTS Wooden Pickleball Paddle, it weighs in the range of 9 to 10 ounces, which is actually on the light side relative to other wood paddles!
That's especially good for the junior player, since the lighter weight will allow them to play longer without getting tired from lifting or swinging.
The Grip Size and Feel
The handle measures 5 ½ inches and has a standard circumference of 4 ¼ inches.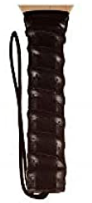 There's also a wrist strap at the end of it for extra safety, in case younger players loosen their grip on the paddle mid-swing.
There may even be enough space lengthwise for the junior player to use both hands to swing. That flexibility is a major perk!
Another note on the grip: it's made of a perforated cushion material that stays dry and comfortable even throughout longer matches.This will help you junior avoid developing blisters or calluses!
The Core
The 7-ply wood core performs with hits that sound and feel crunchy.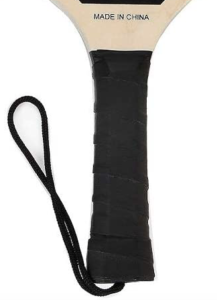 From its solid sound and feel, you can tell that it's a highly resilient and strong paddle.
And though it isn't the most vibration-dampening paddle, most beginning players are simply looking for control, strength, and durability — features that the Win SPORTS Wooden Pickleball Paddle set delivers in spades!
Pros
good for power shots due to weight
generous surface area
edgeless design does not interfere with hits made off the edge
comfortable grip with safety strap
comes in a set of 2 paddles, 4 pickleballs, and a mesh ball bag
Cons
may be heavy for some junior players
paddle face is loud and not shock-absorbent
Not sure if this particular paddle is the right one for you? Take a look at the JP WinLook Pickleball Paddle or the A11N HyperFeather Pickleball Paddle!
Conclusion

That concludes our review of the Win SPORTS Wooden Pickleball Paddle set! We analyzed the paddle's unique face, surface area, weight, grip, and core and how they all may benefit junior players in particular.
Then we summarized these features in the above pros and cons list, which you can refer back to as often as possible until you decide on the best junior paddle or paddle set for you!
Comments
Have you ever heard of or tried this paddle before? Do you think it's a good fit for your child? What features do you think are most important in a junior paddle? Is there a different paddle you'd suggest for this age group?
Tell us! Many of our readers are also looking for the perfect junior paddle, so you could help them out by sharing your insight! We love reading and responding to every comment, so leave a reply below and we'll get back to you as soon as possible!