XS XSPAK PICKLEBALL PADDLE (SET OF 2) — INTRO
Here at Pickleball Post, we think the only thing better than getting yourself a new pickleball paddle is getting yourself TWO new pickleball paddles! That's right. The following review is for the XS XSPAK pickleball paddle, which is sold as a set of two. We're excited to tell you all about the power of its performance as well as the value you'd be getting!
This isn't just any paddle. It's the fifth and final pick from our 5 Best Graphite Pickleball Paddles review, so it's a stellar product not only for the price but also for its individual performance. Not familiar with the variety of pickleball paddles out there? Check out our helpful Pickleball Paddle Ultimate Guide for a walkthrough of all the details!
This article will conclude our series of reviews on the best graphite paddles on the market for 2020. Graphite paddles are especially good for players who like overpowering their opponents with a solid yet lightweight paddle. If you haven't checked out the other reviews yet, be sure to do that after reading this post! For now, let's explore why the XS XSPAK is such a great graphite paddle.
XS XSPAK Pickleball Paddle (set of 2) — Overview
Please Note: This post contains affiliate links. An affiliate link means that we may earn advertising/referral fees if you make a purchase through our links.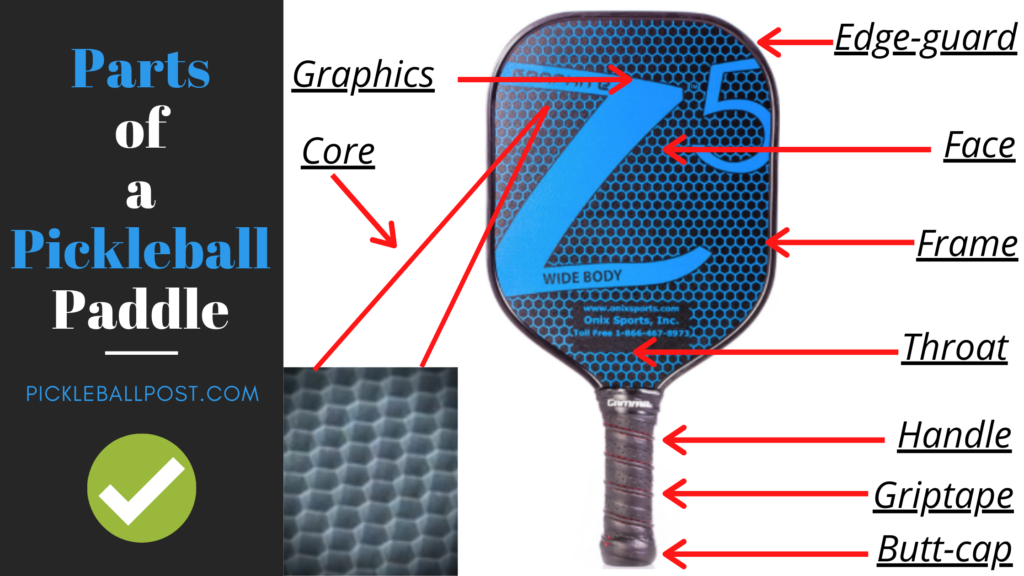 From grip size to weight to surface area, there are lots of factors to consider when purchasing a new pickleball paddle. We're going to tell you all about the unique features that make the XS XSPAK paddle worthy of its place as one of the top five graphite paddles. After reading, you might find that this paddle is exactly the one you're looking for.
Ready to learn why we think so highly of this specific product? Let's dive into it!
XS XSPAK Pickleball Paddle (set of 2) — The Basics
Please Note: As an Amazon Associate, I earn from qualifying purchases.
The Face
The graphite face of this paddle is lightly textured so that players get a good spin in addition to the power of typical graphite paddles.
Players of all levels should be able to get the most out of this paddle, since it's good for basic hits as well as more advanced spin techniques.
Furthermore, the edgeguard adds durability to this paddle, protecting it against contact with hard surfaces like the ground.
The Surface Area
At 15.6 inches by 8 inches (including the handle), this wide-body paddle is the ideal size for most players. This is because the sweet spot of a wide-body paddle is generous, making for intuitive and satisfying play.
With a surface area in this range, players find that they're able to pull off spin techniques as well as power shots whenever they wish.
If you're a player looking for more reach, however, you might want to look into elongated paddles. But keep in mind that these paddles will change the sweet spot, since every paddle is different when it comes to this feature.
The Weight
This 8-ounce paddle is right in the middle of the medium weight category. It's slightly heavier than other 7-ounce graphite paddles out there, but this just means that this paddle can deliver power hits with relative ease.
A paddle of this weight is also a good choice for those worried about flare-ups of tennis elbow, since medium weight paddles tend to strike the best balance between being heavy enough to absorb impact but light enough to grip, lift, and swing easily.
The Grip Size and Feel
The XS XSPAK has a 4.9-inch handle and a typical circumference of 4.25 inches, which is the standard grip size for pickleball paddles.

If you happen to need a bigger grip, overgrips help thicken the original grip in 1/16th-inch increments until it fits your desired size.
Regarding the material of this paddle's grip, it has a perforated texture that wicks moisture for maximum comfort while playing. This is an important feature for protecting against getting blisters or calluses!
The Core
The honeycombed polymer core on this paddle is the best core for quiet play.
This is because the relatively loose O's of the honeycomb pattern diffuse vibration and sound better than other core materials, like nomex or aluminum.
So if you play at a noise-restricted facility, this may very well be the right paddle for you!
Pros
lightly textured graphite face good for spin techniques
polymer honeycomb core absorbs impact and noise
comfortable perforated grip
generous surface area and sweet spot
comes with protective neoprene cases
Cons
The 1/5th inch edgeguard is more conspicuous than other edge guards.
Not sure if this particular paddle is the right one for you? Take a look at the Uteeqe U1 Pickleball Paddle, the Rally NX Graphite Pickleball Paddle, and the Niupipo Graphite Pickleball Paddle (single) to see if one of them would be a better fit for your style!
Conclusion
That wraps up our review of the XS XSPAK pickleball paddle, our final pick from the 5 Best Graphite Pickleball Paddles in 2020. As a reminder, this paddle comes as a set of two — along with two protective cases to keep your investment in top condition when you're not using it.
Furthermore, we hope this comprehensive look into all the specs helps you narrow down your options when buying a new paddle. Whatever you choose, we hope you'll remember the unique benefits that graphite paddles can offer to your game!
Comments
Have you ever tried this paddle before? What do you think? How does it compare to other paddles you may have used before, graphite or otherwise? Leave us a reply below letting us know your thoughts and/or questions.
We love hearing from our friends in the pickleball community! It would be our pleasure — as well as that of other pickleball players — to hear your input about the game.