A11N HyperFeather Pickleball Paddles (set of 2) — INTRO
If you're looking for the best paddle or paddle set for younger players, we have just the one for you! The A11N HyperFeather Pickleball Paddle set combines all the most important features a junior paddle should have — and it comes in a set of two paddles, four pickleballs, and protective cases for all of it!
This is the #2 paddle from our list of the 5 Best Junior Pickleball Paddles, which is a ranking dedicated to all things junior paddles! We've selected each product based on its weight, feel, and durability, specifically in the hands of a younger player!
If you'd like to learn more about other types of paddles, including those for more advanced players, head to our Pickleball Paddle Ultimate Guide! It has all the important information you'd need to get started with the game, including playing techniques and answers to frequently asked questions!
But if you're here to learn about this top junior paddle, let's get started, shall we?
A11N HyperFeather Pickleball Paddles (set of 2) — Overview
Please Note: This post contains affiliate links. An affiliate link means that we may earn advertising/referral fees if you make a purchase through our links.
The A11N HyperFeather Pickleball Paddles (set of 2) not only come in a set of two paddles but also with four pickleballs and protective cases for each paddle! Having all the equipment to get started is crucial to a good junior paddle product, since it takes the hassle out of looking elsewhere for all the accessories. Junior players can get started with a friend right away!
This post will analyze the paddle's face, surface area, weight, grip, and core for each feature's unique contribution to the paddle's overall performance. Then we'll summarize with a brief pros and cons list to help you determine what's most important to you in a junior paddle!
Ready to learn more about the A11N HyperFeather Pickleball Paddles? Let's begin!
A11N HyperFeather Pickleball Paddles (set of 2) — The Basics
Please Note: As an Amazon Associate, I earn from qualifying purchases.
The Face
The A11N HyperFeather Pickleball Paddles each have a resilient graphite face, which is a great material for returning powerful hits.
Furthermore, they're extra durable due to the edgeguard going around the face. Edgeguards protect paddles from rough contact that otherwise could damage or reshape the paddle.
This is an especially important feature considering that younger players tend to be a little rougher with their equipment than other age groups.
The Surface Area
Lengthwise, each paddle is 15 ½ inches, and widthwise they are 8 inches. These dimensions qualify them as wide paddles, which are considered the ideal size for most players.
That's because they're compact enough to handle but still sufficiently sizable to deliver good shots from a generous sweet spot.
Compared to other wide paddles, the A11N HyperFeather Pickleball Paddles in particular are a bit more square, so that means you'll have more hitting space around the corners!
The Weight
Despite the more squarish shape, each paddle weighs a relatively lightweight 8 ounces.
Although this is technically medium weight, it's still light enough to feel comfortable in the hands of most junior players!
The middling heft will allow players to leverage a good bit of power without sacrificing too much control. That's great news for anyone first starting out in the sport!
The Grip Size and Feel
Each handle is made of a sweat-absorbent, spiralized, and comfortably cushioned material.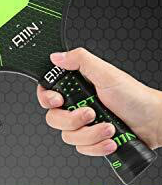 The grip circumference is a standard 4 ¼ inches and a little under 5 inches long. These are pretty standard measurements even for adult grips. 
But the great thing about this product is that it comes with overgrips, should the junior player graduate to a bigger grip size! This eliminates the need to get a whole new paddle as the child grows — which means more bang for your buck!
The Core
Each paddle also comes equipped with a polymer honeycomb core, which is an incredible paddle core regardless of age or experience level!
That's because polymer honeycomb cores are excellent at absorbing impact and dampening noise, so the player experiences a very comfortable and quiet paddle.
Its responsiveness also makes it an easy choice for the beginning player who prioritizes the ability to control the ball!
Pros
graphite face is powerful and durable
edgeguard provides added protection
comfortable grip
light weight is manageable for younger players
polymer honeycomb core effectively absorbs vibration and noise
comes with 2 paddles, 2 protective paddle cases, 4 pickleballs, two overgrip spools, and a drawstring bag for all
Cons
roughly the same measurement specs as a typical adult paddle
Not sure if this particular paddle is the right one for you? Take a look at the JP WinLook Pickleball Paddle or the
Conclusion
That does it for our review of the A11N HyperFeather Pickleball Paddles (set of 2)! Throughout this post, we've highlighted the paddle's face, surface area, weight, grip, and core, as well as how they all fulfill the needs of a junior player.
We summarized all these features above in a concise pros and cons list, so hopefully it can help you decide if this is the right paddle for the junior in your life!
Comments
Have you ever heard of or tried this paddle before? Do you think it's a good fit for your child? What features do you value the most in a junior paddle? Is there a different paddle you'd suggest for this age group?
We'd like to know! Tell us about your process of finding the right junior paddle. Some part of it might help someone else going through the same search! We read and reply to every comment, so we'll get back to you soon once you leave a comment below!