The 5 Best Junior Pickleball Paddles Review [Ranked] in 2020
One of the best things about pickleball is the ease with which anyone can start, regardless of age. As long as you can hold a racquet in your hand, you can play! So this review is dedicated to all the young players out there: these 5 Best Junior Pickleball Paddles have everything you need to get started!
These five products are especially fit for kids because they're lightweight, comfortable, very durable, and come with multiple paddles and balls to make starting with friends or family super easy! The capabilities and preferences of young players can differ quite a bit, so it's a good thing that we've outlined a good variety of options to choose from.
This review will focus on kids' paddles, but if you're looking for general advice or information about other types of paddles, stay awhile to browse our site as well as our Pickleball Paddle Ultimate Guide! It's your one-stop shop for all the basic info you need to get started with the sport!
Ready to dive into our pickleball paddle review, kids' edition? Let's get started!
The 5 Best Junior Pickleball Paddles — Overview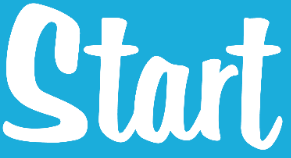 Please Note: This post contains affiliate links. An affiliate link means that we may earn advertising/referral fees if you make a purchase through our links.
Any paddle for a junior player will have to take a number of factors into consideration. For one, it should be lightweight enough for the child to handle over the course of a reasonable length of time. Additionally, kids tend to be rougher with their equipment, so a less destructible paddle is also favorable. Fancy materials and techniques are likely less relevant to younger players, so the following 5 paddles won't focus much on these things.
There are even more factors, but we'll get to those over the course of this review! For each product, we'll talk about the paddle face, surface area, weight, grip, and core, and how a child might respond to a paddle with this combination of features. Towards the end, there will be a frequently asked questions (FAQ) section addressing common concerns about these types of paddles as well as pickleball at large!
Hopefully by the end you'll be convinced as to why these paddles are so well-suited to juniors. Ready? Let's begin!
The 5 Best Junior Pickleball Paddles — Definitive List
Please Note: As an Amazon Associate, I earn from qualifying purchases.
5 Best Junior Pickleball Paddles — The Winner
The Face
In first place is the set of two JP WinLook Pickleball Paddles! Each of these paddles has a broad graphite face, a material that is well-known for being powerful and durable.
And as a sealant around the face, the edgeguard protects the paddle from rough play.
With both graphite face and protective edgeguard, these paddles can take a beating long before they ever bend or reshape.
The Surface Area
Each paddle measures a total of 15.4 inches in length by 7.75 inches widthwise.
These dimensions make them regular wide paddles, which is actually the size that most players — regardless of age — tend to prefer.
Wide paddles are compact enough to control easily but they're also generously sized on the face in order to deliver consistent returns.
The Weight
Since this paddle weighs 7.8 ounces, it's light enough for a young player to handle without getting tired too soon.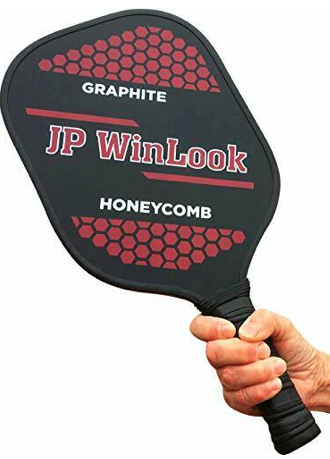 Technically, it's a medium weight paddle, so it actually represents a good balance between power and control — light enough to control but with enough heft to wield with power.
Thus, it's a great paddle for younger players to get used to when first starting out in the game!
The Grip Size and Feel
Another thing that makes this paddle great for juniors is the smaller grip circumference — only 4 inches (compared to the usual 4 ¼ or 4 ½) — to accommodate smaller hands.
It has a regular length of 5 inches, potentially enough space for kids to handle the paddle double-handed. What's more, this product comes with overgrips so the grip circumference can be expanded as the child grows.
The original grip is made of a perforated, cushioned material that helps guide the hand and wicks sweat.
The Core
Each of these JP WinLook Pickleball Paddles come equipped with a polymer honeycomb core, which means they have great responsiveness and are super comfortable.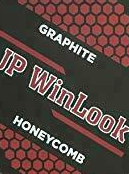 Polymer honeycomb cores absorb shock and noise the best out of all other paddle cores, so no complaints here about too much vibration.
This also means you can get started at almost any pickleball facility right away, since these quiet paddles are likely compliant with most noise restrictions!
5 Best Junior Pickleball Paddles — Runner Up
The Face
Next we have another set of two — the A11N HyperFeather Pickleball Paddles! These also have a graphite face, built for endurance and power.
So not only can these graphite paddles perform powerfully, but they can also last you through the years.
Each paddle also has an edgeguard around the face to protect it from dings, scrapes, and other rough contact that may result from handling by younger players.
The Surface Area
Each paddle measures approximately 15 ½ inches by 8 inches, qualifying them as wide paddles.
This paddle size is ideal for players of most skill levels because they're small enough to handle but big enough to deliver good shots.
The A11N HyperFeather Pickleball Paddles are a bit more square than other wide paddles, but that just means more space along the edges from where to make returns.
The Weight
At about 8 ounces each, these paddles feel light in the hands of most junior players, giving them ample ability to control the racquet.
They are technically medium weight paddles, though, so they still have a good bit of heft and power in them as well!
It's a great paddle weight to start off with, particularly when getting used to how tight to grip and how much force to put behind shots.
The Grip Size and Feel
The grips each measure 4 ¼ inches in circumference and just a little under 5 inches long. These are pretty optimal dimensions since it's the standard even among adult paddles.
But as the child grows, they might need to upsize the grip, which is where the included overgrips come in handy. Size is customizable — another reason why this is our top pick for junior players!
The material of the grip itself is sweat-absorbent, spiralized, and comfortably cushioned.
The Core
Each of these paddles also has a polymer honeycomb core, which is an excellent choice no matter your age or experience level!
This core is great at absorbing impact and cancelling out noise, so it's very comfortable and responsive.
Thus, it provides great control that the beginning player can really appreciate when first starting out!
5 Best Junior Pickleball Paddles — Third Place
The Face
Our third place pick is yet another set of two — seeing a trend here? The Win SPORTS Wooden Pickleball Paddle is perfect for kids that aren't picky about their paddles and just want to start playing right away.
As the name suggests, these paddles have simple yet durable 7-ply wood faces, which hit with a satisfying pop.
Wood paddles are a sound, classic choice for all pickleball players, as the sport was first played with this type of paddle!
The Surface Area
Each paddle measures 15 ⅗inches in length by 7 ½ inches in width. These dimensions put them in the wide paddle category, the paddle size of choice for most players.
Since wide paddles are the ideal shape for returning shots reliably and the perfect size to handle, these racquets are the most popular on the market.
Thus, it's a great paddle size for juniors to get started with!
The Weight
Wood paddles usually weigh the most compared to paddles made of other synthetic materials.
This particular paddle weighs between 9 and 10 ounces, which is actually on the light side compared to other wood paddles.
Therefore, this product is a cut above other wooden/beginner paddles, since it will allow kids to play longer without developing swing fatigue!
The Grip Size and Feel
The grip is a generous 5 ½ inches and has a standard circumference (4 ¼ inches).
It also has a wrist strap at the end for extra safety, especially important for young or beginning players who are just starting to get used to the proper grip strength they should use to play.
The grip itself is cushioned and features a perforated texture to help guide the hand and keep it comfortable. These features help your junior avoid blisters and calluses!
The Core
This wood core paddle produces hits that sound and feel crunchy.
Because of its 7-ply construction, you can expect good resilience and strength from this paddle.
It's not the most shock-absorbent racquet, but it definitely has all the essential features of a solid juniors' paddle: consistency, durability, safety grip, and the added accessories that make it easy to pick up and play!
5 Best Junior Pickleball Paddles — Honorable Mention
The Face
The first honorable mention is a series of OneShot paddles specifically designed for younger players!
The brand's Juniorshot Series consists of a small paddle — the Juniorshot U8 — for players 8 years old and under, and the Juniorshot U12 medium paddle for players 12 years old and under.
Each paddle has a fiberglass face designed to give kids maximum control as they first learn to swing. OneShot also encourages kids to use chalk to doodle on their paddles for extra customization! It's easily dusted off from the fiberglass face.
Furthermore, there's an edgeguard around the face to protect it from the damage caused by regular use by kids.
The Surface Area
Neither U8 or U12 paddles have dimensions that are approved by the USAPA, since they're both for kids, but that isn't important when just playing for fun!
The U8 has total measurements of 12.4 inches by 6.9 inches, and the U12 measures 14.8 inches by 7.4 inches. They're not technically wide paddles, as adult paddles would be categorized, but they do have the general shape of this type of paddle.
Thus, the sweet spot on these paddles is maximized for easy returns.
The Weight
Because they're for children, these paddles are significantly lighter than adult paddles. The U8 weighs 5.3 ounces, light enough for growing muscles to handle, as is the 5.8-ounce U12 paddle.
These extra light paddles make it easy for children to play a fair amount before getting tired.
Unlike adult paddles that are branded "lightweight," these paddles are targeted especially for younger players, so they don't have to wait till they're older before using a paddle that fits them.
The Grip Size and Feel
These paddle grips are also extra thin — the Juniorshot U8 is 3.5 inches while the U12 is 3.9 inches.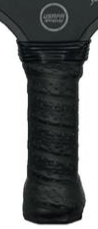 Since these have been sized especially for children of their respective age groups, they're a much better fit than regular/adult paddles with thinner grips.
The balance will feel better, and the grip will stay in hand easily due to the spiralized, cushioned material.
The Core
Like adult racquets, these paddles have responsive polymer honeycomb cores.
Since this core type is especially good at absorbing shock and noise, children will find the paddles very comfortable to hit with repeatedly.
Moreover, the noise-cancelling core is a great reason to pick up these junior paddles, because you'll be able to get started at any facility — even those with noise restrictions in place.
5 Best Junior Pickleball Paddles — Honorable Mention
The Face
Our final pick for this list of junior paddles is the set of two TICCI Graphite Pickleball Paddles! Each one comes with a fiberglass face, which is great for controlled hits.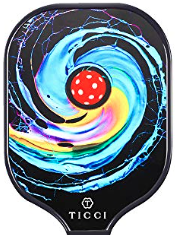 Control is a vital thing to develop in the early stages of playing, so young players can do just that with these paddles!
Plus, the edgeguard protects the face from dings and scrapes, which is important for junior players since they can be rough with their equipment.
The Surface Area
The length of each paddle is 15 ¾ inches, while the width is just a little under 8 inches.
With these measurements, you can expect the handling and feel of a typical wide paddle. Wide paddles are great for being both easily maneuverable and wide enough for a generous sweet spot on the face.
Therefore, wide paddles are a great choice for any player but for juniors especially!
The Weight
Each paddle weighs around 8 ounces, which is the standard weight for anyone looking for good controllability but also a bit of heft.

Eight ounces is technically a medium weight paddle, but it still feels light enough for the average player, including children.
With a paddle of this weight, they can swing with ease without losing too much power — exactly the pair of features most people want in their racquets!
The Grip Size and Feel
The grip measures about 4 ¾ inches in length and a standard grip circumference.
If the grip needs to be enlarged, overgrips can be used to expand it.
The handle is made of a spiralized, cushioned material with a perforated pattern that helps dissipate sweat. So it stays dry and comfortable for the duration of most matches!
The Core
This pair of paddles also comes with a polymer honeycomb core! The large-cell patterning of this material helps to disperse sound and shock alike, resulting in a very quiet and comfortable paddle.

So kids can play with maximum fervor without discomfort or causing too much noise.
Plus, remember that this product comes in a set of two paddles, four pickleballs, and a mesh bag — everything you need to get started!
Frequently Asked Questions
Why Are These Good Junior Paddles?
The five paddles we've chosen for this list are exceptional junior paddles because they each have some combination of features that are important to younger players.
For starters, junior paddles need to be durable, in the event that the young player is rough with their equipment. Also, most of these products come in sets of more than one paddle and pickleball, which makes starting easy.
Plus, these are all relatively lightweight paddles, so growing muscles can begin to get accustomed to how it feels to control and swing the racquet.
With enough time and practice, junior players can finesse their returns using dinks and spin techniques, something that lightweight paddles will continue to support them with.
We also highlighted paddles with smaller-than-standard grips that smaller hands can find comfortable. These grips are all cushioned for maximum comfort, as well. And finally, these are good junior paddles because they come at an affordable price range.
The amount of value you get from these products — more than one paddle, multiple pickleballs — is unsurpassed, and quality is still very much in the fabric of these products.
What Makes A Good Junior Paddle?
A junior paddle is one that has been designed with a smaller, younger player in mind. So perhaps the paddle grip is smaller but comes with overgrips that the child can use as they grow.
Or it's a lightweight paddle that's easy for an inexperienced player to control. Or it's affordable without skimping on quality or durability — which you'll need in a paddle intended for kids!
These are features that describe most to all of the products on this list! We're confident that you'll be able to find the right fit for the junior in yourlife among these products.
How Do I Decide Whether My Child Should Get A Junior Paddle Or An Adult One They Can Grow Into?
It depends on how young your child is. If they're under about 12, try to look for junior-specific paddles. We highlighted a pair of these in our overview of the OneShot Juniorshot Series Pickleball Paddles! These paddles are sized smaller overall so that a smaller child can handle it without difficulty.
For children over 12, maybe look into a lightweight, thin-grip adult one they can eventually grow into! Children see the most growth between 12 and 18, so it may be wiser to get an adult paddle they can build up to with a little time.
That's why lightweight, thin-grip, wide paddles are probably the best investment for this period of the child's life. If they eventually grow out of these, you can always upgrade to another adult paddle that suits them better.
But you know your child best. Do they seem to be enthusiasts or just casual players? Is pickleball something you think they'll continue in adulthood? Depending on your answers to these questions, you can discern which type of paddle to get.
Most Of These Paddles Have a Polymer Honeycomb Core. What's So Special About This Core?
Polymer honeycomb cores are considered to be the best type of core on the market, due to its noise-cancelling and shock-absorbent qualities. These are features that many pickleballers tend to favor, so it's no surprise that polymer honeycomb cores are so widespread.
The large-cell pattern and material of polymer honeycomb cores are especially suited to dispersing vibration and noise. Therefore, the player experiences these effects at a minimum. And if the core has greater overall thickness, it'll do even better at mitigating these factors.
Can Adults Use Junior Paddles?
Generally, yes! Keep in mind, however, that they may feel too light or too small, depending on the variety of junior paddle you selected, as it was designed for a smaller, younger person.
But several of our picks — like the A11N HyperFeather Pickleball Paddles and the TICCI Graphite Pickleball Paddles — have specs similar to the average adult pickleball paddle, so there is definitely some overlap among junior and adult paddles!
If you're looking for additional control, added durability, or even a smaller grip circumference, feel free to look into these regular-sized "junior" paddles. You may even find better options there than if you looked for paddles categorized as "adult"!
Is There A Difference Between Indoor And Outdoor Pickleballs or Paddles?
There is a difference between indoor and outdoor pickleballs, yes!
Outdoor balls are heavier, made of harder plastic, and have smaller holes. These features allow the ball to withstand both the rough texture of outdoor courts and the sometimes unpredictable wind conditions unique to outdoor play.
Indoor balls, in contrast, are made of lighter plastic and have larger holes that help the ball bounce better on smoother indoor surfaces. Gym floors are smoother than the ground outside, and wind isn't a factor in these games.
But there are no real distinctions between indoor and outdoor paddles — you won't see them marketed as such. All pickleball paddles are meant to be used in both kinds of games, interchangeably.
Are Junior Paddles Durable?
Yes! These junior paddles are especially durable, making it easy for children to care for. In fact, wood paddles — like our #3 Win SPORTS Wooden Pickleball Paddles — are among the most durable types of pickleball paddles out there. In addition, the edgeguards present on all our other picks further reinforce each paddle's overall durability.
All in all, these paddles represent high quality at affordable prices, meaning that if the paddle does get significantly damaged, it isn't a huge financial loss.
How Do I Properly Maintain My Paddle, or Help Someone Maintain Theirs?
To properly care for your paddle, keep it out of the sun as much as possible, since UV rays can create dead spots (the opposite of a sweet spot) over time. We recommend keeping it in a case when it's not being used.
Alternatively, some paddles come treated with a special UV protective coating so that it doesn't break down in the sun. Still, to err on the side of caution, we recommend keeping these paddles in a case at least to keep them free of environmental debris.
Rain or moisture can also result in dead spots on paddles. To avoid this, don't play outside when it's raining, and even if you play indoors, shield your paddle from the rain as you go in and out of the facility.
What Are Edgeguards For?
Edgeguards protect the paddle from dents, scrapes, and reshaping as a result of repeated contact with hard surfaces like the ground.
Many people prefer paddles with edgeguards because they preserve the integrity of their paddle and are easier to take care of than edgeless paddles. All of our picks for this list are edged paddles, except the Win SPORTS Wooden Pickleball Paddle.
Edgeless paddles, on the other hand, look sleeker because there isn't a border around the face. But the main reason why some players would choose edgeless paddles is that there isn't a raised edgeguard to interfere with shots taken from along the border of the paddle.
So the "better" choice is really up to what you value most — overall protection for your paddle or just a little bit more surface area on the face.
Are Junior Paddles Better For Playing Singles Or Doubles?
Juniors can play both singles and doubles games with any of the paddles we mentioned! In fact, all pickleball paddles can be used perfectly well for either type of game. There are only minor advantages and disadvantages to certain types of paddles and games.
Light to medium weight paddles tend to be better with doubles games since wins are less likely to be made by power shots. (It's harder for a player to shoot the ball past a court covered by two players than by one.)
Thus, players are more likely to need the control that a lighter paddle provides, in order to execute dinks and drop shots. All the junior paddles we outlined would work perfectly well for doubles matches.
If you want to get into the nitty gritty of it, however, medium to heavy weight paddles are slightly better for singles matches since they're more powerful. Players are more likely to hit a fast shot past an opponent in a singles match, so heavier paddles make that easy.
What does that mean for the products on this list? Since the third place Win SPORTS Wooden Pickleball Paddle is a 9 to 10 ounce paddle, it falls in the heavyweight category, so if your junior is looking to get competitive in singles matches, perhaps look into a heavier paddle like this!
But as we said, all paddles work perfectly fine for both singles and doubles games. Only the more competitive players tend to take into account the marginal advantages of certain paddles with certain games.
Conclusion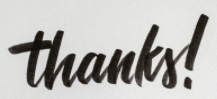 That's it! We're done with our review of the 5 Best Junior Pickleball Paddles! Now that you know all about the various features that make a paddle especially suited for younger players, are you ready to pick out the right paddle for the junior player in yourlife?
Each pick has a unique face, surface area, weight, grip, and core that affect overall performance. To fit the profile of a junior player, most of these picks are especially light, have an ergonomic grip, and are more durable. Plus, they come packed with incredible value: in sets of more than one paddle and multiple pickleballs! It's easy to pick up and play with any of these products!
And finally, we hope we've answered your potential questions and concerns about junior paddles, as well as any others about pickleball in general. But if you have further questions, please reach out to us below!
Comments
Who are you shopping for? Have they played pickleball before? What do you think of these junior-specific picks? Have you ever tried or heard of them before? Or, in your opinion, is there another paddle that suits junior players better?
We'd love to hear your thoughts and input! Leave a reply below to let us know of any comments or questions you have about anything we've covered. We'd especially like to know — if you do decide to give any of these products a try — what feedback your junior player has about it! They could be helping out somebody else in the process!