PRO KENNEX KINETIC PRO SPEED EDGELESS PICKLEBALL PADDLE — INTRO
If you've been watching this space, the paddle we're about to review in this post should seem familiar. No, there's no error — it's simply that we feel so strongly about this product that it warrants another post about its assets! A few days ago, we reviewed the blue version of the Pro Kennex Kinetic Pro Speed Edgeless Pickleball Paddle, but today we're back for more!
The yellow model of this paddle made it onto the list of top 5 Best Edgeless Pickleball Paddles of 2020, so in this post we'll break down the details as to why. Yes, edgeless paddles like this are preferred by the pros, but there are other reasons to pick up this paddle!
If you head over to our Pickleball Paddle Ultimate Guide, you can find out even more about the best paddles for different playing styles and techniques, as well as have your questions answered in the extensive Q & A section!
But for now, let's take a dive into everything that this paddle has to offer!
Pro Kennex Kinetic Pro Speed Edgeless Pickleball Paddle — Overview
Please Note: This post contains affiliate links. An affiliate link means that we may earn advertising/referral fees if you make a purchase through our links.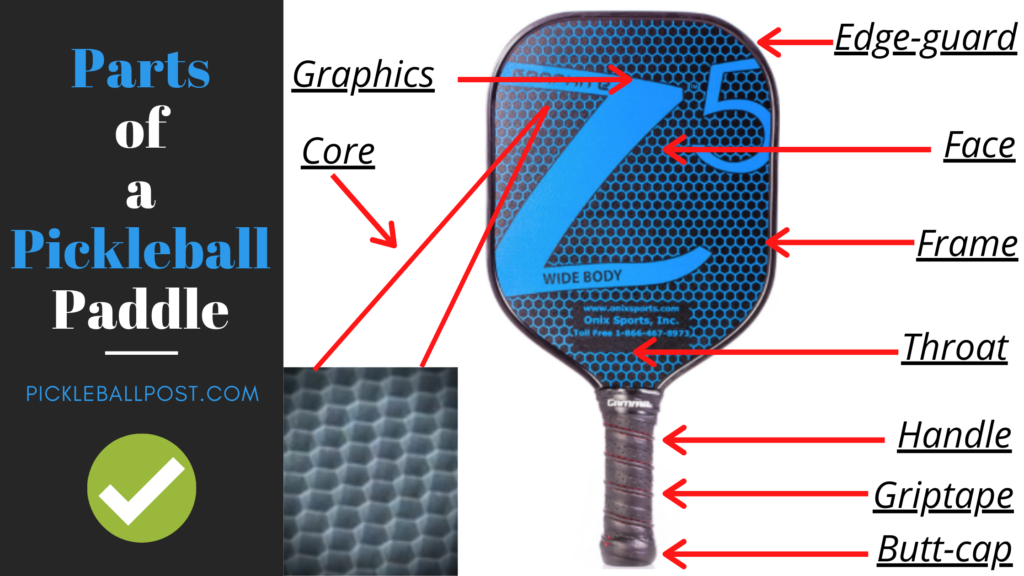 For our final edgeless paddle review, let us again clarify what we mean by "edgeless." The label refers to paddles that don't have an edgeguard, which would typically protect the edges of the face from scrapes against hard surfaces.
So while edgeless paddles don't have the protection that these strips of plastic or rubber offer, they are particularly good at reliably returning shots made from the edges of the face! There's no edgeguard to throw off these kinds of hits!
Yes — even a narrow strip around the edge can make a difference between loss and victory, especially in high-level games!
In this review, we'll be discussing more about the face, surface area, weight, grip, and core of the Pro Kennex Kinetic Pro Speed Edgeless Pickleball Paddle, especially how each of these things contributes to its performance on the court.
In the end, we'll gather all these features in one place in a neat pros and cons list so you can see them all side by side.
That's a lot to cover, so let's get right into it!
Pro Kennex Kinetic Pro Speed Edgeless Pickleball Paddle — The Basics
Please Note: As an Amazon Associate, I earn from qualifying purchases.
The Face
The Pro Kennex Kinetic Pro Speed Edgeless Pickleball Paddle has a textured, composite carbon/fiberglass face that balances well between power and control.
Emphasis on control, since it's got a 7-layer proprietary coating built to respond to even the most subtle wrist flicks or other spin techniques.
Pros love it because of this, but if you're a newer player starting out you'll still like the responsiveness of this paddle face as you practice different playing techniques!
The only thing it's got going against it is the yellow on the paddle face — most pickleballs are the same color, and some pickleball clubs prohibit the paddle color from matching that of the ball.
That's because many people claim that a yellow paddle camouflages the ball during impact, making it harder for the opponent to read and giving the yellow paddler an unfair advantage.
The Surface Area
This paddle measures 15.5 inches by 7.5 inches, making it a wide paddle.
This paddle size is usually perfect for most players, since the face offers a vast sweet spot but remains easy to handle.
Speaking of handling, the grip is about 5 inches off the length, so there's still a large enough area left to hit with. And without an edgeguard, players can take advantage of the entire surface area instead of having to avoid the edges.
The Weight
Like the blue version, this Pro Kennex edgeless paddle falls in the range of 7.9-8.1 ounces, putting it in the medium weight category.
Medium weight paddles are generally not too heavy that they're difficult to handle nor too light that they lose power — they're right in the middle.
They provide the best balance between power and control!
The Grip Size and Feel
The grip is just under 5 inches long (4 ⅞ inches, to be exact) and measures 4 inches in circumference.
That's ¼ inch under the standard grip circumference, but that doesn't present an issue to most players. However, if it does, you can use overgrips to make up the grip size.
If you don't need overgrips, that's great because you'll be able to make direct contact with the comfy, cushioned handle, which will stay dry and ergonomic even over the course of long games.
The Core
Also like its blue counterpart, the Pro Kennex Kinetic Pro Speed Edgeless Pickleball Paddle has a honeycombed polymer core that absorbs noise and impact very well.
In fact, most paddles with a honeycombed polymer core are ideal at doing just this.
Therefore, choose this paddle if you like the sound and feel of a quiet, shock-absorbent paddle!
Pros
composite fiberglass/carbon face good for spin techniques and power
edgeless design is sleek and does not interfere with hits made off the edge
comfortable grip and weight
polymer honeycomb core absorbs vibration and noise
Cons
face may show signs of wear early on in use due to lack of edgeguard
more expensive than comparable edgeless models
yellow paddle face may not be permitted at some pickleball facilities
Not sure if this particular paddle is the right one for you? Take a look at the Amazin' Aces Bainbridge Edgeless Pickleball Paddle and the Franklin Sports Viper Edgeless Pickleball Paddle!
The Pro Kennex Kinetic Pro Speed Pickleball Paddle and the Amazin' Aces Edgeless Pickleball Paddle are also GREAT options in the Edgeless category!
Conclusion

That does it for our review of the yellow Pro Kennex Kinetic Pro Speed Edgeless Pickleball Paddle! Its face, surface area, weight, grip, and core each contribute their own little something to the paddle's ultimate performance. Plus, its edgeless quality can really give players the upper hand.
We hope you have all the info you need to make a decision about the next paddle to add to your collection, but if not, we're here to help!
Comments
Have you ever tried this paddle before? How does it compare to other paddles you may have tried, whether they're edgeless or not? Is there a different edgeless paddle you prefer?
We'd like to know! Leave a reply below and we'll make sure to get back to you as soon as possible. Who knows — your comment or question might address exactly what someone else is thinking!