PRO KENNEX KINETIC PRO SPEED PICKLEBALL PADDLE — INTRO
Do you want to play pickleball like the pros? Well, it'll take a good deal of practice, but once you amass the skill and experience, you might also want to look into an edgeless paddle, like the Pro Kennex Kinetic Pro Speed Pickleball Paddle!
We ranked the 5 Best Edgeless Pickleball Paddles of 2020, and this paddle made it to the third place spot! In this review, we'll give you all the reasons why, including why very experienced players prefer this paddle and others like it!!
If you want to learn more about the different paddle types out there — edged and edgeless — head over to our Pickleball Paddle Ultimate Guide, our comprehensive guide to all things pickleball!
But for now, let's dive right into why the Pro Kennex Kinetic Pro Speed Pickleball Paddle is such a great edgeless choice!
Pro Kennex Kinetic Pro Speed Pickleball Paddle — Overview
Please Note: This post contains affiliate links. An affiliate link means that we may earn advertising/referral fees if you make a purchase through our links.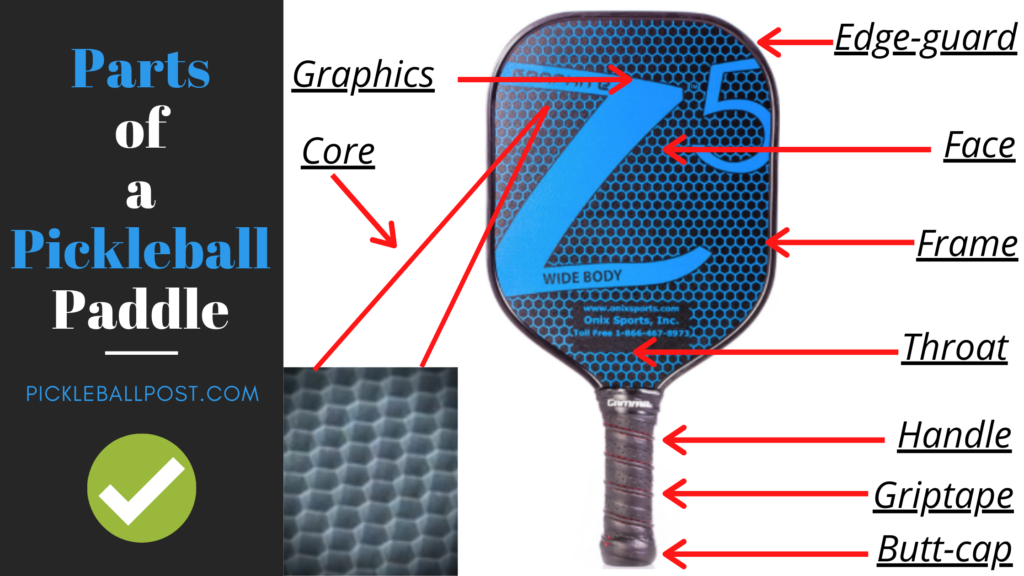 "Edgeless" paddles refer to ones that don't have an edgeguard, leaving the edges of the face open! While the lack of protection leaves the paddle susceptible to damage, it also frees up the player to make shots off the edge — something they can't do properly with an edgeguard in the way!!
(Edgeguards aren't level with the rest of the face, so the ball may go in an unexpected direction if the shot makes contact with the edge.)
You might think that just a little bit of space off the edge of the paddle face isn't much, but even the little things can be a deciding factor in high-level games!
The Pro Kennex Kinetic Pro Speed Pickleball Paddle is an example of an excellent edgeless paddle. This review will discuss the face, surface area, weight, grip, and core, as well as how each part of the paddle influences its ultimate performance.
And finally, we'll conclude with a succinct pros and cons list where you can see all its features laid out in one place!!
So without further ado, let's get into it!
Pro Kennex Kinetic Pro Speed Pickleball Paddle — The Basics
Please Note: As an Amazon Associate, I earn from qualifying purchases.
The Face
The face is constructed of a composite blend of fiberglass and carbon!
It's a proprietary material specially tailored to withstand the caliber of play that edgeless paddles usually see — that is to say, a very high level of play!!
Not only is the material high-quality and durable but it also has a textured finish designed to help with spin techniques. The rough texture allows the paddle face to "grab" onto the ball for a bit and send it spinning upon return.
The Surface Area
The paddle is 15.5 inches lengthwise and 7.5 inches widthwise.
These measurements put the racquet in the "wide" category, the most common and reliable category of pickleball paddles out there.
Wide paddles are the ideal for most players: generous sweet spot and easy to handle. The edgeless design gives the player the entire face to make hits from, which is exactly what users of edgeless paddles are looking for.
The Weight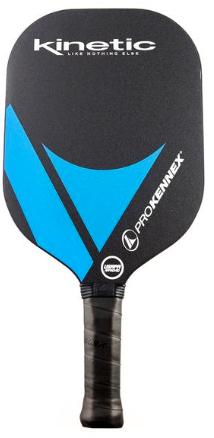 With a weight that ranges between 7.9 and 8.1 ounces, the Pro Kennex Kinetic Pro Speed Pickleball Paddle is a solid medium weight paddle.
Medium weight paddles — like wide size paddles — strike the best balance between heft/power and lightness/maneuverability.
It's for these reasons that medium weight paddles are the paddles of choice for most players, and in edgeless form they maximize the player's potential for good hits.
The Grip Size and Feel
The grip is almost 5 inches long (4 ⅞ inches) and 4 inches around.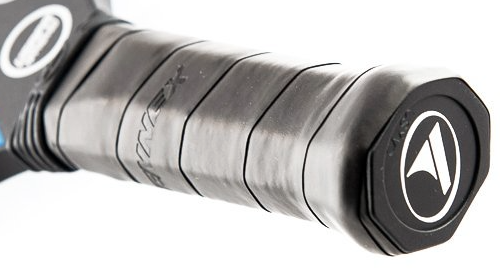 This circumference is just short of the standard 4 ¼ inches, so depending on your grip, you may or may not require adjustments with this handle.
If the grip is too small for your liking, you can always add overgrips, which go on top of the original grip and make it thicker. The material of the original grip is cushioned with a spiralized texture for comfortable handling (which also helps prevent calluses from forming).
The Core
The Pro Kennex Kinetic Pro Speed Pickleball Paddle has a honeycomb polymer core, the best type of core material and pattern for distributing noise and shock throughout the paddle.
Therefore, it is among the quietest and most comfortable paddles that money can buy.
So you can rest assured that it complies with most pickleball clubs' noise regulations while being gentle enough on even the most sensitive joints.
Pros
composite fiberglass/carbon face good for spin techniques and power
edgeless design is sleek and does not interfere with hits made off the edge
comfortable grip and weight
polymer honeycomb core absorbs vibration and noise
Cons
face may show signs of wear early on in use due to lack of edgeguard
more expensive than comparable edgeless models
Not sure if this particular paddle is the right one for you? Take a look at the Amazin' Aces Bainbridge Edgeless Pickleball Paddle, the Franklin Sports Viper Edgeless Pickleball Paddle, or the Amazin' Aces Edgeless Pickleball Paddle are good picks too.
The Pro Kennex Kinetic Pro Speed Edgeless Pickleball Paddle should also be considered!
Conclusion
Congrats! You've made it to the end of our review of the fantastic Pro Kennex Kinetic Pro Speed Pickleball Paddle. We discussed how its unique face, surface area, weight, grip, and core all contribute to a different aspect of the paddle's overall performance.
It's a high-quality choice for those looking to gain an edge over their opponents in a way that's effective and perfectly USAPA-approved!!!
Comments
Have you ever used this paddle before? How does it compare to other edged and edgeless paddles you may have tried? Is there another edgeless paddle you prefer? What do you like so much about it?
We'd like to know! We love hearing from others in our pickleball family, so feel free to offer your insight — someone out there can definitely benefit from it!