FRANKLIN SPORTS VIPER EDGELESS PICKLEBALL PADDLE — INTRO
Ever wonder how expert pickleball players perform so well? Practice, yes, but is there anything else to it? Perhaps they have an added advantage, in the form of an edgeless pickleball paddle! That's right — edgeless paddles, like the Franklin Sports Viper Edgeless Pickleball Paddle, are usually best suited for the most serious players. How can a paddle without an edge give players an edge? Read on to find out!
This post is dedicated to our second place pick from the 5 Best Edgeless Pickleball Paddles of 2020! Edgeless paddles like this one are a top choice for very competitive players because of the unique surface area it makes available on the face. Though subtle, this surface area can make all the difference between victory and defeat.
In case you want to review the different paddle types, playing techniques, and all other things pickleball, feel free to pop over to our Pickleball Paddle Ultimate Guide to learn more!
If you're ready to move on with this review, let's jump right in!
Franklin Sports Viper Edgeless Pickleball Paddle — Overview

Please Note: This post contains affiliate links. An affiliate link means that we may earn advertising/referral fees if you make a purchase through our links.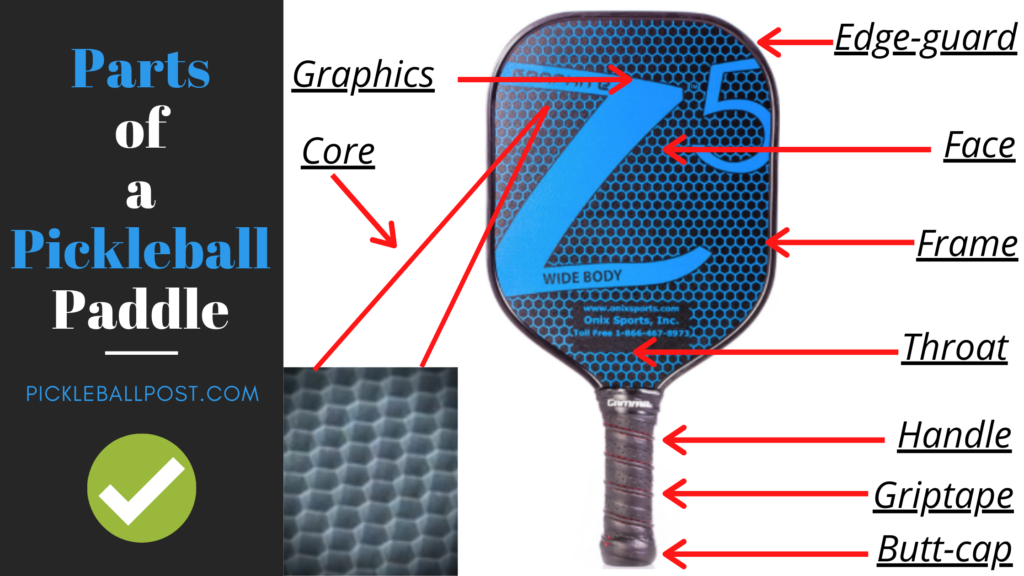 Edgeless paddles are ones that don't have an edgeguard around the face to protect it from regular wear, which includes contact against hard surfaces! The reason paddles without edgeguards exist is because the strip of plastic or rubber that serves as an edgeguard can throw off returns made from the paddle's edge, since the protection is a raised surface relative to the rest of the face!!
This post is all about an edgeless paddle in particular: the Franklin Sports Viper Edgeless Pickleball Paddle. We'll talk about its face, surface area, weight, grip, and core, and how each element goes into its overall performance on the court! At the end, we'll give a tidy pros and cons list summarizing the advantages and disadvantages you can expect to get from this paddle!!
That's a lot to cover, so let's get right into it!
Franklin Sports Viper Edgeless Pickleball Paddle — The Basics
Please Note: As an Amazon Associate, I earn from qualifying purchases.
The Face
There's no edgeguard sealing off this paddle's high quality carbon fiber face.
Face materials made of carbon fiber tend to give the player the highest level of control possible, making spin techniques and dink shots more manageable than ever.
And without an edgeguard, you have full range over every bit of space on the face!
The Surface Area
Speaking of that surface area, in total this paddle measures 16 inches (5 inches of it the handle) by 7.5 inches in width.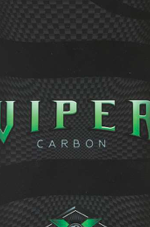 These dimensions make it a typical wide paddle, which is really good about giving players a generous sweet spot!
The lack of an edgeguard frees up even more of the total surface area along the edges, so even if you don't make hits off the sweet spot, the return will make it to the other side of the court without edge-guard interference!
The Weight
In terms of weight, it ranges from 7.5-7.7 ounces, an example of a lighter medium weight paddle.
That means that you'll find it a highly maneuverable paddle that pairs perfectly with its control-oriented carbon fiber face.
Creating spin is easier with lighter paddles like this one, so it's good that this paddle even has a face inclined to spin.
The Grip Size and Feel
This paddle has a grip that's 4.25 inches around and measures 5 inches long.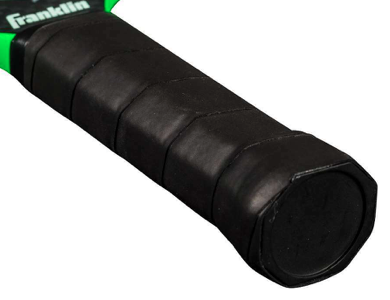 The circumference is standard, and the grip length gives the player plenty of space to adjust their hold however they prefer. If you think that circumference might be too narrow, feel free to use overgrips to increase the size to your liking.
But if not, you'll like the texture of the handle, a simple, smooth spiralized material made for comfort (and prevention of blisters) over extended matches.
The Core
The aluminum honeycomb core is a resilient, responsive material and pattern to have in an edgeless paddle.
Though aluminum cores hit loudly, they do add further control to the play. For added protection in lieu of an edgeguard, in this paddle there's a sheet of fiberglass between each layer of carbon fiber face and the core.
So as long as you take reasonable care of your paddle, its edgelessness shouldn't present too much of an issue.
Pros
carbon fiber face is great for controlled shots
edgeless design is sleek and does not interfere with hits made off the edge
comfortable grip and weight
aluminum honeycomb core is strong and responsive
Cons
face may show signs of wear early on in use due to lack of edgeguard
aluminum core hits loudly
Not sure if this particular paddle is the right one for you? Take a look at the Amazin' Aces Bainbridge Edgeless Pickleball Paddle or the Pro Kennex Kinetic Pro Speed Pickleball Paddle!
The Amazin' Aces Edgeless Pickleball Paddle and the Pro Kennex Kinetic Pro Speed Edgeless Pickleball Paddle are also worth your consideration!
Conclusion
You've made it to the end of our Franklin Sports Viper Edgeless Pickleball Paddle review! We discussed its carbon fiber face, wide surface area, medium weight, comfortable grip, and aluminum core in relation to its performance as a whole. In short, it's a fantastic paddle to have if you like to use controlled spins and dinks to prevail over opponents!
Hopefully we addressed all your concerns about this paddle and have come to a decision about the kind of paddle you want to add to your collection next! If not, please let us know in the comments below!
Comments
Have you ever tried this paddle before? How would you describe it compared to other paddles you may have tried, both edged and edgeless? Is there a different edgeless paddle you prefer?
We'd love to know! Or if you have any questions about anything we said in this review, we want to know about that too. Everyone has unique insight to offer, so feel free to share yours!