AMAZIN' ACES EDGELESS PICKLEBALL PADDLE (SET OF 2) — INTRO
When pickleball was first invented, people played with wood paddles. That was almost 50 years ago, but wood paddles are still in play today. They're the cheapest and most durable type of paddle on the market, and many of them — like the Amazin' Aces Edgeless Pickleball Paddle — come edgeless!!
Edgeless paddles — or paddles without an edgeguard — are popular with expert and serious players for various reasons! Wood paddles remain strong without an edgeguard, especially compared to paddles made of other materials!! This is part of the reason why this particular paddle, which comes in a set of two paddles and four pickleballs, made it onto our list of the 5 Best Edgeless Pickleball Paddles of 2020!
Need a refresher on all the different types of paddles, playing styles, and more? Check out our Pickleball Paddle Ultimate Guide, our comprehensive directory for the sport of pickleball!
If you're ready to proceed with this review, by all means let's get started!
Amazin' Aces Edgeless Pickleball Paddle (set of 2) — Overview
Please Note: This post contains affiliate links. An affiliate link means that we may earn advertising/referral fees if you make a purchase through our links.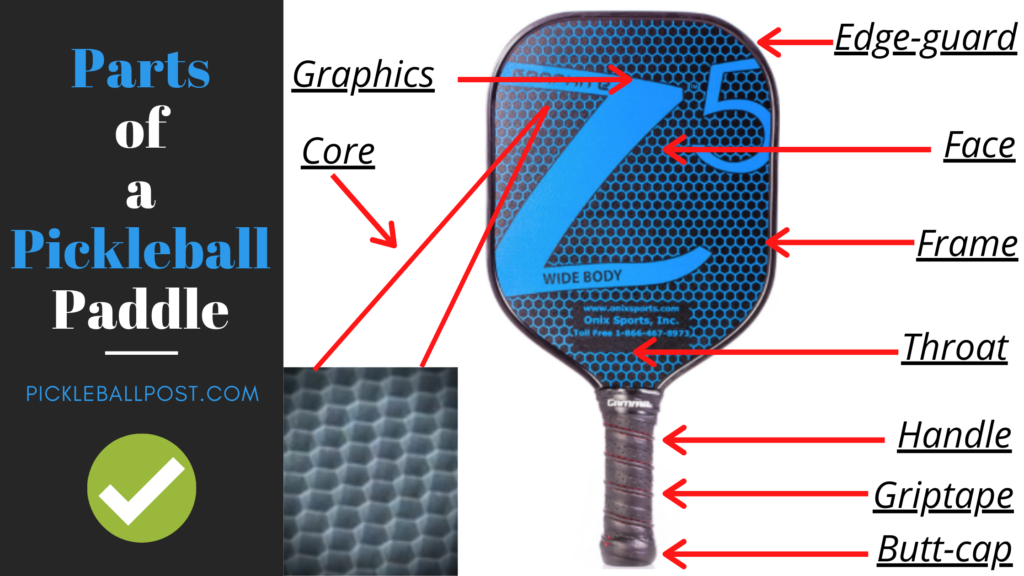 As we mentioned in the intro, edgeless paddles are those that lack an edgeguard, which functions to protect the paddle face from damage along the edges! Without an edgeguard, however, hits made off the edges of the paddle can be made without interference!! That's because edgeguards naturally add a bit of thickness that isn't level with the rest of the face.
Although the slim area around a paddle face may not seem like much, in serious matches you start to see that every little bit of surface area freed up on the face is crucial!!
This set of two Amazin' Aces Edgless Pickleball Paddles is a great example of sturdy edgeless paddles. We will be discussing its face, surface area, weight, grip, and core, and how each of these contributes to the paddle's overall performance and feel. At the end, we'll lay out a concise pros and cons list so you can see all these features in one place!
Ready to learn why we think so highly of these paddles? Let's find out!
Amazin' Aces Wood Pickleball Paddle (set of 2) — The Basics
Please Note: As an Amazon Associate, I earn from qualifying purchases.
The Face
Although edgeless paddles are usually chosen by the pros, wooden paddles are mostly used by novice players because they're inexpensive and serve the basic purpose of returning the ball!
An edgeless wooden paddle can give the beginner an even better fighting chance should they make hits off the very edge of the paddle.
The face is made of a strong 7-ply wood construction and returns the ball with ease and comfort. Wood paddles are still very durable even without an edgeguard because wood paddles are the strongest type of paddle out there (as opposed to those with a honeycomb interior)!!
The Surface Area
This is a wide paddle, at 16.4 inches by 7.7 inches. Even accounting for the grip, there's still plenty of space from which to hit the ball.
In fact, the lack of an edgeguard allows the player to make use of every little bit of that face!
Moreover, wide paddles are great about being just the right size without sacrificing power or control!!
The Weight
An Amazin' Aces Wood Pickleball Paddle weighs about 10 ounces, putting each of them in the heavyweight category.
That's typical for most wood paddles, since they're great for making powerful hits.
If you struggle with any joint issues, however, you may find other paddles that better distribute impact than this one.
The Grip Size and Feel
Though the paddle is made of wood, the grip is not.
It's cushioned in a spiralized pattern and has a wrist strap for added security while playing. Its circumference is the standard 4 ¼ inches!
In case that's too small, overgrips can easily compensate. They go over the original grip and add thickness in increments of 1/16 inch (this will help you prevent blisters).
The Core
The 7-ply wood core ensures that hits come off with conviction.
Wood paddles tend to be loud, though, so depending on your requirements (and those of your local pickleball facility) you may need to reconsider.
But if the noise doesn't cause an issue, by all means think about adding these powerful edgeless paddles to your collection!
Pros
good for power shots due to weight
generous surface area
edgeless design is sleek and does not interfere with hits made off the edge
comfortable grip
comes in a set of 2 paddles, 4 pickleballs, and a mesh ball bag
Cons
edges may show signs of wear early on in use due to lack of edgeguard
weight may not be suited for those who suffer from joint issues
Not sure if this particular paddle is the right one for you? Take a look at the Amazin' Aces Bainbridge Edgeless Pickleball Paddle or the Franklin Sports Viper Edgeless Pickleball Paddle. The Pro Kennex Kinetic Pro Speed Pickleball Paddle is also a GREAT option!
You could also look into the Pro Kennex Kinetic Pro Speed Edgeless Pickleball Paddle!
Conclusion
So that concludes our review of the Amazin' Aces Wood Pickleball Paddles! Unlike most other products, this one comes packed with value — two paddles, four pickleballs, and a convenient ball bag — all at a great price!!!
Furthermore, given the durability of its 7-ply wood face, these paddles should last you for many games to come!
Comments
Have you ever used these paddles before? How does it compare to other edged and edgeless paddles you may have tried? What do you think of wooden paddles? Is there another edgeless paddle you prefer?
We'd love to hear your input, and we're sure others in the pickleball community would too! Leave a comment below and we'll be sure to get back to you as soon as possible!!