AMAZIN' ACES BAINBRIDGE EDGELESS PICKLEBALL PADDLE — INTRO
In times like these, it can feel like we're all living on the proverbial edge! But that doesn't necessarily have to be a bad thing. Edgeless pickleball paddles allow players to take full advantage of every square inch of the paddle face, including the very edges. This post is all about the Amazin' Aces Bainbridge Edgeless Pickleball Paddle, our #1 pick from our list of 5 Best Edgeless Pickleball Paddles!!
Edgeless paddles are especially preferred by very experienced and competitive players looking for every little edge they can get over their opponents. That's part of what makes edgeless paddles so exciting. One may not think that the little bit of edge around a broad hitting face would matter much, but at high levels of playing, it certainly does.
If you'd like to brush up on all things pickleball — different paddle types, playing techniques, and frequently asked questions — head over to our Pickleball Paddle Ultimate Guide for more info!
But for now, let's dive into the Amazin' Aces Bainbridge Edgeless Pickleball Paddle!
Amazin' Aces Bainbridge Edgeless Pickleball Paddle — Overview

Please Note: This post contains affiliate links. An affiliate link means that we may earn advertising/referral fees if you make a purchase through our links.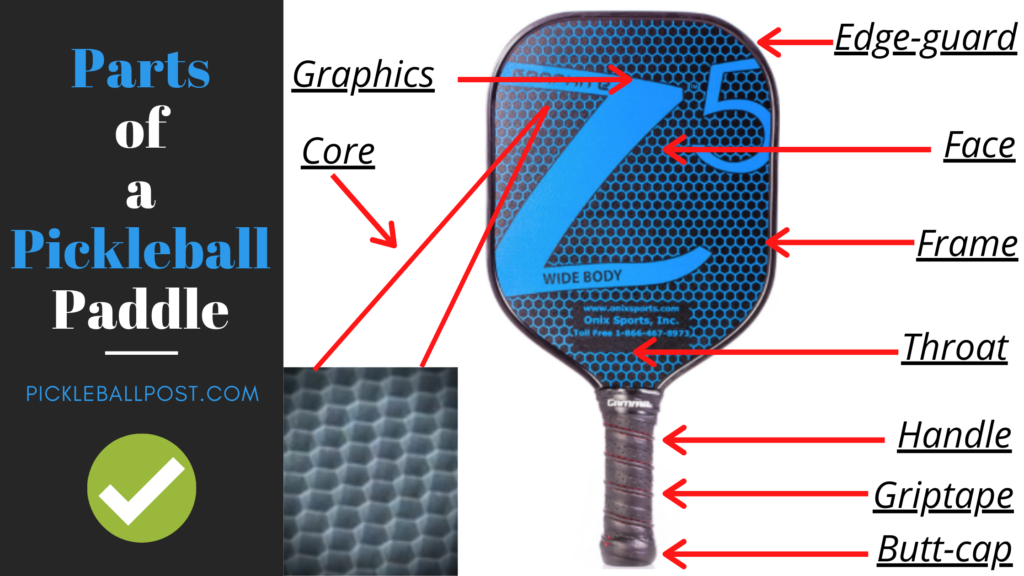 If you're new to pickleball and its related terminology, "edgeless" refers to paddles that do not have an edgeguard running all around the paddle face. Edgeguards protect the paddle from routine wear and even accidental damage, but they can also interfere with certain returns made from the edge. That's because edgeguards — strips of plastic or rubber — aren't level with the rest of the face.
In this review, we'll tell you all about what makes the Amazin' Aces Bainbridge Edgeless Pickleball Paddle a great edgeless choice, including details about its face, surface area, weight, grip, and core. Each of these parts contributes to the paddle's holistic performance. And stay tuned till the end, where we give a concise pros and cons list outlining what benefits and drawbacks you can expect from this paddle.
Ready to get into it? Let's get started.
Amazin' Aces Bainbridge Edgeless Pickleball Paddle — The Basics
Please Note: As an Amazon Associate, I earn from qualifying purchases.
The Face
This racquet has a composite face material, a unique blend of graphite and fiberglass.
Thus, a player can expect to reap the benefits of both graphite and fiberglass with this single edgeless paddle. Graphite faces pack a lot of power, while the fiberglass makes the ball easier to control.
This control is in large part due to the textured face that helps redirect the ball with ease, making spin techniques a breeze even from the very fringes of the paddle face.
The Surface Area
At 16 inches by 7.5 inches, this is a typical wide paddle.
Paddles of this size are preferred by most players because they are just the right size — small and nimble enough to control but having a broad enough sweet spot on the face.
With an edgeless paddle like this, it becomes even easier to hit the ball since one can't really go wrong no matter where the ball comes off from.
The Weight
This medium weight paddle weighs about 7.9 ounces, putting it right in the middle of that weight category.
Like the wide size category, paddles of this weight range are also preferred by most players because they strike a certain balance: light enough for easy and quick hand changes but heavy enough that every hit comes off with a certain power.
The Grip Size and Feel
Out of the total length of the paddle, the grip makes up 5 inches and has an approximate circumference of 4 inches.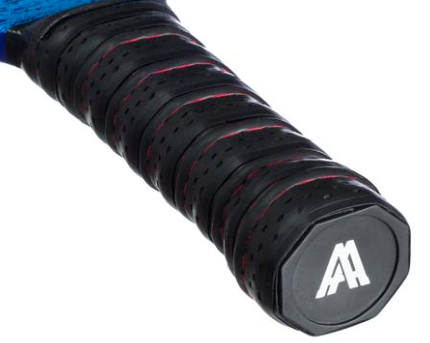 That's about ¼ inch smaller than most standard grip circumferences, but it'll depend on the individual player if that discrepancy makes any difference for them.
If the smaller grip proves too small for comfort, you can always use overgrips — adhesive strips that mold over the original — to get a better fit.
If you don't need the overgrips, though, you can take full advantage of the comfortable texture of the grip, which features a spiralized, perforated pattern (which is also great for helping you avoid calluses and blisters).
The Core
The Amazin' Aces Bainbridge Edgeless Pickleball Paddle has an amazing composite face, but just as good is its aluminum honeycomb core.
This type of core is extremely responsive and hits decisively, giving maximum control to the player.
With the edgeless design, you can hit from pretty much anywhere on the paddle face and have the return come off with a satisfying thunk in the direction you want.
Pros
graphite/fiberglass face is built for both power and control
edgeless design is sleek and does not interfere with hits made off the edge
comfortable grip and weight
aluminum honeycomb core is strong and responsive
comes with protective case
Cons
face may show signs of wear early on in use due to lack of edgeguard
aluminum core hits loudly
Not sure if this particular paddle is the right one for you? Take a look at the Franklin Sports Viper Edgeless Pickleball Paddle or the Pro Kennex Kinetic Pro Speed Pickleball Paddle!
The Amazin' Aces Edgeless Pickleball Paddle and the Pro Kennex Kinetic Pro Speed Edgeless Pickleball Paddle are also great options in terms of Edgeless paddles!
Conclusion
That does it for our review of the Amazin' Aces Bainbridge Edgeless Pickleball Paddle! We hope you learned a lot and are ready to make a decision about what paddle you should add next to your collection, whether it's this one or not.
To review, it has a strong composite face and aluminum core, both of which are made for powerful, controlled shots. The grip and weight are pretty standard for this wide paddle, the most reliable paddle size out there.
And might we also emphasize that it comes with its own complimentary carrying case? That's right, you won't be needing to go out to get a separate case for this paddle.
Comments
Have you ever tried this paddle? How does it compare to other paddles you may have tried, edgeless or not? Is there a different edgeless paddle you prefer? Let us know!
We're aware that every player has slightly different preferences, so it would help to know the kinds of the paddles you rely on most in order to better cater our content! Leave us a reply below and we'll be sure to get back to you as soon as possible.