The 5 Best Edgeless Pickleball Paddles Review [*Ranked*] in 2020
When we say there's a huge variety of pickleball paddles on the market today, we mean it! Polymer core paddles, graphite-faced ones, those without edgeguards. Even this handful of features is not exclusive — nowadays paddles mix and match all kinds of materials, measurements, and features. In this post, we're going to talk about the last of these features mentioned, namely the 5 Best Edgeless Pickleball Paddles of 2020!
Edgeless paddles are simply those that do not have an edgeguard running all around the face of the paddle to protect it from dings and scrapes against hard surfaces! For most players, contact with rigid surfaces such as the ground is inevitable, since people often must bend to retrieve low-bouncing balls. Therefore, the edgeguard really comes in handy when protecting the paddle long-term.
However, the reason one might prefer a paddle without an edgeguard is because it takes away a bit of hitting space all around the perimeter. Edgeguards are like a thick tape, so they're not completely level with the rest of the face. As a result, when a player hits the ball near the edge of the paddle face, the ball may go in a completely different direction than intended and ruin the play!
In this review, we'll tell you what kinds of players prefer edgeless paddles, as well as the five best ones we've found on the market today. If you'd like a refresher on all the different kinds of paddles, check out our Pickleball Paddle Ultimate Guide!
But for now, prepare to learn what constitutes the best edgeless paddles!
The 5 Best Edgeless Pickleball Paddles — Overview
Please Note: This post contains affiliate links. An affiliate link means that we may earn advertising/referral fees if you make a purchase through our links.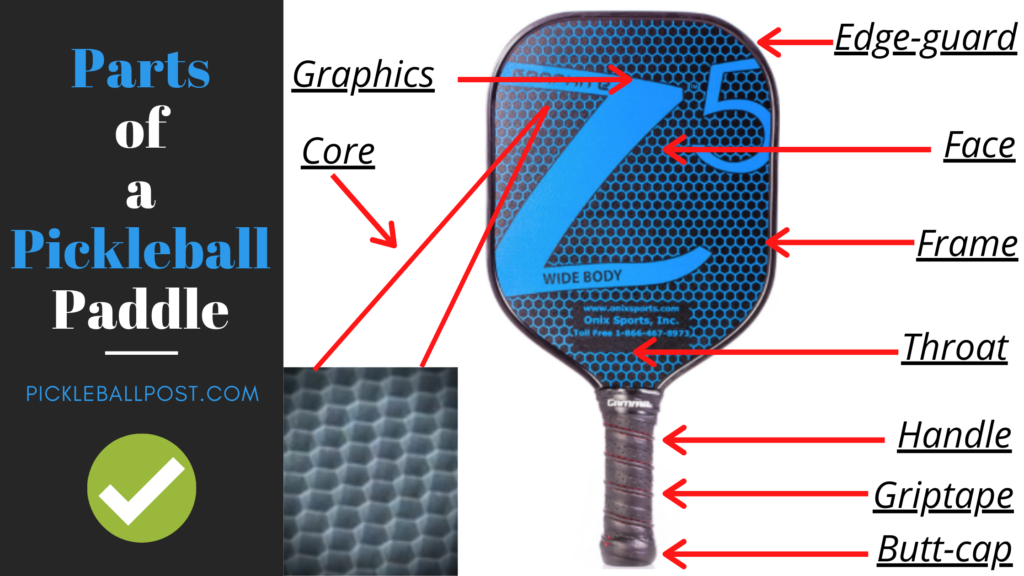 Edgeless paddles are preferred by serious or pro pickleballers who can really take advantage of the extra surface area that edgeless racquets provide! It may mean that the paddles don't last as long in terms of the damage it can sustain, but presumably the additional edge is worth it.
In this post, we'll discuss the 5 best edgeless pickleball paddles and their respective faces, surface area, weights, grips, and cores. You'll be able to compare their specs and determine which one, if any, is right for you. At the end, we'll address some commonly asked questions regarding edgeless paddles as well as pickleball in general.
So if you're ready to dive into all that, let's get started!
The 5 Best Edgeless Pickleball Paddles — Definitive List
Please Note: As an Amazon Associate, I earn from qualifying purchases.
5 Best Edgeless Pickleball Paddles — The Winner
The Face
In first place is the Amazin' Aces Bainbridge Edgeless Pickleball Paddle, a racquet that has a face made of a composite graphite/fiberglass blend.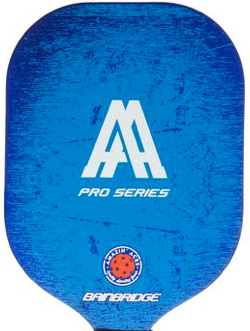 That means that, with this paddle, you'll get the best of both graphite and fiberglass paddles. Graphite paddles bring the power, while fiberglass adds a degree of control.
This control comes in the form of a slightly textured face, which will help along your spin techniques by "grabbing" the ball for a split second during impact and sending it spinning.
The Surface Area
This wide paddle measures 16 inches (including the 5-inch handle) by 7.5 inches.
Wide paddles are the ideal size for most players because they provide just the right amount of surface area and reach while remaining easy to handle.
These paddles also offer a generous, well-distributed sweet spot that makes it as easy and fun as possible to play with.
The Weight
This medium weight paddle weighs in at about 7.9 ounces, right in the middle of the average range.
Paddles of this weight are also preferred by most players because they tend to be light enough for easy maneuvering on the court but heavy enough to use as leverage for power shots.
With this paddle, the medium weight works to the player's advantage in every way possible because it's built for speed, power, and control.
The Grip Size and Feel
The grip on this paddle measures about 5 inches, with an average circumference of 4 inches. It's about a fourth of an inch smaller than the standard circumference, so it depends on the player if that makes any difference.
The upside to paddle grips that are too small is that you can easily upsize them using overgrips. On the flipside, there's no fixing a grip that's too big — you'd have to go with a completely different paddle with a smaller grip.
In terms of material, this paddle features a spiralized, perforated grip textured for comfortable handling.
The Core
We've discussed the strength of the graphite/fiberglass face, but let us take the time now to tell you about the core it encases.
It's a strong, responsive aluminum honeycomb core. This type of core allows the player to further control the ball.
Aluminum cores hit loud and crunchy, so this is the perfect paddle core for those looking for a paddle that offers maximum satisfaction with every hit, especially since even hits on the edge of the paddle come off nicely.
5 Best Edgeless Pickleball Paddles — Runner Up
The Face
Our second place pick is the Franklin Sports Viper Edgeless Pickleball Paddle.
Aside from a cool name, this paddle has a bunch of great things going for it, starting with its carbon fiber face. Carbon fiber paddles are known for their ability to give players a high level of control.
That means that you'll be able to pull off targeted dinks as well as spin shots with ease.
The Surface Area
Measuring 16 inches by 7.5 inches, this paddle is a typical wide racquet.
Wide paddles give most players maximum advantage by having a generous sweet spot on the face while also remaining agile in the hand.
Being an edgeless paddle, of course, affords the player just a little more surface area all around than they would get with an edged paddle of the same dimensions.
The Weight
It's a medium weight paddle averaging around 7.5-7.7 ounces, putting it on the light side of the range.
Therefore, you can expect an easily maneuverable feel that complements the carbon fiber face perfectly.
With lighter paddles, generating spin is easier, so it becomes even more intuitive to do so with a face material made for spin techniques.
The Grip Size and Feel
The Franklin Sports Viper has a standard grip circumference of 4.25 inches and is 5 inches long.
These are usually the best dimensions for players since they fit most hands and even leave enough space for different gripping styles.
If the grip is too small, you can easily amend that with overgrips, which thicken grips by small increments so you get just the right customization for your hand.
The Core
The core is made of aluminum and it's arranged in a honeycomb pattern designed to absorb and distribute shock throughout the paddle for maximum comfort.
Furthermore, there's a buffer layer of fiberglass between the core and each carbon fiber face.
These are there for further durability, every bit of which is crucial considering the paddle's lack of a protective edgeguard.
5 Best Edgeless Pickleball Paddles — Third Place
The Face
Our next pick — the Pro Kennex Kinetic Pro Speed Pickleball Paddle — is a mouthful, which reflects all the things it's got going for it.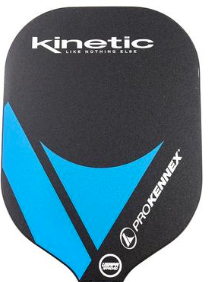 First off, the face is made of a proprietary blend material consisting of fiberglass and carbon.
On top of that, it's been treated with a textured finish designed to make spin techniques easier to perform with this paddle.
The Surface Area
The length measures about 15.5 inches, while the width is approximately 7.5 inches.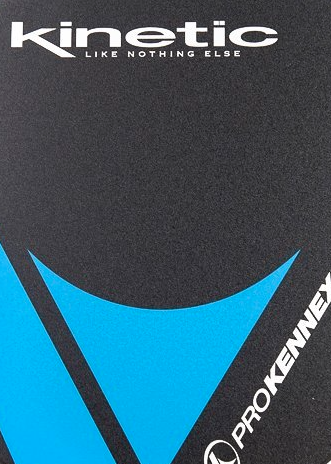 As a wide paddle, it's meant to fit most players' needs: have a generous sweet spot and be easily handleable.
With its edgeless design, this paddle has just that much more hitting surface area to work with, making it a preferred choice for serious players looking for that elusive edge over their opponents.
The Weight
This paddle weighs between 7.9 and 8.1 ounces, right in the middle of the medium weight spectrum.
It's usually paddles in this weight range that satisfy the most players, since they're neither too heavy or cumbersome nor too light to be powerful.
It strikes just the right balance between power and control.
The Grip Size and Feel
The cushioned grip measures 4 ⅞ inches long and 4 inches around.
The circumference is short of standard by ¼ inch, so that may or may not present an issue to the individual player.
If you find that it is too large, you'll need to downsize further accordingly.
However, if it's too small a grip, that's an issue easily resolved by overgrips, which take the size up to whatever fits your hand.
The Core
It's got a honeycomb polymer core that resists high impact by distributing vibration throughout the paddle.
This makes it both a quiet and comfortable paddle, so it should comply with noise regulations at certain pickleball facilities that have them and be comfortable to players with joint issues.
5 Best Edgeless Pickleball Paddles — Honorable Mention
The Face
Our first honorable mention is another product from Amazin' Aces — a set of 2 wooden pickleball paddles.
Wooden paddles are great for beginners because they're cheap and get the job done — not to mention they're the most durable kind of paddle out there. These edgeless pickleball paddles do just that.
The sturdy, 7-ply wooden face returns the ball with ease and relative comfort, and the lack of an edgeguard is the least of your worries with wooden paddles, since it's all made of the same strong, rigid material.
The Surface Area
At 16.4 inches by 7.7 inches, this wide paddle provides plenty of hitting surface area.
The absence of an edgeguard gives the player all the more reach and range on the court.
And that's exactly why one would get an edgeless paddle — to be able to play with literally every square inch available to them.
The Weight
The Amazin' Aces Wood Pickleball Paddles weigh about 10 ounces each, putting them firmly in the heavyweight category.
Wood paddles are usually in this range, making them especially strong candidates for power shots.
One thing we will say is that while wood paddles like these are great for beginners, the weight may present an issue to players with tennis elbow or arthritis.
The Grip Size and Feel
The grip is encased by a spiralized cushion and has a wrist strap at the end for safety reasons.
The circumference is the standard 4 ¼ inches. In case the grip is too small, you can opt to use overgrips in order to upsize to a better-fitting circumference.
The Core
As a wood paddle, it's got a 7-ply wood core that hits decisively.
Wood cores tend to be loud, so don't be surprised if this paddle gives a loud pop on every return.
Many people find this feature satisfying, but if you're not one of them we'd recommend a quieter polymer core paddle, especially if you also play in a facility with noise restrictions.
5 Best Edgeless Pickleball Paddles — Honorable Mention
The Face
If this paddle looks familiar, your instincts would be correct.
Our final pick is the yellow version of our third place winner, performing with equal power and reliability.
The only reason it's ranked lower is because the yellow face matches the color of most pickleballs, a scenario that's prohibited at some pickleball facilities.
Like the blue version, this Pro Kennex Kinetic Pro Speed Edgeless Pickleball Paddle has a textured, composite carbon/fiberglass face that optimizes spin techniques.
The 7-layer proprietary coating is meant to enhance the paddle's response to even the most subtle player techniques, making this racquet a pro's best friend.
The Surface Area
The total dimensions of this wide paddle are around 15.5 by 7.5 inches.
The handle is just under 5 inches off the length, so that leaves plenty of playing area on the face.
The sweet spot is as generous on this paddle as on any other good quality wide paddle, and the absence of an edgeguard means even more surface area to work with.
The Weight
Also like its blue counterpart, this Pro Kennex edgeless paddle weighs anywhere in the range of 7.9-8.1 ounces, right in the middle of the medium weight range.
Most players prefer their paddles this weight because they usually have the best balance between power and easy handling.
That's especially true with this paddle since its composite face is also designed for both power and control.
The Grip Size and Feel
The handle is 4 ⅞ inches long and measures 4 inches around.
That's just shy of the standard 4 ¼-inch circumference on most paddles, but that shouldn't present an issue for most players especially since overgrips easily compensate for a too-small grip.
Furthermore, the material is a comfortable, cushioned one that promises to stay tacky even over the course of long games.
The Core
The polymer core of this paddle is arrayed in the typical honeycomb pattern that characterizes the best shock-absorbent, noise-cancelling paddles on the market.
Thus, this paddle is uniquely suited to players who suffer from joint conditions like tennis elbow or play at facilities that have noise regulations in place – a feature that is becoming more and more common.
Frequently Asked Questions
Why Should I Consider An Edgeless Pickleball Paddle?
If you're an experienced player who finds that reaching the ball even by the edge of the paddle makes a difference in your game, you might want to consider edgeless paddles. That's because these paddles don't have a raised edge running all around the paddle face that may interfere with hits made in this region.
Because they don't have edgeguards, these paddles may bear signs of damage earlier than edged paddles might. However, most of these signs are normal and merely cosmetic concerns.
You don't have to think about replacing them unless the paddle has bent out of shape or bears dents that interfere with performance. As long as you take reasonably good care of your edgeless racquet, it should last you just as long as any other edged paddle.
How Do Edgeless Paddles Compare to Edged Paddles?
The only thing separating edgeless paddles from their edged counterparts is the presence of an edgeguard. Edgeless paddles appear sleeker in appearance because they're not bordered by anything. Performance-wise, edgeless paddles can reliably send shots back even if they're taken on the very periphery of the face.
Edgeguards are there to protect the borders of the paddle from dings and scrapes sustained from contact with hard surfaces such as the ground. So without them the edges of the face itself will bear the brunt of this damage. Therefore, it's extra important for owners to take care that their edgeless paddles don't undergo any unnecessary roughness.
To What Kinds Of Players Are Edgeless Paddles Best Suited?
The players most likely to take advantage of the extra hitting surface area available on edgeless paddles are serious or expert players. Serious players also tend to have more paddles in their arsenal, so any given edgeless paddle in their possession will not see much overuse.
Instead, the player will likely cycle through their other paddles to adapt to changing playing conditions or preferences, slowing down the pace at which they wear down and replace their paddles.
Still, don't let that stop you from trying out an edgeless paddle for yourself, regardless of experience level! In fact, beginners can also benefit from the edgeless design if they accidentally make returns near the paddle's edge.
Are Edgeless Paddles Durable?
Edgeless paddles can be just as durable as edged paddles, but they require a bit more care in order to last as long as the edged ones.
That's because when a player stoops to save a low-bouncing pass, sometimes the paddle makes unintentional contact against the ground. With an edged paddle, the edgeguard takes that friction, but an edgeless paddle takes it directly on the face.
Practically speaking, it may not be feasible to avoid scraping the paddle in this situation. But there are other ways you can care for your edgeless paddle, such as being gentle when setting it down or storing it so it doesn't bend or dent.
How Do I Properly Maintain My Paddle?
As with all paddles, keep your edgeless paddle out of the sun, since UV rays can destroy a paddle's construction and result in dead spots (the opposite of a sweet spot) over time. Having a case for storage becomes even more important with edgeless paddles due to their more fragile edges.
Some high quality paddles are actually coated with a special UV protective coating. But even with these paddles, it's still a good idea to limit exposure to sunlight, just as you would to care for your skin.
The other element to protect your paddle from is rain or moisture, which can also cause dead spots. Don't play outside when it's raining, and even if you play indoors, make sure the paddle is shielded from rain as you go in and out of the facility.
Are Edgeless Paddles Worth The Investment, Given That They Come With Less Protection?
We'll be honest with you — if you're just starting out in the game of pickleball, we wouldn't recommend jumping in with an edgeless paddle.
You'd be better off with a typical edged wide paddle, which gives the starting player all they could want: a generous sweet spot, good range, balanced weight, comfortable grip, and edge protection when the paddle makes accidental contact with the ground and other hard surfaces.
However, if you're ready for the extra benefits that an edgeless paddle can give you, give it a go! We think that what you'll get in return for investing in an edgeless racquet — more won games — is worth the cutback in edge protection.
Can I Use Edgeless Paddles Outdoors?
Generally, yes. There's no reason an edgeless paddle shouldn't make a great indoor or outdoor paddle. The only concern would just be limiting your paddle's exposure to UV rays and rain if you play outside.
Other than potential weather factors, you may also need to consider your specific pickleball facility's noise restrictions.
The sound that a pickleball makes when it contacts a paddle can be quite loud depending on the paddle, so that's why some facilities feel the need to implement these policies. Many of them require your paddle to be "Green Zone"-approved, and some others even require that your pickleballs don't match your paddles in color.
"Green Zone"-approved paddles tend to be those with a polymer core, like our third and fifth place picks — the blue and yellow Pro Kennex Kinetic Pro Speed Pickleball Paddles. That's because polymer cores tend to be the quietest ones you can find; our other aluminum and wood core picks hit louder.
Which Of These Paddles Are Loud And Which Are Soft?
Polymer core paddles are usually the quietest, while aluminum, nomex, and wooden paddles are the loudest.
Among our picks for this list, both blue and yellow Pro Kennex Kinetic Pro Speed Pickleball Paddles have polymer cores, whereas the Amazin' Aces Bainbridge paddle and Franklin Sports Viper paddle have aluminum cores. Lastly, we have the set of two wood-core Amazin' Aces Wood Edgeless paddles.
Are Edgeless Paddles Good For Players With Wrist Or Elbow Issues?
The paddle's core material — not the presence of an edgeguard — determines how effective it's going to be at diffusing impact.
Usually it's the polymer honeycomb cores that do best at reducing the vibration that would otherwise make its way to a player's arm. Therefore, we recommend either the blue or yellow Pro Kennex Kinetic Pro Speed paddle for the player with wrist or elbow issues.
Aside from the core, the paddle's weight is another important factor to consider. There's a reason why medium weight paddles tend to do best with players that have certain health issues — they're light enough for comfortable swinging and lifting while heavy enough to absorb most impact.
Every one of our edgeless picks is medium weight, except for the wooden paddle.
As a general rule, lightweight paddles are better for people with arthritis while medium weight paddles are better for those with tennis elbow. Ultimately, though, it's up to the individual player to decide what feels best for them.
Cushioned grips also do a great job of reducing shock as it travels from the paddle face to the arm. It's usually made of some kind of foam, which is pretty effective at absorbing the brunt of the impact.
Our recommendation? If you're able, try out various paddles — of different cores, weights, and grips — at your local pickleball club or sporting goods store to see exactly what kind of paddle is right for you.
Are Edgeless Paddles Better For Playing Singles Or Doubles?
Both! People tend to use heavier paddles in singles matches and lighter paddles in doubles matches, but it doesn't make a difference if these paddles have an edge or not. It depends more on your playing style and skill level whether you can make the most of an edgeless paddle in either type of game.
All the paddles mentioned in this review — except for our wooden pick — are medium weight paddles, so they are adaptable for both singles and doubles matches. Give it a try and let us know if edgeless paddles feel different to you between singles or doubles games!
Conclusion
You've made it to the conclusion of our review of the 5 Best Edgeless Pickleball Paddles! We hope you learned a lot about the virtues of edgeless paddles, and how they can potentially give you that extra edge you've been looking for!
To sum up, we talked about the many components that go into each of our picks, such as the face material, surface area, weight, grip, and core. Every aspect contributes to each paddle's performance in a different way, and the lack of an edgeguard could mean the difference between winning and losing.
Finally, we answered some frequently asked questions regarding edgeless pickleball paddles as well as the game in general — we hope it answered YOUR questions!
Comments
If not, talk to us! Is there anything we missed in our review? Have you tried an edgeless paddle before? Were any of them ones mentioned in this post? In your opinion, how do edgeless paddles compare to edged ones? Is there a different edgeless paddle that you'd recommend based on personal experience?
Please share your insight with us! We love learning from others in the pickleball community, and it's a beautiful thing to share knowledge with others and see the results of that play out. Leave a reply below and we'll get back to you as soon as possible. In the meantime, stay safe and have fun out on the court!