The 5 Best Beginner Pickleball Paddles Review [*Ranked*] in 2020
If you're looking for a new active hobby, there's no better time than the present to pick up pickleball! It's perfectly socially distanced, and you don't need any prior experience in order to get started. As long as you have basic hand-eye coordination, the sport is fun and simple to get into. That's why we've put together this list of the top 5 Best Beginner Pickleball Paddles!
All of the following products will allow you to get started (with a friend) right away — they all come in sets of more than one paddle and multiple pickleballs! Plus, they all come at a great price so that money doesn't pose a barrier to entry into the sport.
If you'd like to check out our other top 5 lists or learn more about pickleball in general, browse our site and stop by our Pickleball Paddle Ultimate Guide for more info!
Without further ado, let's get started with our guide to beginner paddles!
5 Best Beginner Pickleball Paddles — Overview

Please Note: This post contains affiliate links. An affiliate link means that we may earn advertising/referral fees if you make a purchase through our links.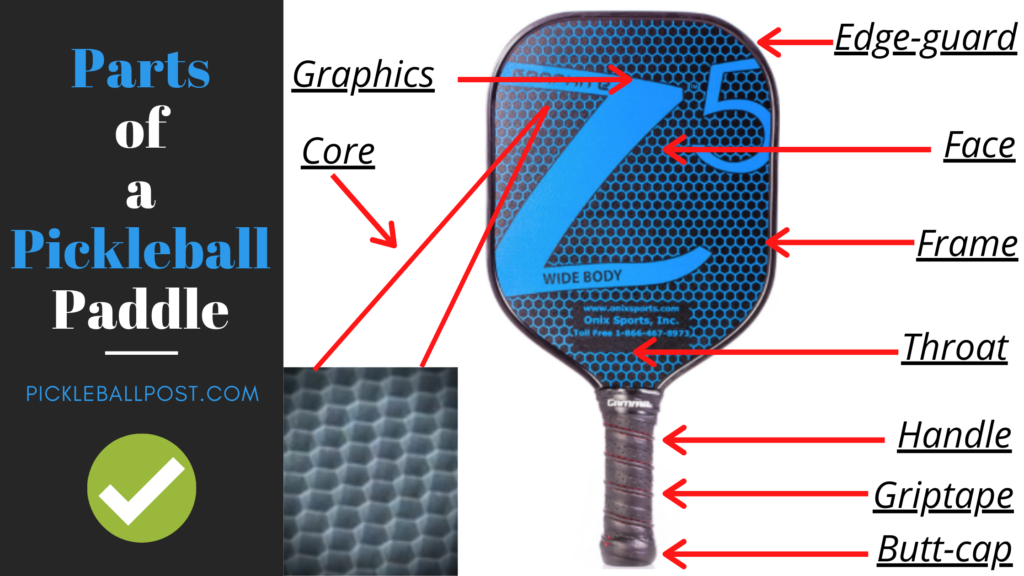 Players of racquet sports like tennis and racquetball have an advantage when it comes to pickleball, but don't let that stop you from getting into the sport. Plenty of people with no prior experience playing a racquet sport get really proficient at pickleball! As with everything you wish to get good at, all it takes is practice.
In this review, we will be discussing what makes each of our picks especially great for beginners, including details about each paddle's face, surface area, weight, grip, and core. Each product comes with really convenient accessories, so we'll talk about those too. And finally, we'll address common questions surrounding beginner paddles and pickleball in general.
Ready to find your first paddle? So are we!
5 Best Beginner Pickleball Paddles — Definitive List
Please Note: As an Amazon Associate, I earn from qualifying purchases.
Best Beginner Pickleball Paddles — The Winner
The Face
Our first place pick is a pair of paddles that we think is perfect for beginners: the Amazin' Aces Signature Pickleball Paddles.
Not only are they great paddles in their own right but they also come with protective cases, four pickleballs, and a bag to carry them in.
Aside from a court, that's everything that a person would need to get started in pickleball!
The faces of these paddles are made of a strong, responsive graphite material. Graphite paddles are particularly good at power shots, so a new player can practice varying levels of power that it takes to take the ball over the net. Plenty of pros like graphite paddles, though, so these paddles aren't just for beginners.
The Surface Area
This USAPA-approved paddle fits within the tournament dimension requirements. It is 16 inches long and just under 8 inches in width.
The grip takes up about 5 inches off the length, but that still leaves a lot of surface area on the face of this wide paddle.
Wide paddles like this one are preferred by players of all kinds of skill levels because they're the most well-rounded: they provide the perfect amount of reach and sweet spot while remaining compact and maneuverable.
It's for these reasons that they're often thought of as the default paddle size.
The Weight
Each of these paddles weighs between 8.1 and 8.3 ounces, making them medium weight paddles that border on heavy weight.
While they're on the heavier side of the medium weight spectrum, they still provide players with the best of both power and control.
That's because medium weight paddles are the most likely to be light enough for quick hand changes and control but not too light that power is lost. It's the perfect type of paddle for beginners to get started with because it is the overall best in terms of power and control.
The Grip Size and Feel
The 5-inch grip is typical, but the 4.5-inch circumference is a tad larger than the standard grip (4.25 inches).
This may or may not make a difference to you, especially if you have larger hands. But if these dimensions prove uncomfortable, you will have to downsize to a smaller grip and therefore a different paddle entirely.
The material of the grip features a contoured, hand-stitched spiralized cushion for maximum comfort.
The Core
These paddles have polymer honeycomb cores, which are known for being quiet, comfortable, and powerful.
Paddles with this type of core can distribute noise and impact more effectively than other cores can because of the large-cell pattern density characteristic of honeycombed polymer.
Polymer cores make it easy for beginners to get started with pickleball because noise restrictions at certain pickleball facilities accept most polymer core paddles.
More seasoned players still favor these paddles because they're just easy and comfortable to handle. Bottom line: you can't go wrong with a polymer core paddle and you can see why we have named this as our top pick in our 5 Best Beginner Pickleball Paddles Review!
5 Best Beginner Pickleball Paddles — Runner Up
The Face
In second place is a paddle set by the same brand, the Amazin' Aces Classic Pickleball Paddles. Like our first place winner, this product comes with four pickleballs and a bag to carry them in.
These racquets also have graphite faces, which are good for power hits.
Furthermore, there are edgeguards that protect the faces from regular dings and scrapes. Edgeguards are an especially important feature for beginners to have when they're not yet able to prevent unintentional scrapes against the ground while returning low shots, for example.
The Surface Area
Measuring 16 inches by 7.75 inches each, these wide paddles are fantastic for beginners.
That's because wide racquets provide just enough reach and hitting area on the face while being easy to handle.
In fact, they're preferred by players of all experience levels because they're just that versatile!
The Weight
Both paddles are considered medium weight paddles, since they both weigh in at around 8.3 ounces each.
Medium weight paddles give players a good balance between control and power since they're not too light or too heavy.
Though a heavier paddle would be more powerful, you'll find that it takes longer to develop swing fatigue with a medium weight racquet than it does with a heavier one.
The Grip Size and Feel
The grip measures 5 inches in length and 4.5 inches around. This circumference is a smidge larger than the standard 4.25 inches, but that may not pose an issue.
If the grip is too large, you'll have to find a different paddle with a smaller grip. But if it's still too small to your liking, you can upsize the grip using overgrips.
If you don't need any adjustment to the original grip, you can fully enjoy the material's comfortable, sweat-absorbent grip.
The Core
These paddles feature a polymer honeycomb core, one of the most shock-absorbent and noise-cancelling cores on the market.

So players can be sure that they have the most comfortable paddles — on the arm and the ears.
The latter is especially important if you have a pickleball club's noise regulations to take into consideration; most polymer core paddles should be acceptable.
But these aren't the only reasons polymer core paddles are highly preferred — they're also known for performing very closely to how players want them to. You can see why we have named this as #2 pick in our 5 Best Beginner Pickleball Paddles Review!!
5 Best Beginner Pickleball Paddles — Third Place
The Face
Our third place pick gives you not one, not two, but four paddles for one great price. In addition to that, you get four pickleballs to start off. Not bad for a pickleball starter pack!
These paddles have a 7-ply wood face. Wood paddles are the simplest and sturdiest type of paddle you can get for the sport; they get the job done and last a long time.
These paddles are edgeless, meaning that they don't have an edgeguard to protect the edges, but wood paddles are very durable, so the lack of an edgeguard shouldn't pose much of a problem.
The Surface Area
This paddle is about 16 inches by 8 inches, the standard measurements for a wide paddle.
Wide paddles usually fit most players' preferences, since they're just big enough to be easy to hit with yet compact enough to remain maneuverable.
The edgeless design means that players have the full surface area to work with, which is great news for the beginner first starting out.
The Weight
Each paddle weighs about 10 ounces, technically qualifying them as heavy weight paddles.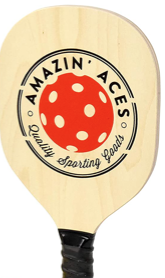 That's usually how much wood paddles weigh, so you may or may not need to consider a different paddle if you have any joint issues that might make such a heavy racquet uncomfortable even after a short period of time.
If not, you'll find that heavy weight paddles are great for packing a lot of power into every hit!
The Grip Size and Feel
Though the paddle face is wooden, the grip is made of a cushioned, rubberized material and has a wrist strap at the end.
The grip itself measures 5 ¼ inches long and 4 ⅜ inches around. That circumference is only a tad larger than the standard 4 ¼ inches, so it shouldn't cause much of an issue.
If it does, you'll need to downsize or upsize accordingly. The good news is that if you need to upsize, you can just use overgrips to enlarge the grip rather than changing to a completely different paddle.
The Core
The 7-ply wood construction of this paddle provides a durable core to endure through many games.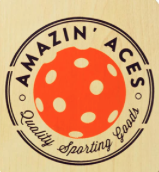 Wood paddles hit loud and decisively, and many people find that they're very satisfying to play with.
However, if you need a quieter paddle because you prefer it or because of certain noise restrictions at your local pickleball club, you'll want to opt for a different paddle — perhaps one with a polymer core.
5 Best Beginner Pickleball Paddles — Honorable Mention
The Face
Our first honorable mention is also a convenient set of 4: the Kanga Beginner Pickleball Paddle Bundle.
These four wooden paddles come with not four but sixpickleballs, more than enough to get you (and a couple friends) started!
For someone who just wants to try out the game, wooden paddles are perfect because they're the basic choice if you don't want to bother considering the endless other options out there.
It's understandable because wood paddles are inexpensive, get the job done, and are perfectly durable. You can expect all that from this paddle set.
The Surface Area
These paddles measure 15 ½ inches by 7 inches. They're not USAPA-approved at the time of writing, but you don't need to worry about that if you're just playing for fun.
(Upgrade to an approved paddle if you do decide to play more seriously.)
As it is, these dimensions qualify it as a typical wide paddle, and the lack of an edgeguard on the face means you'll have the full surface area with which to make returns.
The Weight
Each Kanga paddle weighs anywhere from 9.5 to 10.5 ounces — solid heavy weight paddles.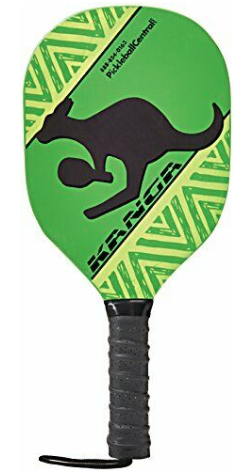 As we mentioned previously, wood paddles usually fall in this range, meaning that they have great potential to be very powerful paddles.
However, if you suffer from any joint issues like arthritis, heavy weight paddles — especially wooden ones — may not be your friend.
The Grip Size and Feel
Like the other wooden paddles we covered in this review, these paddles have a cushioned grip capped off by a safety strap.
The tennis-style grips are of standard length and circumference, meaning that they should fit most players just fine.
But if you need a larger grip, you can always use overgrips to thicken it to your liking.
The Core
These paddles are cut from white maple.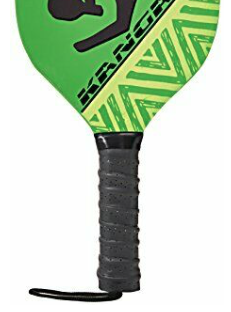 They should last you a good while because wood paddles are among the most durable ones out there.
All wood core paddles play pretty loudly, a feature that some find satisfying.
But if you're not one of those people, we recommend opting for a quieter polymer core paddle.
5 Best Beginner Pickleball Paddles — Honorable Mention
The Face
Our last pick is the set of two PENKOU Graphite Pickleball Paddles.
These graphite face paddles are built more for power than control, and since beginners are just starting to learn how to balance their strength and aim, these paddles are perfect for them.
In fact, graphite paddles continue to be a great choice as the beginner advances their skill level.
Furthermore, the edgeguard running all around the face of each paddle adds protection and longevity that you'll come to appreciate as a newcomer to the sport.
The Surface Area
Each of these paddles measures about 15 ½ inches in length by 8 inches.
These dimensions put them in the wide paddle category, the vastest and most popular paddle category in terms of size.
Wide paddles have a generous sweet spot while being easy enough to handle. That's a much-coveted combination of features that most players like.
The Weight
These medium weight paddles each weigh 8.8 ounces on average, making them heavy weight paddles.
They're not as heavy as most wood paddles, particularly the ones mentioned above in this review, but they still pack a lot of power into returns by sheer weight alone.
The difference is that the PENKOU paddles are more shock-absorbent than their heavy weight wood counterparts, due to being made of different materials.
The Grip Size and Feel
The grip is 4.9 inches long, with the standard circumference of 4.25 inches.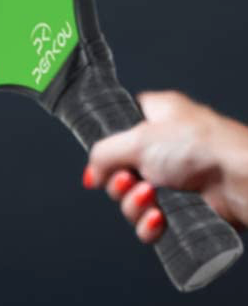 That should fit most people's hands, but you'll need to make adjustments if it doesn't. Top tip: use overgrips to enlarge the original grip — if it's too small for you — instead of replacing the whole paddle.
(Unfortunately, you will have to find a different paddle with a smaller grip if the standard grip is too big.)
Furthermore, the grip is cushioned and sweat-absorbent, with a perforated, embossed texture to help guide the player's hand.
The Core
We mentioned that this set of paddles is more impact-absorbent than wood, and the difference in core material is the main reason why.
The PENKOU graphite paddles have polymer cores arranged in the honeycomb pattern typical of the quietest, most shock-absorbent paddles on the market.
Therefore, these paddles are especially suited to players who have joint conditions like tennis elbow or play at pickleball clubs with certain noise regulations.
Frequently Asked Questions
Why Are These The Best Paddles For Beginners?
Our top 5 picks are all either graphite or wood paddles, great for beginner needs. Graphite is a good solid material for a paddle because it's an all-around powerful substance with a nice feel and doesn't have the fancy textures that more experienced players tend to take advantage of.
Wood, on the other hand, is a quick, easy, and inexpensive choice for the casual player just starting out. No bells and whistles — just strong, durable wood.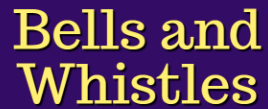 Another reason why these are our choices is that they all come in various sets of more than one paddle and multiple pickleballs. Some even throw in complimentary protective cases to keep the paddles clean and safe.
These are all you need to get started with the game — in addition to a pickleball court and the net dividing it.
We hope you enjoy the value that each of these products have to offer — we made sure that none of them were priced too high (you'll notice that none exceed $75 total). These products are on the low end of the price spectrum, but they do not compromise quality.
All things considered, there's a pretty low threshold for entry into pickleball, making it one of the most accessible sports to learn and practice!
Is There A Difference Between Indoor And Outdoor Pickleballs Or Paddles?
While there is no distinction between indoor and outdoor paddles, there is a difference between indoor and outdoor pickleballs.
Put simply, any paddle should work both indoors and outdoors, but it's best to use the appropriate ball depending on where you play your games.
Because environmental factors differ whether a game is inside a gymnasium or outside on the courts, the ball needs to be appropriately weighted and constructed. As a result, outdoor balls are heavier, made of harder plastic, and have smaller holes.
These differences help the ball to withstand the rough texture of the court and be harder to blow off-course in the wind. On the other hand, indoor balls are made of lighter plastic and have larger holes in order to bounce better on smoother indoor surfaces.
Are Beginner Paddles Durable?
We've checked to make sure that every one of the products we recommended is durable over a reasonable amount of time and wear. They're all available at great bundle prices without compromising quality.
So we're confident that any of these choices should last you a good amount of games (not counting, of course, the rare off-chance that you receive a defective product).
In fact, wood paddles are said to be the most durable, so the Amazin' Aces Wood Pickleball Paddles and the Kanga Beginner Pickleball Paddle Bundle come with multiple durable wood paddles.
That isn't to say that our other graphite picks don't also pull their weight — they are meant to be powerful on the court, so durability is an intrinsic part of every graphite paddle.
How Do I Properly Maintain My Paddle?
To get the longest life from your paddle, you'll want to keep it out of the sun as much as possible, since UV rays are harmful and can create dead spots (the opposite of a sweet spot) over time.
Therefore, it's important to keep your paddle in a case when not in use, especially if you have an edgeless paddle whose edges are particularly prone to unpredictable environmental factors other than the sun (i.e. bumping during transport).
You might even be able to find some paddles that come overlayed with a special UV protective coating. Even so, it's still a good idea to limit these paddles' exposure to sunlight like you would your skin.
Rain or moisture can also damage pickleball paddles and cause dead spots. So don't practice outside when it's raining, and even if you play indoors, the paddle should be protected from precipitation as you enter and leave the facility.
What Kinds Of Paddles Are Best For Beginners?
Beginners are just starting to get into the game. Therefore, they may not yet have a preference for the types of materials and sizes they want their paddle to be.
Additionally, novices usually want it to be easy to start playing right away, with solid, no-frills equipment.
Wood paddles fit the bill for beginners because it's a casual player's choice. Nothing fancy, just something that will allow the player to make reliably good returns.
Graphite paddles — with their strength and smooth texture — provide a lighter alternative to wood that absorbs more shock.
Fiberglass and carbon fiber paddles, on the other hand, tend to have textured faces that make it easier for the player to execute spin techniques, but these are relatively complex maneuvers that beginners are not expected to do.
Therefore, more experienced players tend to switch over to fiberglass or carbon fiber faces when they become more advanced, though certainly you can keep using whichever paddle you choose for as long as it can last.
In terms of size, wide paddles are best for beginners because they're just the right size and balance for a new player. They have a perfectly generous sweet spot and a good reach.
In contrast, elongated, edgeless, and oversized paddles are for players with more experience and who know specifically what they want to get out of their paddle.
How Do Edgeless Paddles Compare to Edged Paddles?
Edged paddles are those with an edgeguard around the face, and edgeless paddles are ones without. Edgeless paddles appear more streamlined because there isn't a border around the face.
This has a practical function, too — players don't need to worry that shots taken on the edge might be off because edgeless paddles have nothing on the edge to interfere with these shots.

Edgeguards protect the paddle face from dents, scraping, and reshaping as a result of contact with hard surfaces such as the ground.
Edgeless paddles will simply bear the signs of regular wear on the edges of the face. As a result, it's extra important for owners of these paddles to be gentler with them.
Which Of These Paddles Are Loud And Which Are Soft?
The polymer core paddles are the quietest, while the wood paddles are louder.
Among our picks for this list, the Amazin' Aces Signature Pickleball Paddles, the Amazin' Aces Classic Pickleball Paddles, and the PENKOU Graphite Pickleball Paddles have polymer cores, so these are your best bet for soft-sounding paddles.
On the other hand, the Amazin' Aces Wood Pickleball Paddles and the Kanga Beginner Pickleball Paddle Bundle will make louder hits.
Are These Paddles Good For Players With Wrist Or Elbow Issues?
Some are, some aren't. It's mainly the core material that determines how suited the paddle is for those with joint sensitivities.
Polymer honeycomb cores fare best at mitigating the shock that travels up a player's arm, so go for our first, second, or fifth place choice (the Amazin' Aces Signature and Classic paddles and the PENKOU racquets) if you have any health issues that get aggravated by too much shock.

The wood paddles, on the other hand, might not be light or effective enough at absorbing shock to be comfortable.
Speaking of lightness, weight is another factor that affects how comfortable a paddle is to a person with joint concerns. Generally, medium weight paddles are best — they're light enough for comfortable lifting and swinging but heavy enough to absorb most impact.
Among our picks, our first and second place Amazin' Aces paddles are both medium weight paddles, while the rest are heavy weight.
They say that lightweight paddles are better for people with arthritis while medium weight paddles are better for those with tennis elbow. Regardless, it's up to you — the individual player — to decide what feels most comfortable.
Having grips that are cushioned enough is also important for reducing shock upon each hit. Cushioned grips are usually made of a synthetic foam material, the kind used for tennis racquets.
To find the precise paddle for you, we recommend you try out different paddles — of varying cores, weights, and grips — at your local pickleball club to see if you have a favorite.
Are These Paddles Better For Playing Singles Or Doubles?
Both! All pickleball racquets can be used interchangeably between singles and doubles games. Some work a tad better for singles, but to the beginner these differences are quite abstract.
Light and medium weight paddles tend to do best with doubles matches since points are less likely won by power shots, hence there not being a need for a powerful heavy weight paddle.
For this reason, the heavy weight paddles we mentioned in this review — the wood and heavy weight graphite paddles — are all great for singles matches. But don't let that stop you from using any of these paddles in any type of game you want!
Conclusion

You made it to the end of our review of the 5 Best Beginner Pickleball Paddles of 2020! Now that you're armed with the knowledge you need to seek out your first paddle, we hope you treat yourself to an excellent choice!
To conclude, we discussed the face, surface area, weight, grip, and core of every one of these paddles and how they each contribute to a different area of performance. (As a reminder, part of what makes all 5 of our picks excellent for novices is the fact that they come with multiple paddles and pickleballs to get you started right away.)
Then we responded to some frequently asked questions regarding beginner pickleball paddles as well as the sport in general. If you have any lingering questions, we'd be happy to answer them below!
Comments
Have you tried any of these paddles before, especially as a beginner? What do you think of them? If you're an experienced pickleballer, do you remember transitioning from a beginner's paddle to one more suited for a seasoned player? Or, in your opinion, is there a good beginner's paddle we missed in our review?
We'd be honored to hear what you have to say! We love learning from fellow members in the pickleball community. Leave us a reply below and we'll make sure to get back to you as soon as can be managed. Thanks for reading, and we hope to see you in the next review!