PENKOU GRAPHITE PICKLEBALL PADDLE — INTRO
After doing extensive market research on the best beginner paddles on the market, we'd like to bring you this one: the PENKOU Graphite Pickleball Paddle set!
Graphite paddles are really something special. This particular product is the final top pick from our list of the 5 Best Beginner Pickleball Paddles of 2020! It comes in a set of two paddles, two indoor pickleballs, two outdoor pickleballs, and a zip-up carrying case for them all.
Not sure what the difference is between graphite and carbon fiber paddles, or between indoor and outdoor pickleballs? Find answers in our Pickleball Paddle Ultimate Guide!
If you're ready to dive into these great PENKOU paddles, let's begin!
PENKOU Graphite Pickleball Paddle — Overview
Please Note: This post contains affiliate links. An affiliate link means that we may earn advertising/referral fees if you make a purchase through our links.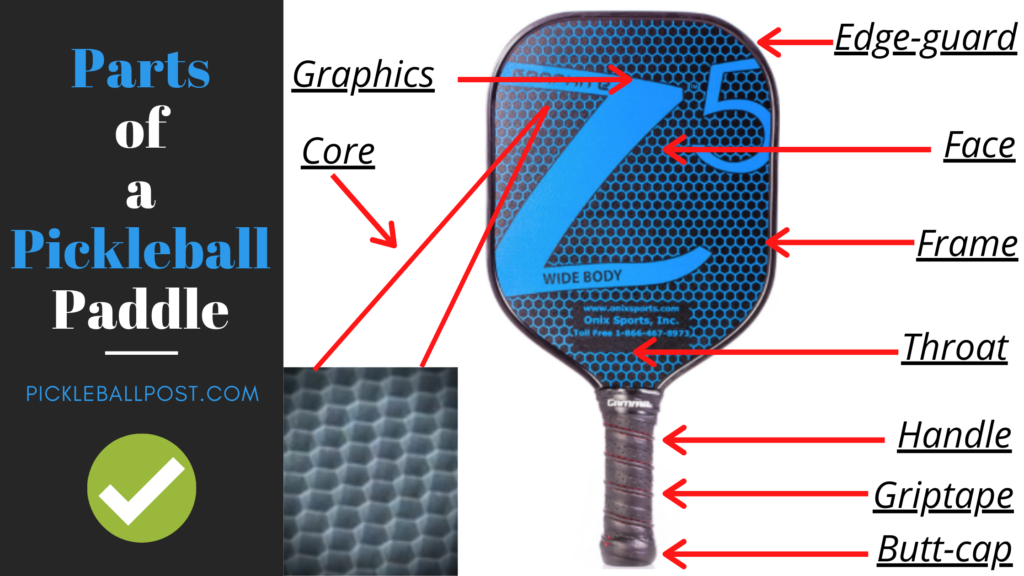 A good beginner's paddle is one that is sturdy, reliable, and inexpensive. Oftentimes, the best value can be had with products that come in sets of multiple paddles and pickleballs. Some even have carrying cases for paddles, balls, or both.
Luckily for you, the PENKOU Graphite Pickleball Paddle set ticks all these boxes! In this post, we're going to go in depth about the paddles: their face, surface area, weight, grip, and core, and how these elements influence the paddle's unique performance. Finally, we'll give you a concise rundown of this product's overall pros and cons so you can make a practical decision about selecting your first — or next — paddle!
That's a lot to discuss, so let's get right into it!
PENKOU Graphite Pickleball Paddle — The Basics
Please Note: As an Amazon Associate, I earn from qualifying purchases.
The Face
Both of these graphite face paddles are identical, so they're similarly built for power on the court.
Graphite paddles are perfect for beginners because they're just starting to learn how to swing and leverage the paddle to make the best shots.
Even as the player progresses, graphite paddles remain a smart, solid choice!
The Surface Area
Each paddle is about 15 ½ inches by 8 inches. These total dimensions qualify them as wide paddles, the most popular paddle size out there.
There's a good reason for that: wide paddles tend to have a very generous sweet spot but remain easy to maneuver.
That's a winning combination for most players, beginners or not!
The Weight
At about 8.8 ounces each, these paddles are considered heavy weight paddles.
While they're not as hefty as wood paddles, the weight on these still give you a lot of power in each swing.
Furthermore, you will notice that these graphite PENKOU paddles are more shock-absorbent than heavy weight wood models are, since they're made of completely different materials.
The Grip Size and Feel
The grip is just shy of 5 inches, at 4.9 inches long, and it has the standard circumference of 4.25 inches.
That's the standard because it usually fits most people's hands, but don't hesitate to make the proper adjustments if it doesn't fit yours.
For example, if the grip is still too small, use overgrips to enlarge the grip to your liking. On the flipside, you will need a different paddle with a smaller grip if you have the opposite problem.
The handle is made of a cushioned, sweat-absorbent material that is textured with light grooves to help position the hand. The light texturing will help you avoid getting blisters and calluses!
The Core
This pair of PENKOU paddles have polymer honeycomb cores, which are the most noise-cancelling and shock-absorbent type of core a paddle can have.
Players of all skill levels enjoy this type of core because it's very comfortable, responsive, and quiet.
It's the paddle of choice especially if you have joint sensitivities or play in a facility with selective noise restrictions.
Pros
graphite face is powerful
balanced weight
comfortable grip
generous sweet spot
polymer honeycomb core effectively absorbs vibration and noise
comes with 2 paddles, 4 pickleballs, and a carrying case for all
Cons
Not sure if this particular paddle is the right one for you? Take a look at the Amazin' Aces Signature Pickleball Paddle or the Amazin' Aces Classic Pickleball Paddle. The Amazin' Aces Wood Pickleball Paddle and the Kanga Beginner Pickleball Paddle Bundle are also GREAT picks in this class!
Conclusion
Now that you know everything there is to know about the PENKOU Graphite Pickleball Paddle set, we're excited for you to join the millions of pickleballers playing today!
We discussed how this particular paddle set is uniquely suited for beginners but also for more experienced players, resulting in a very versatile paddle that can follow you all along your pickleball journey, wherever it takes you!
Comments
Have you ever tried this paddle before? How does it compare to others you might have sampled? Do you have a better suggestion for a good beginner's paddle? Let us know!
We're open to all input, especially from fellow members of the pickleball community, a group that is very near and dear to us! Leave a comment below and we'll get back to you soon!