KANGA BEGINNER PICKLEBALL PADDLE BUNDLE — INTRO
Hop into pickleball with this paddle set of not one but four paddles and six pickleballs! That's right!! The Kanga Beginner Pickleball Paddle Bundle has everything you need to get started, so grab a couple of friends and you'll be ready to go!
This paddle set made it onto our list of 5 Best Beginner Pickleball Paddles. In this post, we'll be examining these paddles from the inside out, and you'll find out what makes them such a great choice for beginners!
To dive deeper into the world of pickleball — the variety of different paddles, playing styles, and general tips — feel free to go to our Pickleball Paddle Ultimate Guide. We wrote it just for readers like you, to learn the history and playing practice behind this unique sport!
But if you're ready to learn more about the Kanga Beginner Pickleball Paddle Bundle, read on!
Kanga Beginner Pickleball Paddle Bundle (set of 4) — Overview
Please Note: This post contains affiliate links. An affiliate link means that we may earn advertising/referral fees if you make a purchase through our links.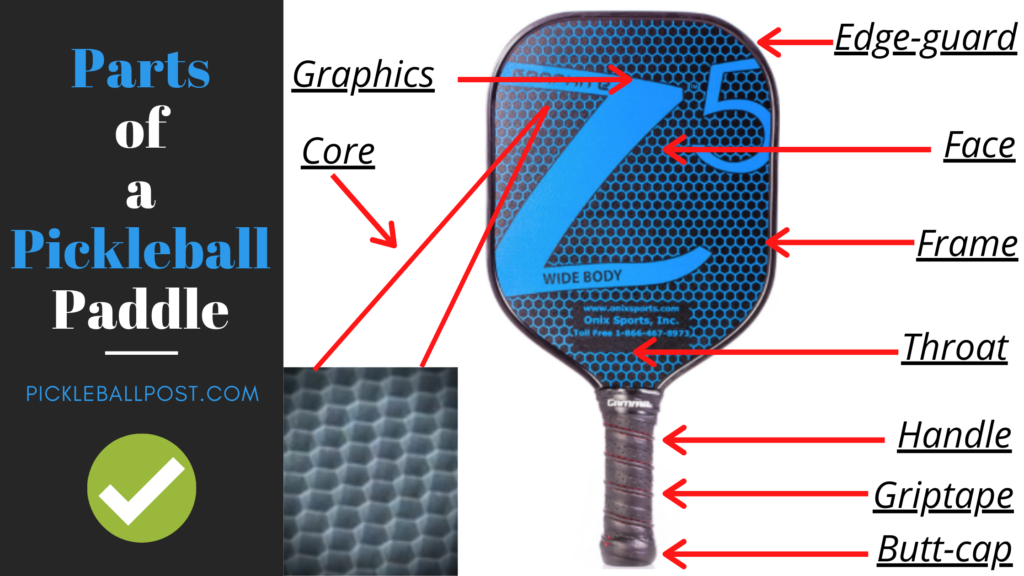 Wood paddles are classic, literally dating back to the founding of pickleball almost 60 years ago. So with this paddle set, you'll be getting a feel for the game the way it was first played. Plus, it's a relatively low intensity sport, so it's perfect to catch up with friends over, especially given that many sets like this one come with more than one paddle!
In this review, we'll go over why this paddle set is a beginner's friend. In particular, the face, surface area, weight, grip, and core of each paddle play an essential role in its performance. Then, we'll include a pros and cons list to help you decide if this is the right paddle set for you!
There's a lot of paddles and just as much to discuss, so let's get started!
Kanga Beginner Pickleball Paddle Bundle — The Basics
Please Note: As an Amazon Associate, I earn from qualifying purchases.
The Face
As we said, this paddle set comes with four paddles and six pickleballs. Each of these paddles are identical, so the excellent quality you'll get in one is what you'll get in all!
Wooden paddles are great for beginners because they're a reliable choice that doesn't differ too much across different manufacturers!
There are many different options out there, but wood ones are best for casual players that just want a paddle that works! They're cheap and durable, so one doesn't have to worry about them breaking down or needing to be replaced beyond the usual timeframe of regular use.
Note: In case your local pickleball facility is particularly fussy about the color of your pickleball matching the paddle face color, you might want to choose a different paddle set. (The Kanga paddles and balls are of a similar green.)
The reason the color matching might present an issue is that shots made from paddles that match the ball in color are harder to read by opponents, giving the player an unfair advantage.
The Surface Area
Each paddle measures 15 ½ inches by 7 inches. This qualifies them as wide paddles, which are the most common paddle size available for sale or rent at most pickleball facilities!
Though these particular paddles are not USAPA-approved, if you're just playing for fun or with the kids that shouldn't be an issue.
If you decide to play more seriously, however, look into upgrading to a larger, USAPA-approved paddle!
The Weight
The weight of each paddle ranges from 9.5 to 10.5 ounces, so they count as heavy weight.
Wood paddles typically fall in this weight category, simply by nature of the material!
Don't be cowed by the word "heavy" — as long as you don't have any joint issues, this paddle should feel fairly light and manageable to the average player.
Furthermore, heavy wood paddles allow players to put a lot of power into their returns!
The Grip Size and Feel
These paddles, like many wood racquets we've covered in the past, have a lightly cushioned spiralized grip with a wrist strap at the end.
Much like tennis grips, these are of standard length and circumference, so they should fit most players.
But if you find yourself in need of a larger grip, use overgrips to enlarge the handle until it fits your hand properly.
The Core
Cut from white maple, these paddle cores are strong and solid.
They hit loudly, but that's to be expected from wood paddles.
Be aware that some pickleball facilities are noise-regulated because of how loud multiple noisy paddles can be when playing simultaneously.
If you plan to play at one of these places we recommend you go for a quieter polymer core (or honeycomb core) paddle instead!
Pros
good for power shots due to weight
generous surface area
edgeless design does not interfere with hits made off the edge
comfortable grip
comes in a set of 4 paddles and 6 pickleballs
Cons
edges may show signs of wear early on in use due to lack of edgeguard
weight may not be suited for those who suffer from joint issues
paddle color matches pickleball color
Not sure if this particular paddle is the right one for you? Take a look at the Amazin' Aces Signature Pickleball Paddle or the Amazin' Aces Classic Pickleball Paddle! The Amazin' Aces Wood Pickleball Paddle is also a great option! You could also take a look at the PENKOU Graphite Pickleball Paddle!
Conclusion
Now that you know all about the Kanga Beginner Pickleball Paddle Bundle, it's time to select your first paddle! As a reminder, this paddle set comes with four paddles and six pickleballs, which is more than enough to get you started!
Whether or not you choose this paddle set, we hope you're now armed with the information in order to make a decision about which one will be!
Comments
What do you think of wood paddles? Have you ever used these particular paddles before? Is there a different beginner's paddle you like instead? We want to know what you think!
Every player's insight is important, and you could end up helping out someone else by sharing yours. Leave a comment below and we'll get back to you as soon as possible!