AMAZIN' ACES CLASSIC PICKLEBALL PADDLE (SET OF 2) — INTRO
Have you always wanted to start playing pickleball, but the thought of getting all the right equipment for it gives you a headache? Not anymore! With this set of Amazin' Aces Classic Pickleball Paddle, picking up the sport has never been easier!
This paddle set is our runner up pick from our top 5 Best Beginner Pickleball Paddles! Aside from the fact that this product comes with everything you need to get started and stay motivated, the paddles themselves are constructed with a beginner's sensibilities in mind!
Check out our Pickleball Paddle Ultimate Guide for info on other types of pickleball paddles, unique playing techniques, and more!
But now, let's learn why these Amazin' Aces paddles are so excellent for beginners!
Amazin' Aces Classic Pickleball Paddle — Overview
Please Note: This post contains affiliate links. An affiliate link means that we may earn advertising/referral fees if you make a purchase through our links.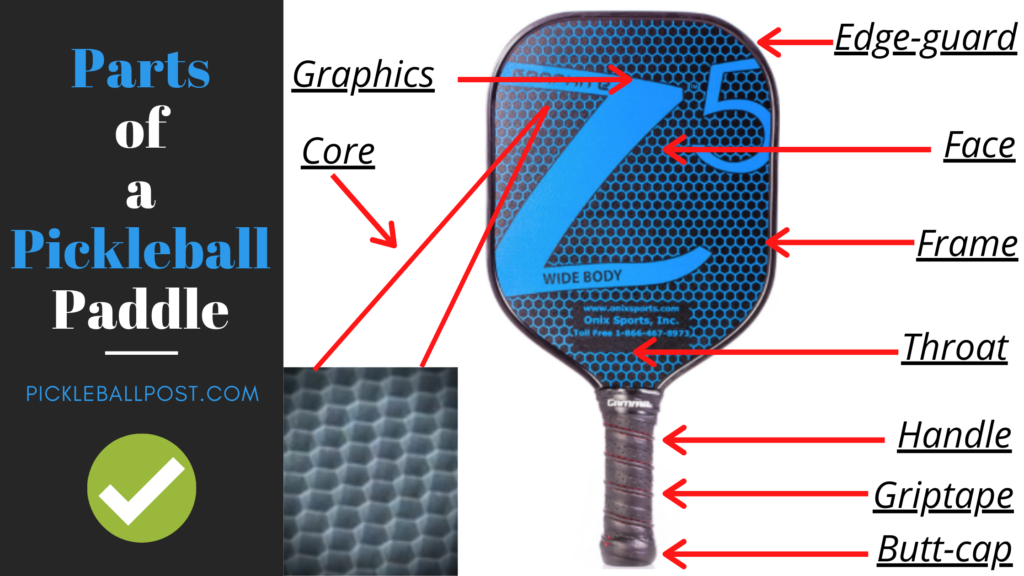 What makes a paddle good for beginners? For starters, it really helps if the product comes bundled with at least two paddles and a couple pickleballs.
That's exactly what you'll get with a purchase of the Amazin' Aces Classic Pickleball Paddle set. You'll get not one but two paddles and four pickleballs!
In this post, you'll learn all about these paddles, from the face, surface area, weight, grip, and core, and how these component parts influence performance. At the end, we'll bring up a pros and cons list for this product that summarizes everything!
Ready to learn why we think so highly of this paddle set? Let's dive right in!
Amazin' Aces Classic Pickleball Paddle — The Basics
Please Note: As an Amazon Associate, I earn from qualifying purchases.
The Face
The Amazin' Aces Classic Pickleball Paddles possess a hardy graphite face, which is known for its superior power.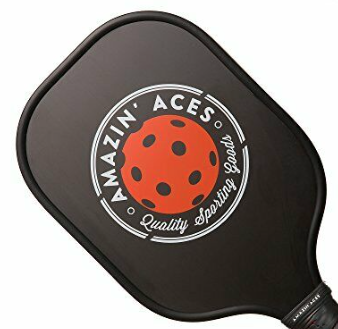 The responsive material is perfect for beginners to get accustomed to the unique rhythms and energy required to play the game.
To protect this graphite face, there are edgeguards that run around the border that prevent the face itself from denting or scraping against hard surfaces.
Having an edgeguard is an especially important paddle feature for beginners because they're not yet fully in control of how to steer away from contacting the ground directly while returning low shots.
The Surface Area
Both paddles are what is known as wide paddles, since they each measure 16 inches by 7.75 inches.
These dimensions provide a fair amount of reach and sweet spot on the face, yet they're not cumbersome to handle even for newcomers to racquet sports.
In fact, they're the preferred paddle size by players of all levels because they're extremely versatile!
The Weight
They weigh about 8.3 ounces each, which makes them medium weight paddles.
Paddles of this weight strike the perfect balance between power and control, a feature that beginners can especially appreciate.
Medium weight paddles allow players to hold back or unleash strength at will, and they're light and sensitive enough to make special techniques like spinning or dinking easy.
The Grip Size and Feel
The cushioned handle is 5 inches long and 4.5 inches around, a little larger than the standard 4.25 inches.
Depending on your hands, that may or may not present a problem. If the grip is too big, find a different paddle with a smaller grip.
But if you find the grip still lacking in size, you can customize it to fit you with overgrips, adhesives that mold to the original grip to add thickness.
The Core
At the heart of each of these paddles is a polymer honeycomb core, known as one of the most vibration-absorbent and noise-reducing cores out there.

The latter is critical if you plan to play at a noise-regulated pickleball facility.
Aside from its ability to mitigate noise and impact, polymer honeycomb cores are just really good at performing how you want them to. It's no wonder why even the pros still prefer this type of core!
Pros
graphite face is powerful
balanced weight
generous sweet spot
polymer honeycomb face effectively absorbs vibration and noise
set comes with 4 pickleballs and a mesh carry bag
Cons
grip is a bit larger than standard
Not sure if this particular paddle is the right one for you? Take a look at the Amazin' Aces Signature Pickleball Paddle or the Amazin' Aces Wood Pickleball Paddle, each of which are VERY popular options! The Kanga Beginner Pickleball Paddle Bundle and PENKOU Graphite Pickleball Paddle are top performers as well!
Conclusion
That wraps up our review of the set of two Amazin' Aces Classic Pickleball Paddles! We hope you learned a lot about this amazing beginner's paddle and that it inspires you to take the plunge into pickleball sometime soon!
If you ever need to refer back to the overall pros and cons of this product, just look a little higher to our pros and cons list.
Comments
What do you think of this paddle? Have you ever tried it before, or one like it? How does it compare to others you may have tried?
Let us know — we love hearing from fellow members of the pickleball community! Leave a comment below and we'll make sure to get back to you as soon as possible.