AMAZIN' ACES WOOD PICKLEBALL PADDLE — INTRO
If you're looking for a new favorite hobby, you're in the right place! In this post, we'll explain why pickleball is the perfect beginner's sport, and why the Amazin' Aces Wood Pickleball Paddle (actually, a set of 4 of them!) is your ticket to get started!
This product ranked #3 in our list of top 5 Best Beginner Pickleball Paddles, a post that gives the full rundown of the very best paddles (and their accessories) for newcomers to the game. Here, you'll learn specifically why this paddle is a great choice for anyone looking for an easy, inexpensive option that will allow them to start playing right away!
If you're interested, there's much more to the pickleball world — check out our Pickleball Paddle Ultimate Guide to learn more about pro paddles, playing tips, and more!
But for now, there's plenty to discover in this review of another remarkable Amazin' Aces paddle set!
Amazin' Aces Wood Pickleball Paddle — Overview
Please Note: This post contains affiliate links. An affiliate link means that we may earn advertising/referral fees if you make a purchase through our links.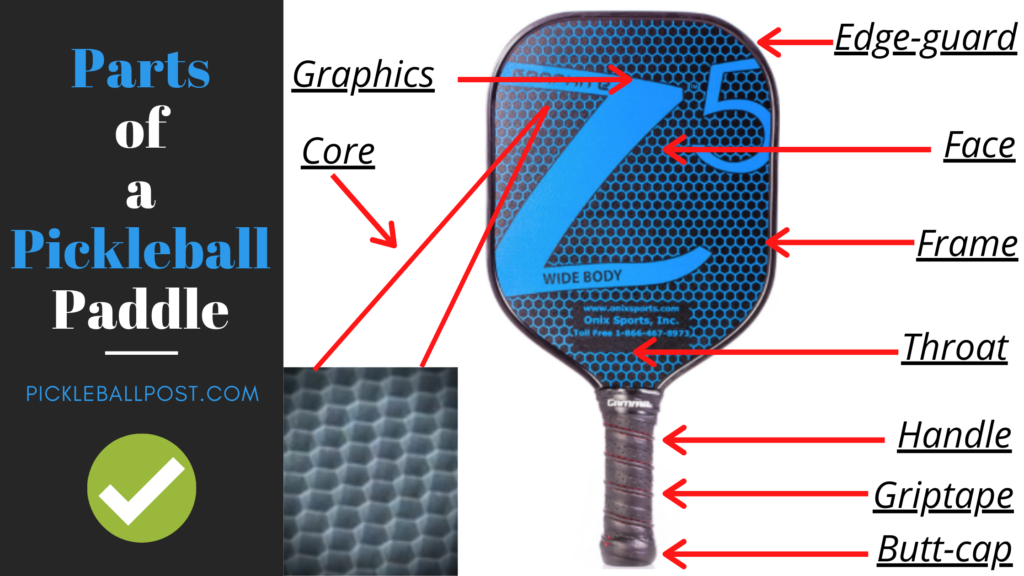 We previously reviewed the Amazin' Aces Wood Pickleball Paddle set of two, but today we're back with more — literally! The Amazin' Aces Wood Pickleball Paddle set of four packs even more value into a compact bundle.
Not only does it come with four paddles but you'll also get four pickleballs! Furthermore, the paddles themselves are a simple yet strong choice for beginners. We'll be discussing why, as well as the face, surface area, weight, grip, and core. Each of these features contributes to the paddle's overall performance and feel. And finally, we'll provide a pros and cons list to help you decide if this is the right paddle set for your needs!
It's a lot to discuss, so let's get started!
Amazin' Aces Wood Pickleball Paddle — The Basics
Please Note: As an Amazon Associate, I earn from qualifying purchases.
The Face
In this pickleball starter pack, the four identical wood paddles all have a 7-ply wood face.
Though simple, wood paddles are very sturdy — great to have when you just want a paddle that will get the job done without breaking the bank.
Furthermore, these paddles don't have an edgeguard, so although you won't have the added protection, you can hit from anywhere on this paddle without interference.
The Surface Area
Each paddle measures about 16 by 8 inches, exactly what you would expect from a wide paddle.
These types of paddles are a favorite in the pickleball world, since they're just large enough to hit easily with but still small enough that they're easy to manipulate.
Beginners especially appreciate the intuitive balance and design of wide paddles because they feel right even in the hands of those who've never touched a racquet.
The Weight
Wood paddles usually weigh around 10 ounces, and the same is true of these racquets.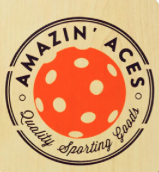 At 10 ounces each, they're heavy weight paddles and fantastic for the power they inherently add to every swing. That said, if you happen to have joint issues, a paddle of this weight may not be the most comfortable.
But if not, you may find you like the level of power you can achieve with these paddles!
The Grip Size and Feel
We covered the wooden paddle face, but the grips are another story.
Each grip is secured at the end with a wrist strap and made of a cushioned, sweat-absorbent material. It measures 5 ¼ inches long and 4 ⅜ inches around.
This circumference is a hair larger than the standard 4 ¼ inches. If that's still too small, you can use overgrips to thicken it to your liking. Right sizing your grip will help you prevent blisters and calluses!
The Core
The 7-ply wood core promises durability and very satisfying hits — wood hits loudly and crunchily.
If that isn't for you, though, you can opt for a quieter polymer core paddle.
Also, if you're looking for a paddle with better shock absorption, wooden paddles may not be in your future. But if you don't have any special preferences and simply want to play the game, this is your paddle!
Pros
good for power shots due to weight
generous surface area
edgeless design does not interfere with hits made off the edge
comfortable grip
comes in a set of 4 paddles, 4 pickleballs, and a mesh ball bag
Cons
edges may show signs of wear early on in use due to lack of edgeguard
weight may not be suited for those who suffer from joint issues
Not sure if this particular paddle is the right one for you? Take a look at the Amazin' Aces Signature Pickleball Paddle or even the Amazin' Aces Classic Pickleball Paddle, each of which are AWESOME picks in this category! The Kanga Beginner Pickleball Paddle Bundle and the PENKOU Graphite Pickleball Paddle are top performers as well!
Conclusion
You've reached the end of our review of the Amazin' Aces Wood Pickleball Paddles! To reiterate, it comes with not one but four paddles, as many pickleballs, and a mesh bag.
Not only does it pack a lot of value into a single package, it's also pretty certain to last you a good long time — wood is a reliable, durable material that you can feel with every hit.
Comments
Do you have an opinion on wood paddles? Have you ever used these particular ones before? Is there another beginner's paddle you perhaps like instead?
We'd like to hear your thoughts! Leave a reply below and we'll make sure to get right back to you ASAP. Your input might help someone else, too, so please feel free to share!