AMAZIN' ACES SIGNATURE PICKLEBALL PADDLE — INTRO
Here at Pickleball Post, all our first place picks from our top 5 lists have something in common — they're as close to perfect for their respective categories as one can get. The Amazin' Aces Signature Pickleball Paddle collection is no different!
This was our #1 choice from our list of top 5 Best Beginner Pickleball Paddles. It comes in a set of two paddles and four pickleballs, but as you'll soon find out in this review, there are many more reasons it's a great beginner's choice!
If you want to brush up on all things pickleball, we recommend you head over to our Pickleball Paddle Ultimate Guide for more!
But for now, let's dive right into this amazing Amazin' Aces product!
Amazin' Aces Signature Pickleball Paddle — Overview
Please Note: This post contains affiliate links. An affiliate link means that we may earn advertising/referral fees if you make a purchase through our links.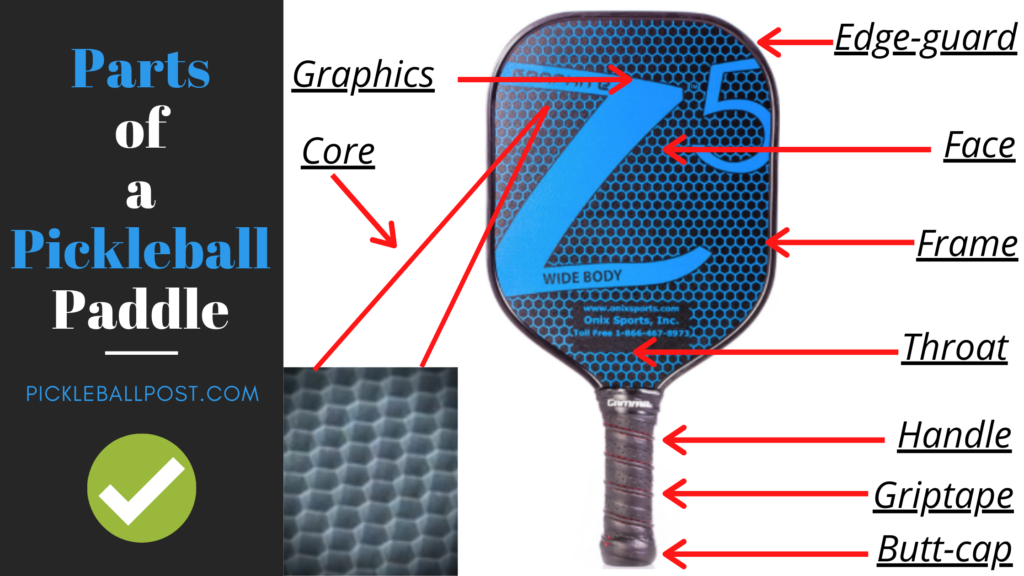 You might be wondering exactly what makes a paddle suited for beginners. Well, part of it is the sheer value one would get from a given product — does it come with more than one paddle so a beginner can play with a friend?
Do they come with cases for safe and convenient transport and storage? And what about pickleballs, so that the beginner doesn't have to purchase them elsewhere?
Fortunately, the Amazin' Aces Signature Pickleball Paddle set checks all these boxes. In fact, apart from the complimentary accessories, the paddles themselves are the kind that beginners would favor.
In this review, we'll tell you all about them — the face, surface area, weight, grip, and core, as well as how all these factors contribute to their performance. Then, we'll conclude with a nifty pros and cons list so all these features are lined up in one place.
Ready? Let's get started!
Amazin' Aces Signature Pickleball Paddle — The Basics
Please Note: As an Amazon Associate, I earn from qualifying purchases.
The Face
As we mentioned, this product comes in a set of two graphite pickleball paddles, a pair of protective cases, four pickleballs, and a drawstring bag to carry them in.
All you'd need is a court to play in and you'd be set!
These graphite faces are built for power, something that beginners are just starting to learn to use when they first start out.
The responsive material provides the player with a good feel for the ball, which is important for the beginner to get a good sense of as they progress!
The Surface Area
Each paddle is 16 inches lengthwise and 8 inches in width, categorizing them as wide paddles!
This size of paddle is perfect not only for beginners but for players of all skill levels because they have an ideal reach and sweet spot on the face while remaining agile in the hand.
Furthermore, the balance is intuitive and comfortable to new players, even if they've never played a racquet sport before.
The Weight
These paddles weigh between 8.1 and 8.3 ounces each, relatively hefty medium weight paddles!
Still, as medium weight paddles, they represent the best balance between power and control that players can ask for.
Quick hand changes and directional shifts are easy with medium weight paddles, since they're light enough for fast maneuvers but still heavy enough to be powerful with returns.
In short, it's the ideal type of paddle for beginners to discover their unique playing style.
The Grip Size and Feel
As far as pickleball paddle grips go, the 5-inch grip on this one is a pretty typical length, while the 4.5-inch circumference is a bit larger than the standard (4.25 inches).
If you have larger hands, you may not even notice the difference. But if the grip is too big, you'll need to find a smaller-gripped paddle.
The grip's material is made up of a contoured, perforated stitch cushion, like the kind used in tennis racquets. They remain comfortable and dry even over long games. It will also help you avoid calluses and blisters!
The Core
In addition to the responsive graphite face, each of these paddles has a polymer honeycomb core, a very popular core type in the pickleball world.

A large part of their popularity is due to their reputation as the quietest and most shock-absorbent core on the market. It's true — the nature of polymer and the large-cell pattern it's arranged in are very effective at neutralizing both the vibration and noise from impact!
Polymer core paddles also tend to be the most widely accepted type at most pickleball facilities, even those with strict noise regulations. So whether you're a beginner or a more experienced player, polymer cores are reliable, comfortable, and resilient in anyone's hands!
Pros
graphite face is powerful
balanced weight
comfortable grip
generous sweet spot
polymer honeycomb face effectively absorbs vibration and noise
Cons
grip is a bit larger than standard
Not sure if this particular paddle is the right one for you? Take a look at the Amazin' Aces Classic Pickleball Paddle or the Amazin' Aces Wood Pickleball Paddle, each of which might be a GREAT pick for you! The Kanga Beginner Pickleball Paddle Bundle and the PENKOU Graphite Pickleball Paddle are frequently player favorites as well!
Conclusion
Thanks for sticking with us this far — we hope you got some helpful tidbits from this review about the Amazin' Aces Signature Pickleball Paddles!
To review, we discussed how the graphite face, wide body type, medium weight, ergonomic grip, and shock-absorbent core all go into a different aspect of the paddles' performance and handling. We listed these aspects in a nice little pros and cons list above.
We hope you consider this as your first paddle, but if not, we hope that now you're at least armed with info you need to find the one that will be!
Comments
Have you ever tried this paddle before? If you've tried others as well, how do they compare? Is there a better beginner's paddle that you think deserves our #1 spot?
If you have any questions or comments at all on anything we've mentioned in this post, we'd like to know. Everyone in the pickleball community has a voice, so let yours be heard! Leave a reply below and we'll get back to you as soon as we can!!