PADDLETEK TEMPEST WAVE II — INTRO
Welcome to another one of our pickleball paddle reviews! This article will be a thorough review of the Paddletek Tempest Wave II pickleball paddle, a top pick for players who like being able to control the trajectory and exact landing spot of every hit. Not familiar with the generalities of pickle ball paddles? Be sure to check out our Pickleball Paddle Ultimate Guide prior to reading this post!
This paddle is designed to help you achieve a great balance between control and power. It's also the second place winner listed in our Top 5 Pickleball Paddles for Spin post! Are you ready to learn why we think so highly of this particular paddle? Let's dive in!!
Please Note: This post contains affiliate links. An affiliate link means that we may earn advertising/referral fees if you make a purchase through our links.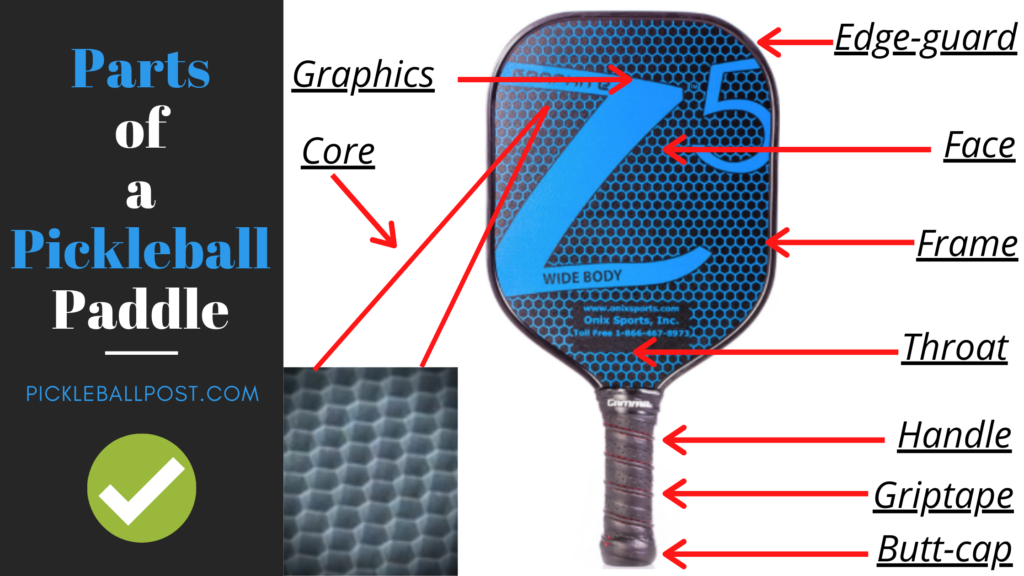 Below, we break down the basics, including but not limited to what materials the face, core, and grip are made of. We'll also tell you its weight and surface area, and how all these factors contribute to the paddle's overall performance. At the bottom we also included a concise pros and cons section to further help you make your decision if you're considering the Paddletek Tempest Wave II or a paddle like it.
Paddletek Tempest Wave II — The Basics
Please Note: As an Amazon Associate, I earn from qualifying purchases.
Below you can read all about the key features that make the Paddletek Tempest Wave II a top of the line pickleball paddle. After all, if you are interested in potentially adding this paddle to your collection, you'll want to develop a good understanding of its components and whether they result in a product that aligns with your individualized style of play. So without further ado, let's dive right in.
The Face
The face of this pickleball paddle is made of graphite, which is designed to help you achieve a combination of strength and control with every hit.
Because of this material, the area of the paddle known as the "sweet spot" — the optimal area of the paddle where hits come off best — is larger than in other paddles.
The graphite face also improves your spin because the texture adds a slight "grab" to the ball when the paddle makes contact. So when playing with this paddle, you'll find that it's easier to find the sweet spot that allows you to control and/or spin the ball.
The Surface Area
Counting the grip, this paddle has a length of 15 ⅞ inches and a width of 8 inches. This includes an edgeguard that measures ⅛ of an inch all around.
With these measurements, the paddle is considered "wide," the most popular pickleball paddle size. As a wide paddle with ample surface area, it gives players the ability to control or spin the ball as they please.
The Weight
The Paddletek Tempest Wave II's weight falls in the 7.4-7.8 ounce range, which makes it a medium-weight paddle. It's light enough to maneuver but heavy enough that you don't lose too much power.
Some paddles optimal for spinning might weigh slightly heavier (up to 8.3 ounces), but this paddle offers a lighter option if you're looking for a good spin paddle. If you're worried about tennis elbow, you'll still be comfortable playing with this paddle, though heavier options could feel even better.
The Grip Size and Feel
The grip is 5 ¼ inches in length and considered a "standard" grip, which means the circumference measures 4 ¼ inches. However, a player with smaller hands may have to opt for a smaller grip.
On the flipside, if your hands are too large for this grip, you can add pickleball paddle overgrips, which measure about 1/16 of an inch and are pulled tight over the original grip so that it becomes thicker. As in tennis, it's important for your grip to feel comfortable, especially if control and spin are your objectives.
The Core
Polymer cores are known for belonging to great spin paddles, so that's what you'll get with the Paddletek Tempest Wave II.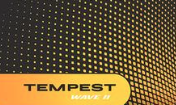 This paddle's honeycombed polymer core is great for increasing the ball's responsiveness yet quiet enough to comply at facilities with noise restrictions. The core is also mixed with graphite, which actually helps reduce vibration.
Pros
medium weight (good balance of power and control)
sizable sweet spot
comfortable standard grip
reduced vibration even given its lighter weight
Cons
a bit lightweight when compared to other spin paddles
slightly expensive compared to similar paddles
Not sure if this particular paddle is the right one for you? Take a look at the Engage Pickleball Encore Pro! The Pro-Lite Supernova Black Diamond Pickleball Paddle and the Gamma Compass NeuCore Pickleball Paddle are also very popular in this particular class of paddle!
Conclusion
We hope this detailed review of the Paddletek Tempest Wave II helps guide you in making a decision about your next pickleball paddle. If you do decide to give it a go, let us know your thoughts about the paddle's performance — does it live up to its promise of control, power, and spin? Or, if you already own this paddle, what do you like or not like about using it? How has it held up over time?
Comments
Leave a comment below — we love hearing from our readers in the pickleball community! We read and reply to every comment and believe that every pickleballer has something to share that can help other pickleballers with their game. If you have any questions, we'll do our best to answer them. And if we're stumped, we are certain that another of our readers will be able to jump in and assist!