PRO-LITE SUPERNOVA BLACK DIAMOND PICKLEBALL PADDLE — INTRO
Different pickleball players look for different things when they go shopping for paddles. Is it going to last a long time? Is it better for spin or for power? How does the grip feel while playing? These are all very important questions. In this post, we'll tell you all about the Pro-lite Supernova Black Diamond pickleball paddle, a high-quality paddle that's especially good for spin techniques.
It is an honorable mention in our 5 Best Pickleball Paddles for Spin post, so it's got quite a few features going for it that make it a top spin paddle. Not familiar with pickleball paddles? Take a look at our Ultimate Guide before reading further!
Pro-lite Supernova Black Diamond Pickleball Paddle — Overview
Please Note: This post contains affiliate links. An affiliate link means that we may earn advertising/referral fees if you make a purchase through our links.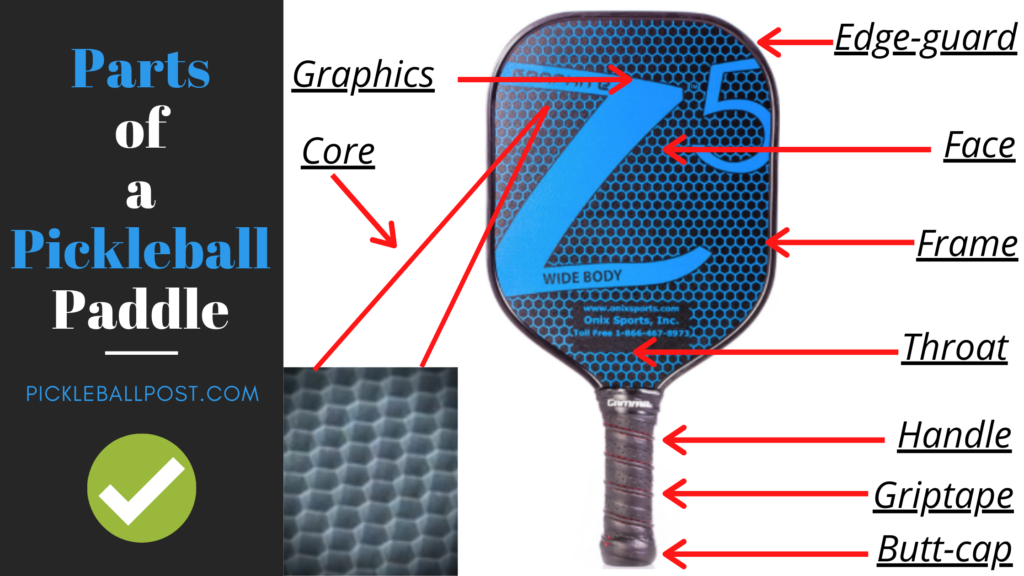 This product is uniquely constructed to be a high performer amidst a range of other pickleball paddles. Below we'll tell you all about what makes it so excellent, from its core to surface area to grip — every one of these features contributes to the paddle's potential as a whole.
Are you ready to learn why we think so highly of this particular paddle? Let's dive in!
Pro-lite Supernova Black Diamond Pickleball Paddle — The Basics
Please Note: As an Amazon Associate, I earn from qualifying purchases.
The Face
Right away, you can tell by simply looking at this paddle that it's of fine make. Indeed, the face is entirely constructed of American-made, 100% carbon fiber.
Carbon fiber paddles have increasingly become popular in the pickleball world because of the material's ability to give players superior control over how they spin the ball, so that's what you'll get with the Pro-lite Supernova Black Diamond.
The Surface Area
With the handle, this paddle's surface area measures approximately 15 ½ inches in length by 8 inches. This makes it a typical wide body paddle, great for spinning due to the widely distributed sweet spot.
The Pro-lite Supernova Black Diamond isn't the widest paddle on the market, but it's wide enough to be a preferred paddle to perform spin hits.
The Selkirk Amped and the Paddletek Tempest Wave II pickleball paddles, for example, are slightly larger paddles (that still fall under the "wide" body category) that may give you even more of an edge when executing spin shots. The Engage Encore Pro is also a nice choice!
The Weight
This paddle weighs 8 ounces, putting it right in the middle of the medium weight range of pickleball paddles. Medium weight paddles are the perfect marriage of spin control and power, giving you the ability to hit great spins or sheer power shots merely based on your preference at any given moment.
That said, the Pro-lite Supernova Black Diamond is on the heavier end of the mid-weight range; some great spin paddles start as low as 7.2 ounces, so this paddle may generally give you more power than spin.
The Grip Size and Feel
The grip length is 5 ¼ inches, while its circumference is 4 ⅛ inches, which is considered smaller than average. (The standard grip circumference is 4 ¼ inches.) If you use a grip too small for your hand, your fingers will overlap and cause discomfort in playing, not to mention a reduced ability to spin.
For this reason, depending on your hand size, you may need to use overgrips to thicken the grip (1/16 of an inch at a time) until it fits your hand properly. However, this paddle will be great as is for someone with smaller hands that don't usually fit the standard size. The right size grip will also help you avoid calluses and blisters!
The Core
The polymer core on this paddle is what makes it an excellent spinner. Moreover, the honeycomb pattern helps distribute impact across the broad face of the paddle, setting it apart from paddles that are made of a more rigid material, like wooden paddles.
Honeycombed polymer cores give you the best of both worlds in the form of great spin control and comfortable, vibration-reduced playing.
Pros
good balance of power and control
broad surface area and sweet spot
high quality carbon fiber face makes for ultimate control
honeycombed core absorbs impact
Cons
grip is on the small side
more expensive than comparable paddles
Conclusion

We hope this detailed review of the Pro-lite Supernova Black Diamond pickleball paddle gives you a good idea of what to expect from this paddle, should you choose to add it to your collection. It comes in four different colors (accents, really, since the majority of the face is simply a sleek black for all of them) and is made in the U.S.
Comments
What do you think — have you tried this paddle? Tell us what you thought of its spin and power, perhaps compared to other paddles you may have tried. Is there a different product you'd recommend to get better spin?
Also, if you have any questions, we'd be happy to answer them. We love hearing from our readers in the pickleball community, as we believe that every player has something valuable to contribute to the game. Leave a comment below, and we'll get back to you very soon!