ENGAGE PICKLEBALL ENCORE PRO – INTRO
Pickleballers need a wide variety of shots to select from to ensure that they can defeat opponents with a variety of playing styles. One of the most important shots a pickleballer can master is the spin shot – the Engage Pickleball Encore Pro is going to help you with that task! You can learn which paddles are best at which shots by checking out our Pickleball Paddle Ultimate Guide.
Included in our post on the Top 5 Pickleball Paddles for Spin, the Engage Pickleball Encore Pro is a PERFECT example of a spin oriented pickleball paddle. Let's find out why!
Engage Pickleball Encore Pro – Overview
Please note: This post contains affiliate links. An affiliate link means that we may earn advertising/referral fees if you make a purchase through our links.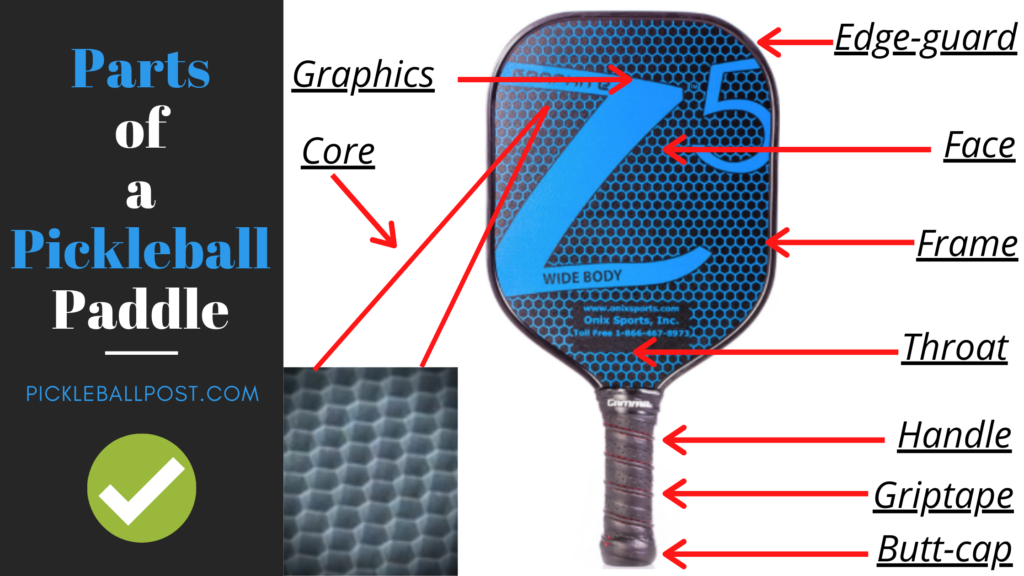 This article contains an in depth review of the Engage Pickleball Encore Pro, a type of pickleball paddle that has been specifically designed for those pickleballers who are looking to add a little bit of "spin" to their game. Whether top spin or back spin, these paddles have you covered!
Below, we talk a little bit about the basics of the paddle – What is the face made of? How big is the surface area? How much does it weigh? What about the grip size and feel? What is the core made of? And so on.
After that. We have included a short listing of "pros" and "cons" to help you determine whether it might be a good fit for your game. We have also included a little bit of our own opinion in terms of our experience with this particular model of pickleball paddle. We like to learn from the experiences of others, perhaps you do as well?
Engage Pickleball Encore Pro – The Basics
Please Note: As an Amazon Associate, I earn from qualifying purchases.
The Face
This paddle features as "Specialized 'Proprietary' Fiberglass" face which is ideal for those pickleballers looking to add a little spin to their game.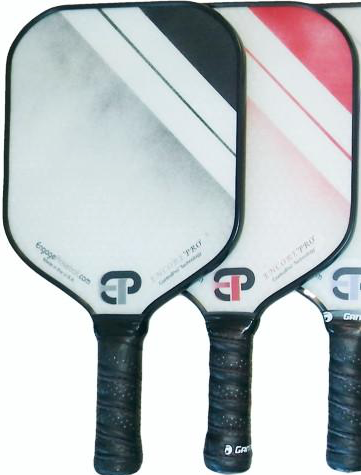 The purpose of the fiberglass design is to allow for the face of the paddle to "bite" or "grab" the pickleball to get the ball spinning swiftly on its axis. This kind of texturization is preferred against, say, a more smooth face (like the face you might find on a wooden pickleball paddle).
The Surface Area
Including the handle, this model of pickleball paddle measures in at 15 1/2″long x 8 1/8″wide. Shaped as a classic "wide body" paddle, this one has plenty of surface area, a particularly important feature for creating spin and for ensuring that the pickleballer is able to make good contact with the ball.
Some pickleball paddles are "elongated", rather than wide, making them less desirable for spin when compared to a wide bodied model like the Engage Pickleball Encore Pro.
The Weight
This paddle falls into the middle weight category (7.8 – 8.3 oz) which is perfect in terms of spin creation. If you are looking for spin, you want to find a paddle in this range, as anything lighter would cost you power and anything heavier would cost you mobility and control.
The medium weight models ,7.8 – 8.3 oz, are better suited for spinners!
The Grip Size and Feel
This paddle's grip is "standard", meaning that it measures 4 1/4th inch in terms of the grip circumference. Pickleballers with smaller hands may need to look for a smaller sized grip.
Of course, if you have larger hands, you can always "build up" to the desired size by using pickleball paddle overgrips! The grip is slightly cushioned with the upward and spiralizing design, perfect for allow you to "know" where your fingers are without having to look down at the paddle!
The Core
The Engage Pickleball Encore Pro is built around a unique Polypropylene / Polymer Honeycomb core. The honey comb design is increasingly popular for "spin" and "control" oriented players, as its design providers the user with more ability to hit "touch" shots.
This is due, in part, to the core's ability to "absorb" (even though very slightly) just a little bit more than would a wooden (for example) pickleball paddles. This extra time is the difference needed to allow the paddle a few extra milliseconds to create spin!
Pros:
Medium weight (perfect for spin)
Comfortable grip (provides extra feel)
Honeycomb Core (gives just a bit of extra time)
Wide Body Face (enhanced sweet spot)
Cons:
A little more expensive than some it its close competitors (but you get what you pay for in terms of quality).
Not sure if this model is the right one for your unique pickleball style? Take a look at the Selkirk Amped Pickleball Paddle, Pro-Lite Supernova Black Diamond Pickleball Paddle or the Gamma Compass NeuCore Pickleball Paddle, each of which are GREAT options for a number of different swing styles!
My Experience
The first thing I noticed about the Engage Pickleball Encore Pro is that I seemed to "feel" the ball a little bit more during my strokes. Because of this, I felt like I could swing a little harder and put a little more spin onto the ball.
I don't think I would have had this kind of comfort without the honeycomb patterned core. The fiberglass face was also quite noticeable. There is certainly a difference on my ability to create spin when using this kind of fiberglass based face as opposed to when using a graphite faced paddle or something similar.
Conclusion
I hope this review on the Engage Pickleball Encore Pro proved to be a useful guide in terms of teaching you EVERYTHING that there is to know about this particular paddle. Again, it is truly among the best of the best for those pickleballers desiring to add an element of spin to their games.
Comments

Have you ever hit with the Engage Pickleball Encore Pro? What did you think? Do you have any feedback in terms of the paddle's ability to deliver the spin that you are looking for? Perhaps you have discovered a different type of paddle that works better for you in terms of spin shots and you'd like to share with the group?
Please share your thoughts and opinions with us by posting in the Comments section below. We read and reply to every comment and LOVE interacting with the pickleball community!