SELKIRK AMPED PICKLEBALL PADDLE — INTRO
So you know how to play pickleball. But how do you win? The key is to use a variety of hit techniques to outdo your opponent – and ideally to use the Selkirk Amped pickleball paddle when doing so! Some of these techniques include sheer power hits and drop shots, otherwise known as spin shots. Different paddles will give you various advantages when it comes to these playing styles. Check out our Pickleball Paddle Ultimate Guide for a full run-down of these techniques!
This article will look at a paddle that blends spin ability and power into one: the Selkirk Amped pickleball paddle. It's featured as the third place pick on our post about the 5 Best Pickleball Paddles for Spin, so it's a pretty solid choice if you like the flexibility of being able to spin or power through your shots. Ready to learn whether its the rights paddle for you? Let's jump in!
Selkirk Amped Pickleball Paddle — Overview
Please Note: This post contains affiliate links. An affiliate link means that we may earn advertising/referral fees if you make a purchase through our links.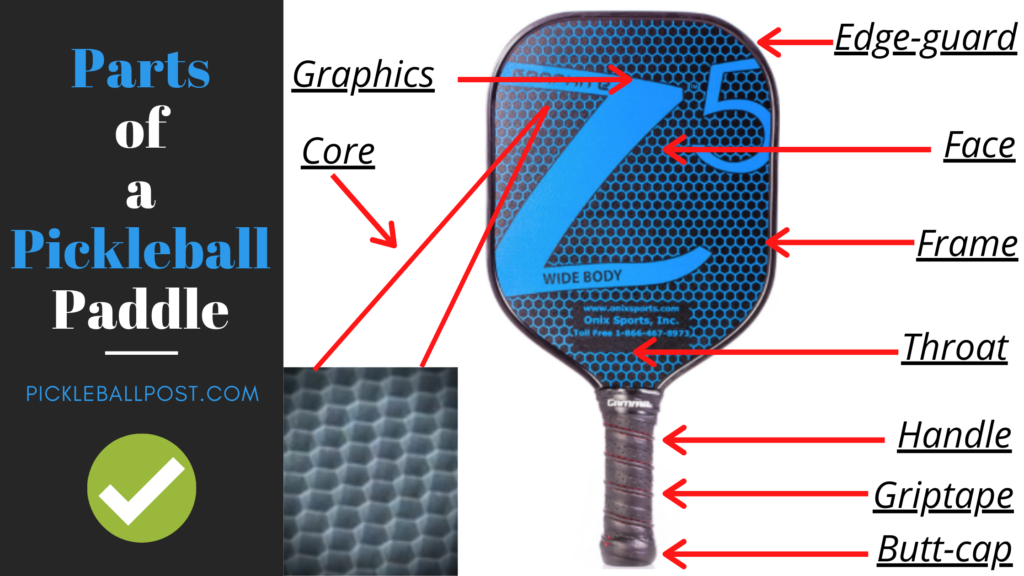 Below you'll find an in-depth guide to every aspect of this paddle: its core, surface, measurements, grip, and some pros and cons to help you make your decision if you're considering purchasing this paddle. Every one of these details comes together in the paddle's overall performance, so keep your eye out for the factors that are important to you.
Speaking of factors, this paddle comes in lightweight and midweight options as well as a wide variety of colors. (Of these criteria, only the weight difference will impact performance.)
As we mentioned above, the Selkirk Amped paddle is our third place winner in terms of the best pickleball paddles for spin, so read on to find out why!
Selkirk Amped Pickleball Paddle — The Basics
Please Note: As an Amazon Associate, I earn from qualifying purchases.
The Face
This paddle has a "FiberFlex Unidirectional Fiberglass Face," which is an elaborate name for a paddle surface that's great for spinning the ball. They've even trademarked the unique technology used to make the material.

Any fiberglass paddle is optimal for spin, but the "unidirectional" face refers to the roughened texture running in one direction (say, left to right) of the paddle. This feature ensures that you'll get more consistent spins as well, since it "grabs" and spins the ball in the same way every time.
The Surface Area
Including the handle, the paddle measures 15 ¾ inches by 8 inches. With these dimensions, it falls within the "wide" body category of pickleball paddles. It's the classic size for a paddle, with a good-sized sweet spot to pull off those crunchy hits.
Wide paddles are especially good for creating spin. Some paddles, like the Paddletek Tempest Wave II, are even larger, giving you just that much of an edge when executing those spin shots against your opponent.
The Weight
Like we mentioned earlier, the Selkirk Amped comes in either lightweight (7.3-7.7 oz.) or midweight (7.9-8.3 oz.) versions. Both of these, however, technically fall under the general "medium" weight category — they're just subdivided to give you even more options.
The heavier Selkirk Amped is recommended for tennis players playing singles, while the lighter version is better for racquet/paddle sport beginners.
When comparing control and power, the lighter medium weight paddle will give you more spin at the expense of power, while the heavier medium weight paddle will give you slightly more power than spin. However, the difference is relatively small.
The Grip Size and Feel
The paddle grip is made with a proprietary material called Selkirk ComfortGrip that is comfortable to hold and effective at absorbing perspiration. It has a length of 5 ¼ inches and a circumference of 4 ¼ inches. This circumference is standard in the pickleball world, since it fits most players.

Players with smaller hands will have to choose a different paddle, since there's no way to shrink the grip. But if you have larger hands, you can thicken the grip using overgrips, which are adhesive strips that go over the original grip. They mold to the existing grip, whose spiralized grooves make it easy for your hand to settle in the right place.
The Core
At the core of every great paddle is the secret to its performance. With this paddle, the honeycombed polymer core (which they call Polypropylene X5 Core) allows players to "hold" the ball during a hit for a fraction of a second longer than they would using paddles with more bounce to it.
The loosely packed O's of the honeycomb core absorb impact better than these other reactive paddles, resulting in a paddle ideally suited to spin techniques.
Pros
great balance of power and spin
ample surface area/sweet spot
textured face enhances spin
comfortable standard grip
honeycomb core absorbs impact, making tennis elbow less of a worry
Cons
pricier than comparable paddles
more power than spin (if spin is the priority)
Not sure if this particular paddle is the right one for you? Take a look at the Paddletek Tempest Wave II! The Gamma Compass NeuCore Pickleball Paddle and the Engage Pickleball Encore Pro are also very highly rated paddles in this space!
Conclusion

So there you have it — a comprehensive review of the Selkirk Amped pickleball paddle. It's a great choice for those looking for a high quality paddle that performs consistently well. We hope we were able to help you come to a decision about which paddle to get, whether it's this one or not.
Comments
We believe that every pickleballer has insight that might be helpful to other players. If you've tried this paddle, give us your thoughts on how it feels: do you think it provides a good balance between power and control? How does it compare to other paddles you may have tried? Or do you have a question about anything we've mentioned? Let us know in the comments below, and we'll get to it as soon as possible!