WITCHDUCK WHIPLASH COMPOSITE PICKLEBALL PADDLE — INTRO
Here at Pickleball Post, we love helping people find the perfect pickleball paddle for them. Everyone has different needs, ranging from the types of material the paddle is made from, the weight, and more. Oftentimes, this includes budget as well. That's why we've put together this review for the WiTCHDUCK Whiplash Composite Pickleball Paddle, one of our picks from our list of the 5 Best Cheap Pickleball Paddles of 2020!
Lots of people aren't that picky about the minutiae of a paddle's construction — they just want one that will get the job done consistently and for as long as possible. If this sounds like you, you'll want to read further about this paddle.
Not only does it come at a reasonable price, but it also packs a lot of value. The fiberglass paddle comes with a convenient neoprene case, which protects the paddle from sun and water damage when not in use. Over time, it'll definitely help you save even more money on your pickleball hobby.
If you want to learn more about other types of paddles out there, check out our Pickleball Paddle Ultimate Guide!
But now, it's time to learn why this paddle is such a good affordable choice!
WiTCHDUCK Whiplash Composite Pickleball Paddle — Overview

Please Note: This post contains affiliate links. An affiliate link means that we may earn advertising/referral fees if you make a purchase through our links.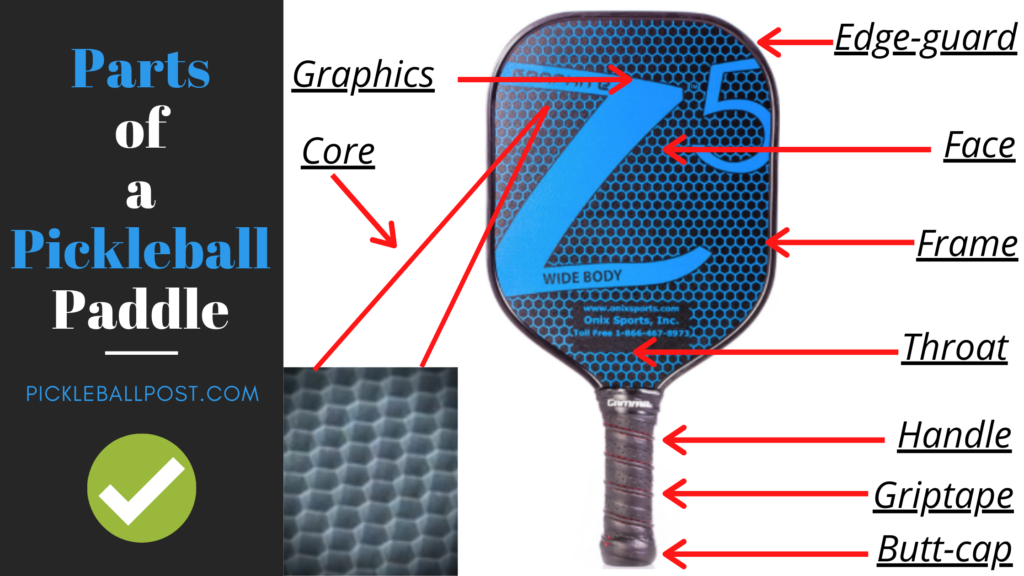 The WiTCHDUCK Whiplash Composite Pickleball Paddle is a composite — or fiberglass — paddle because its face is constructed of fiberglass, the most common composite material for pickleball paddles.
If you're worried about getting a paddle that has more fancy traits than you know what to do with, that won't be a problem with this paddle. It's simplya reliable fiberglass paddle that's great for beginner and intermediate players!
Below we'll talk more about this face as well as the surface area, weight, grip, and core of the paddle. At the end, we'll summarize the basic pros and cons you can expect to get from this product.
So without further ado, let's get into it!
WiTCHDUCK Whiplash Composite Pickleball Paddle — The Basics
Please Note: As an Amazon Associate, I earn from qualifying purchases.
The Face
We mentioned that this paddle has a face constructed of fiberglass on both sides.
Because of fiberglass's rough texture, the player will be better able to perform the topspin, backspin, or sidespin techniques necessary in order to make a spin return on the court.
The texture "grabs" onto the ball during impact and sends it spinning easier than a smooth-faced paddle would be able to.
We've written up another list of composite paddles in our 5 Best Composite Pickleball Paddles of 2020 review, so check that out if you're in the market for a premium composite paddle!
The Surface Area
The WiTCHDUCK Whiplash Composite Pickleball Paddle measures 15 ⅝ inches (with the 4 ¼-inch handle) by 7 ⅞ inches.
These dimensions make it a typical widebody paddle, which is the size and shape of paddle that most players tend to go for.
That's because the surface area is ideally large — and so is the sweet spot — so the player can really choose whatever technique they want to go with at any given moment. Plus it gives a fair amount of reach.
Elongated, "blade"-like paddles primarily provide even more reach, for example, but most people who don't play competitively don't require that sort of range, so they just go for regular wide paddles.
The Weight
This paddle weighs 7.8 ounces, putting it in the middle of the medium weight category.
Most players also prefer this kind of weight in their paddle because it's usually the best balance between control and power — light enough to be controlled but heavy enough to remain powerful.
The same goes for this paddle, which strikes yet another balance: between quality and price!
The Grip Size and Feel
The 4 ¼-inch long grip has a 4 ⅓-inch circumference, a smidge larger than the standard circumference of 4 ¼ inches.
Likely this difference is so small that those who fit the standard circumference won't even notice it. That said, if it does prove larger than is manageable, the player will have to downsize grips accordingly by finding an entirely different paddle.
But if you still need a bigger grip, you can use overgrips to enlarge the grip to your desired comfort level.
The grip's texture follows a perforated, spiralized contour that guides the hand for an ergonomic fit.
The Core
At the core of this paddle is a polymer honeycomb core, the best core for quiet play.
This is due to the loosely packed O's of the polymer patterning, which absorbs sound as well as vibration.
Practically speaking, these features make it a great fit for those who deal with conditions like tennis elbow or arthritis. For everyone else, however, it'll feel even more comfortable on the arm even over the course of long games.
Pros
fiberglass face achieves good balance between control and power
polymer honeycomb core absorbs vibration and noise
comfortable grip
generous sweet spot
comes with protective neoprene case
Cons
Not sure if this particular paddle is the right one for you? Take a look at the Niupipo Fiberglass Pickleball Paddle, the Champion Sports Rhino Edge Wooden Pickleball Paddle or even the Franklin Jet Aluminum Pickleball Paddle, each of which are GREAT options at this price point! The Franklin Activator Pickleball Paddle is growing in popularity as well!
Conclusion
That brings us to the end of our review of the WiTCHDUCK Whiplash Composite Pickleball Paddle! We hope that by learning about the paddle's face, surface area, weight, grip, and core, you see that it offers the best in comfort, performance, and price.
If you're still unsure, feel free to refer back to our pros and cons list to help you decide. And let us remind you: this paddle comes with a complimentary protective case!
Comments
Have you ever used this paddle, or one like it? How does it compare to other paddles you may have tried? Do you know of a different inexpensive paddle that you like? Or do you have any questions or comments about anything we mentioned in this review?
We'd love to hear from you. We enjoy learning from our fellow members of the pickleball community, so please leave a reply below, and we'll get back to you as soon as possible!