THE 5 BEST CHEAP PICKLEBALL PADDLES — ULTIMATE GUIDE
If you've ever browsed the market for pickleball paddles, you know that it's saturated with paddles that promise the "best" in spin, power, or some other technique that you might never have even heard of! But let's cut to the chase: what about the paddles that give you the best bang for your buck? Well, we're here to help out with our list of the 5 Best Cheap Pickleball Paddles of 2020!!
We know what you're thinking: "I don't want a cheap paddle that will fall apart after just one game, but I also don't want to break the bank." We totally understand. Times are too tough right now to be spending too much on a paddle, and there is no shortage of overpriced products on the market.
That's why we've put together this list. The following products only range from $10-$40, and they're sturdy and reliable over the course of many games. So whether you've recently picked up pickleball as a hobby during lockdown, or need a strong but inexpensive replacement paddle, or want to have a couple spares to lend out to friends, we've got you covered.
If you want a detailed guide as to all the kinds of paddles out there, we've written a Pickleball Paddle Ultimate Guide to teach all the basics!
But for now, let's dive right into our top affordable options!
The 5 Best Cheap Pickleball Paddles — Overview
Please Note: This post contains affiliate links. An affiliate link means that we may earn advertising/referral fees if you make a purchase through our links.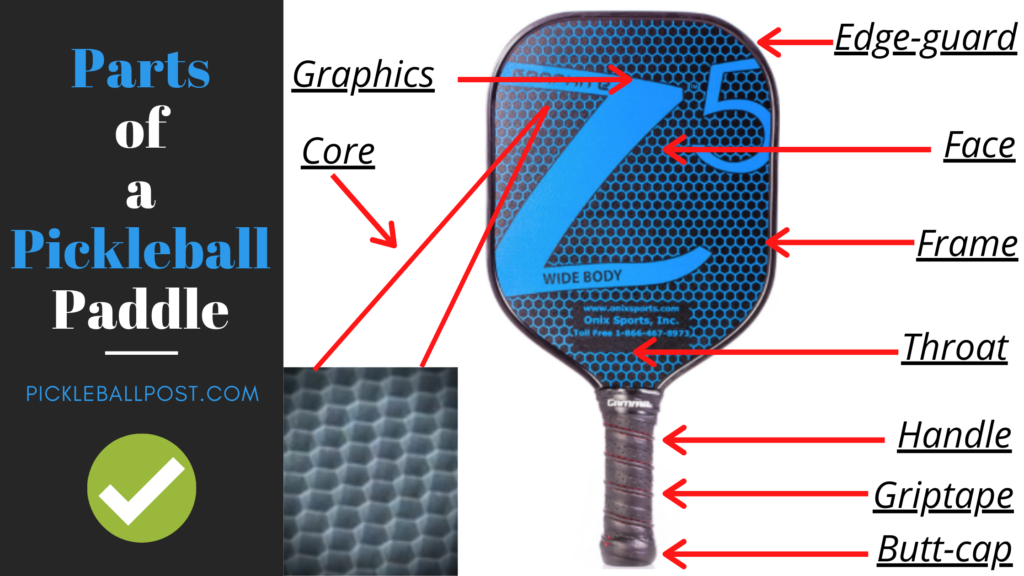 When pickleball was first invented in the 1960s, the earliest pickleball paddles were completely wooden. They were the most easily accessible at the time, but technology has evolved greatly and rapidly since then, resulting in more powerful and comfortable alternatives.
Today pickleball paddles can be made of all sorts of materials: carbon fiber, wood, polymer, fiberglass, graphite, aluminum, and so on. The cheapest paddles tend to be wood or polymer, and that's the material that most of our picks are made from!
Our selections are on the low end of the price spectrum, but we made sure that they do not compromise on quality. In this extended review, we will compare and contrast their specs, such as face, surface area, weight, grip, and core. Then we'll answer some frequently asked questions that pickleball players have, usually about the quality and integrity of these different paddles.
Are you ready to save some money on a great pickleball paddle? So are we!
The 5 Best Cheap Pickleball Paddles — Definitive List
Please Note: As an Amazon Associate, I earn from qualifying purchases.
5 Best Cheap Pickleball Paddles — The Winner
The Face
Our first place pick is the Niupipo Fiberglass Paddle. If you've seen some of our other "Top 5" lists, you know that Niupipo is a brand that consistently ranks very high by our standards.
That's because their products, especially this one, strike the optimal balance between great quality and affordability.
The fiberglass face on this Niupipo paddle also strikes a different balance — between power and spin ability. So whether you want to smash hits past your opponents or create an unpredictable spin against your opponent on your return, this paddle will not disappoint.
The Surface Area
The total length of this paddle is 15 inches (including the 4.5-inch handle) and the width is just under 8 inches, at 7.9 inches.
These dimensions make the paddle a typical wide racquet, which is known for having an ideal sweet spot area with which to create spin as well as strength-based hits.
Therefore, this surface area actually works together with the fiberglass material of the face to give players the choice to either spin or power through any given moment on the court.
The Weight
This 8.1-ounce medium weight paddle is light enough to allow you maximum maneuverability but heavy enough to still be able to deliver powerful, accurate shots.
It's the preferred weight type for most players because of these reasons.
So it turns out that our winning pick is great at balancing all kinds of features, including power and control as well as quality and price.
The Grip Size and Feel
We mentioned the length of the handle — 4.5 inches — but the circumference matters just as much, perhaps more. It's the standard 4.25-inch grip circumference, which is the standard because it fits the average player.
But on the off chance that you need a smaller grip, the only thing to be done is to find a different paddle with a smaller grip.
Less rare, however, is the need for a bigger grip, in which case a piece of equipment called an "overgrip" can easily adhere over the original grip, for a more customized fit for your hand.
The grip features a cushioned, perforated texture meant to absorb sweat.
The Core
Here at Pickleball Post, we love a good honeycombed core. No wonder we love this Niupipo paddle — it's got a honeycombed polymer core that easily absorbs shock and noise.
We think it's among the most comfortable and reliable type of core on the market, and since it's part of our cheap pickleball paddles review, we should also mention that polymer is one of the cheapest pickleball paddle materials out there.
So with this paddle you get the best in comfort, performance, and price!
5 Best Cheap Pickleball Paddles — Runner Up
The Face
Our second place pick is the Champion Sports Wooden Pickleball Paddle.
This paddle is a great way to pay homage to the original pickleball game, but it comes with a few modern advancements.
For one, the 5-ply wood face is sealed off by a protective rubber edgeguard, which is there to protect the racquet from unintentional bumps and scrapes against hard surfaces like the ground.
The Surface Area
The surface area of the face alone is 10 by 8.5 inches. (The rest consists of the 5-inch grip.) With dimensions like these, it's a standard wide paddle.
These paddles are the usual kinds found at most pickleball facilities and equipment stores, because they're considered the ideal shape and size.
Wooden wide paddles in particular are usually the type found on loan at pickleball facilities because they can take a beating without losing much in the way of performance over longer periods of time, compared to paddles made of other materials.
The Weight
Wooden paddles like the Champion Sports Wooden Pickleball Paddle also weigh more than paddles made of other materials.
The average heavyweight paddle, for instance, tops out at around 8.7 ounces. This paddle weighs 11.7 ounces, so it packs a lot of power.
On the flipside, if you suffer from health conditions like arthritis or tennis elbow, this paddle may not be comfortable even for short games.
The Grip Size and Feel
Another modern enhancement to the original wooden pickleball paddle can be seen from this paddle's 5-inch ergonomic, cushioned EVA foam grip.
The grip circumference is standard, but if you find that it's too large, you'll have to find a paddle with a smaller grip.
But if the grip is too small for you, you can add 1/16th-inch thick overgrips to customize it to your hand!
The Core
The 5-ply wooden core of this paddle will give you a loud, satisfying "pop" with every hit.
While it doesn't do the job of, say, honeycombed polymer cores in absorbing vibration and noise, it still is a formidable paddle in terms of strength (think weight).
And for the price, we'd say it's a great choice for casual outings to the pickleball court!
5 Best Cheap Pickleball Paddles — Third Place
The Face
Our third place pick is the Franklin Sports Aluminum Pickleball Paddle, which has an aluminum face to go along with its aluminum core.
These types of paddles tend to maximize the player's ability to control and "feel" the ball, as aluminum is a lightweight material.
This low-cost paddle is also bordered by a protective plastic edgeguard to prevent it from losing its shape due to accidental dings and scrapes, a particular concern with aluminum paddles.
The Surface Area
In total, this paddle is 16 inches (including the 6-inch handle) by 7.75 inches. These measurements make it a "wide" paddle.
Despite the label, it isn't particularly wider than the average paddle; in fact, "wide" paddles are pretty standard in the pickleball world.
The name merely refers to the fact that this size of paddle ensures a wide enough sweet spot on the face but remains compact enough to maintain control.
The Weight
This paddle is like our wooden second place pick — it's on the heavy side, at 10.7 ounces.
This gives the player a great amount of heft, but perhaps at the expense of some controllability and even player stamina.
However, the added weight might be good for some people, particularly those who don't mind the extra weight and who want to put more power behind their shots without having to increase their swing speed too drastically.
The Grip Size and Feel
The Franklin Sports Aluminum Pickleball Paddle no-slip grip has a cushioned texture so that your hand can easily find purchase on the racquet.
As far as grips go, it's a pretty standard size and length, so it should fit most players just fine.
But if you need a bigger grip, you can use overgrips — 1/16th-inch adhesives — specifically designed to go over the original grip so that you have a better fit.
The Core
Just like the face, the core is made of aluminum.
Aluminum cores give a good "pop" with every hit, due to the tightly packed patterning of aluminum cores and, of course, the nature of the material itself.
Aluminum paddles also tend to be on the loud side, so it's worth thinking about the specific noise regulations, if any, at your pickleball facility.
5 Best Cheap Pickleball Paddles — Honorable Mention
The Face
Our first honorable mention for the best paddles at the best prices is the WiTCHDUCK Whiplash Composite Pickleball Paddle.
As the name suggests, it's got a composite — or fiberglass — face that's textured to allow good spin technique as well as power shots.
If you're interested in composite paddles, check out our 5 Best Composite Pickleball Paddles of 2020 Review for a full list of the absolute best in that subcategory of paddles!
The Surface Area
The whole paddle measures 15 ⅝ inches (with the 4 ¼-inch handle) by 7 ⅞ inches, making it a typical widebody paddle.
Most players go for this type of paddle because it's got plenty of surface area — and thus, a generous enough sweet spot — to pull off good power hits as well as spin shots.
The fiberglass face especially helps with the latter, as textured faces tend to do better with spinning than do smooth faces.
The Weight
The WiTCHDUCK Whiplash Composite Pickleball Paddle weighs 7.8 ounces, putting it right in the middle of the medium weight category.
Paddles of this weight are usually preferred by most players because they generally provide the optimal balance between control and power — light enough to be easily controlled but still heavy enough to be powerful.
It's no different with this well-balanced paddle, which also happens to be a good balance between price and quality as well!
The Grip Size and Feel
As we mentioned earlier, the 4 ¼-inch long grip has a 4 ⅓-inch circumference, slightly larger than the standard circumference of 4 ¼ inches.
This difference is pretty small, so someone who's fine with the standard could still work with this paddle. If the bigger size is irreconcilable, however, you'll need a paddle with an accordingly smaller grip.
But if you find yourself needing an even bigger grip, you can use overgrips to upsize the grip to your desired comfort level.
In terms of grip texture, it's got a nice spiralized, perforated contouring to it that guides the hand for an ergonomic feel.
The Core
This paddle has a polymer honeycomb core, the best core for quiet play.

Not only are the loose O's of the honeycomb patterning meant to absorb sound, but they also absorb vibration.
That's what makes this paddle friendly to players who worry about tennis elbow, arthritis, or other joint or shoulder issues.
5 Best Cheap Pickleball Paddles — Honorable Mention
The Face
In terms of the paddle that gives the best paddle to price ratio, it's this one — the Franklin Sports Wooden Pickleball Paddle, which comes in a set of 2 paddles with 2 outdoor pickleballs!
The 7-ply wood face is a throwback to the original wooden pickleball paddle, but it also comes with some very helpful modern enhancements.
One example of this is the grip, which we'll talk about shortly, but the other is the plastic edgeguard all around the face. This feature protects the paddle from unintentional drops and scrapes against hard surfaces, prolonging the life of the paddle.
The Surface Area
This paddle measures 15.75 inches (including the 4.75-inch handle) by 8 inches.
It's a wide paddle that is especially good for power shots because of this ample surface area, yes, but also combined with the weight (more on this below).
So beginners and casual players may particularly like this paddle not only because of its great price but also due to the ease with which they can hit the ball powerfully and reliably. But with enough skill, more experienced players can certainly benefit from this paddle in other ways.
The Weight
Wooden paddles are usually the heaviest on the market, and this Franklin paddle is no exception.
Its 9.5 to 10.5-ounce heft makes it heavier than even the typical heavyweight paddles. As with most things that are heavier, this paddle is also able to exert more power with less effort.
One thing to note about heavy paddles, though, is that they may absorb more impact than lighter paddles do, but swing fatigue is the opportunity cost.
The Grip Size and Feel
We mentioned that the modern grip is a feature that separates and — we think, anyway — improves upon the original wooden pickleball paddle.
It's characterized by a perforated spiral texture that wicks moisture.
Compare that to the old wooden paddle handle, which utilizes the concept of minimalism to a tee but compromises safety in the event that the grip becomes slick with sweat!
The Core
Seven-ply wood makes for a pretty solid core. And you'll be able to hear that with every pop of your return.
Among all the varieties of paddles out there, wooden paddles keep their shape and performance most consistently throughout the natural course of time.
So you can rest assured that this paddle will last!
Frequently Asked Questions
Why Should I Consider These Paddles?
If you're in the market for a cheap paddle, you probably want one that will get the job done, be durable over time, and not cost too much. Not an easy ask amid this sea of options!
Luckily, all of the paddles we suggested should fit the above requirements just fine. Obviously, there are much fancier paddles out there that add to the benefits that these paddles offer, but we recommend these inexpensive paddles because they're reasonably priced but still perform at a good level.
To What Kinds Of Players Are These Cheap Paddles Best Suited?
These paddles are best for beginners, hobbyists, or anyone looking for quick and easy spares to lend to friends for casual play.
That said, far be it for us to prevent you from considering these paddles even if you don't fall into any of the above categories. By all means, go for it!
It is simply more common for enthusiasts and other experienced players to look for a higher-quality, higher-priced paddle, which makes sense because they tend to make more use of their paddles and want any additional edge they can get from these better paddles.
We've written plenty of articles on paddles in the medium to high price range, including our 5 Best Graphite Pickleball Paddles and 5 Best Composite Pickleball Paddles reviews, so check them out if you're interested in a higher-quality paddle!
Both Polymer And Aluminum Cores Come In Honeycombed Patterns. What's The Difference?
It varies across different manufacturers, but generally we found that polymer honeycomb cores are made from more loosely packed O's than the aluminum honeycomb cores.
This difference in pattern density contributes to the paddle's overall "feel" while playing; namely, the polymer core will be quieter and feel like it absorbs more of the impact, whereas the aluminum core is louder and is more responsive rather than absorbent.
Polymer cores are usually the quietest available paddles, whereas aluminum, nomex, and wood core paddles tend to be louder. The latter three have their own distinct sound — and "feel" — depending on the material.
It's all down to personal preference as to which you prefer. If you have additional considerations, including noise restrictions at your pickleball facility, these differences between cores are important to note before going out and buying a new paddle.
There Are Better Options Than Wooden Paddles. Why Do People Still Use Them?
Perhaps it's a little bit of nostalgia, perhaps a bit of frugality! Wooden paddles are still the cheapest on the market. They're uncomplicated and genuinely a good choice for casual players who don't need too many bells and whistles on their paddle.
Some people also just prefer the feel and heft of wooden paddles. We don't know the stirrings of their hearts, but we would guess that it has something to do with the satisfying crunch of the plastic pickleball against the hard, unyielding wood of the paddle!
Are These Cheap Paddles Durable?
"Cheap" things get a bad rap, many of them for good reason. But after doing thorough research to find the very best low-cost paddles on the market right now, we can honestly say that the "cheap" paddles that we've recommended truly offer the best quality at reasonable prices.
Wood paddles in particular are the most durable compared to paddles made of different materials, when studied over similar periods of time and amount of play. We are also strong believers that any good quality paddle can last a fair amount of time as long as they are taken good care of and maintained properly.
How Do I Properly Maintain My Paddle?
First, you should keep the paddle out of the sun, since UV rays damage a paddle's construction little by little — especially polymer core paddles. An easy solution to this dilemma is to keep your paddle in a case whenever it's not in use, especially if you play outdoors.
Among our picks for this review, the Niupipo and WiTCHDUCK paddles both come with complementary protective cases for convenient storing when you're not playing!
Higher quality paddles are sometimes even coated with a special UV protective covering. But even in these cases, it's still a good idea to limit paddle exposure to sunlight.
Another natural element that compromises the integrity of your paddle is moisture. If the paddle gets wet and doesn't dry completely, it could result in dead spots (the opposite of a sweet spot) randomly throughout the paddle. And — needless to say — don't play outside when it's raining.
Can I Use These Paddles Outdoors?
The simple answer is yes! As we cautioned in our previous answer, however, most paddles are not meant to withstand prolonged exposure to outdoor elements like sunlight and rain. So if you play outdoors, keep it in a case when it's not in use and refrain from playing when it's raining.
One caveat for playing either indoors or outdoors depends on how loud your paddle is, since we discussed how paddles made of different materials create different levels of noise upon impact.
At some facilities, both indoor and outdoor, there may be certain noise restrictions that require your paddle to be "Green Zone"-approved. These usually comprise quieter polymer-core paddles, but just double check that whatever product you want to buy is compliant.
Which Of These Paddles Are Loud And Which Are Soft?
Polymer core paddles tend to be quietest, while aluminum, nomex, and wooden paddles tend to be loudest when hitting. So that means that, among our picks for this review, the Niupipo and WiTCHDUCK paddles are going to be your best bet for quiet play, while both aluminum and wooden Franklin paddles as well as the Champion Sports paddle will play loud.
Are These Paddles Good For Players With Wrist Or Elbow Issues?
The core material determines the proportion of impact that is absorbed by the paddle versus your arm. Honeycombed polymer cores tend to work best at reducing vibration, so go for the Niupipo or WiTCHDUCK paddles from this review if you have any joint issues.
We covered quite a few heavyweight paddles, namely the wooden and aluminum ones. These may not be suited for people with wrist or elbow problems because too much weight can exacerbate the irritation.
In general, lighter paddles are best for people with arthritis, while medium weight paddles are better suited for players with tennis elbow. However, it ultimately comes down to the individual player, who might decide that a medium weight paddle is more comfortable despite having arthritis, for instance.
In addition to weight, the grip must also feel comfortable when playing with these conditions. The more traction and cushion you have, the easier it'll be for the grip to stay in your hand with a relatively loose hold while absorbing as much shock as possible. All of the paddles we discussed in this review have some sort of cushioned, tacky grip.
If possible, try out the different weights and grips of the paddles at your local pickleball facility — most should offer paddles you can borrow. Judging by your comfort level with those, you'll be in a better position to choose a paddle that works for you.
Are These Paddles Better For Playing Singles Or Doubles?
Both! In singles matches, players tend to win by smash hits — all of the heavyweight paddles we mentioned are especially prepared to help you do this.
Doubles games, on the other hand, tend to last longer, so the team using the lighter paddles will be more likely to outlast their opponents. We highlighted a couple of lighter paddles in this post — the Niupipo and WiTCHDUCK — so these will work especially well in doubles games.
Conclusion
So you made it to the conclusion of our extensive guide on the 5 Best Cheap Pickleball Paddles of 2020! We know money is especially tight right now, so we wanted to give you our top picks for the most affordable paddles, while not skimping on quality.
To refresh the memory, we discussed the face material, surface area, weight, grip, and core of each paddle, as well as how each factor affects its performance. We talked about the subtle differences that one might experience even across similar paddles.
We leave it up to you to decide which features are important to you considering your specific budget and playing habits. And finally, we answered some frequently asked questions that people have about pickleball paddles, including concerns about so-called "cheap" paddles!
Comments
Now that you've read all about our top "cheap" paddle picks, what do you think? Have you ever tried any of the paddles we mentioned, and if so, how do you feel about them? Do you have a preferred type of paddle? Is there an inexpensive paddle we missed that you think deserves to be on this list?
Or, if you have more information regarding one of the FAQs, what would you add to our answers?
We love hearing from fellow members in the pickleball community — everyone has something valuable to offer to others, no matter your experience level, and it's a beautiful thing to learn from one another. Leave us a reply below and we'll get back to you as soon as we can. Hope to see you in the next review!