NIUPIPO FIBERGLASS PICKLEBALL PADDLE — INTRO
Who doesn't love a good deal!? Well, here at Pickleball Post, we're all about helping our readers find that perfect pickleball paddle for them, especially at a great price! We recently wrote up our review of the 5 Best Cheap Pickleball Paddles of 2020, so this post is going to go into detail about our #1 pick: the Niupipo Fiberglass Pickleball Paddle!
Part of the reason why this paddle ranks highly is because it comes with a protective neoprene case, which protects the paddle from sun and water exposure! Together with the paddle's inherent good quality, this case prolongs the life of your investment — and that's always a surefire way to save money in the long term!
This Niupipo paddle is considered a fiberglass paddle. If you'd like to learn more about the other types of paddles out there — as well as some helpful tips to gain an edge on the court — head on over to our Pickleball Paddle Ultimate Guide!
For now, let's get right into the other reasons why this paddle wins the top spot!
Niupipo Fiberglass Pickleball Paddle — Overview
Please Note: This post contains affiliate links. An affiliate link means that we may earn advertising/referral fees if you make a purchase through our links.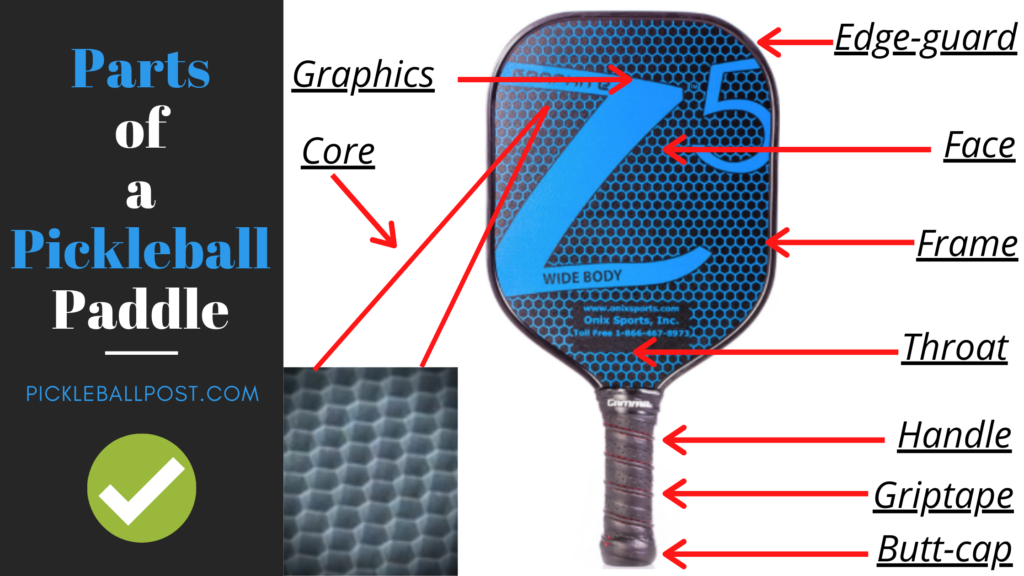 A fiberglass — or composite — paddle is thusly named usually because the face is made of fiberglass, the most common composite material for pickleball paddles. That's why you'll see the labels "fiberglass" and "composite" bandied about interchangeably.
The Niupipo Fiberglass Pickleball Paddle is a prime example of a good, reliable fiberglass paddle. You'd know from its textured face, which is perfect for performing spin techniques.
In this review, we'll discuss this face as well as the paddle's surface area, weight, grip, and core in more detail. Then we'll list some pros and cons that succinctly break down the advantages and any potential disadvantages to getting this paddle.
Ready to learn more? Let's get right into it!!
Niupipo Fiberglass Pickleball Paddle — The Basics
Please Note: As an Amazon Associate, I earn from qualifying purchases.
The Face
Niupipo is a brand we trust to produce high quality paddles at affordable prices. We've already reviewed a number of paddles from this brand, most of which consistently rank high on our "best of" lists.
The Niupipo fiberglass paddle is no exception! The composite face is known to be the perfect balance between power and control.
This paddle is ideal for the player who likes an accurate, reliable paddle that they can flexibly manipulate however they want at any given moment during a game.
The Surface Area
With a 15-inch length (including the 4.5-inch handle) and a 7.9-inch width, this paddle is a standard wide paddle.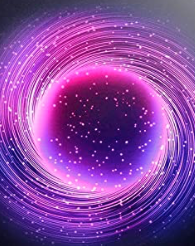 Paddles of this size and shape have a generous sweet spot that returns hits consistently, whether they're spin or power hits.
So it's the ideal surface area for a fiberglass paddle like this one, which does controlled and strength-based shots equally well.
The Weight
The fact that this is a medium weight paddle — at 8.1 ounces — is also another great reason to choose it. That's because it's still light enough to maneuver easily but heavy enough to be powerful when you want it to be.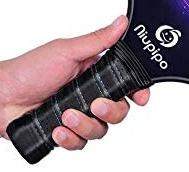 Medium weight paddles are also the favored weight type for most players because of these reasons.
If you think about it, our winning pick is a wonderful all-around balance: between power and control, quality and price.
The Grip Size and Feel
The 4.5-inch handle has a standard 4.25-inch circumference, ensuring that it fits the average player. But if by chance you need a smaller grip, you'll need to get an entirely different paddle with a smaller grip.
That's only if the grip is too big for you; there's an easy solution if the grip is too small, on the other hand. Overgrips can be layered over the original grip — 1/16th of an inch at a time — until it fits you just right.
The grip has a cushioned, perforated texture that absorbs sweat for non-slip playing. This will also help in the prevention of blisters and calluses!
The Core
We mentioned the perks of the fiberglass face, but its core is as much a part of what makes this Niupipo paddle awesome!
It's a honeycombed polymer core, which we know from past experience absorbs shock and noise better than any other type of core.
And while we're on the subject of cost-effective paddles, polymer happens to be one of the cheapest pickleball paddle materials out there.
Pros
fiberglass face achieves good balance between control and power
polymer honeycomb core absorbs vibration and noise
comfortable grip
generous sweet spot
Cons
on the high side of the "cheap" price range
Not sure if this particular paddle is the right one for you? Take a look at the Franklin Jet Aluminum Pickleball Paddle and the Champion Sports Rhino Edge Wooden Pickleball Paddle as well! The Franklin Activator Pickleball Paddle is also a really popular option! The WiTCHDUCK Whiplash Composite Pickleball Paddle is growing in popularity as well!
Conclusion

Hope you enjoyed learning all about what the Niupipo Fiberglass Pickleball Paddle has to offer, which includes the best in comfort, performance, and price!!!
Its face, surface area, weight, grip, and core all affect the paddle's stellar performance, and we hope you get the chance to see that for yourself. Our pros and cons list at the end is there for exactly this reason. And don't forget: this paddle comes with its own protective case!
Comments
Have you ever used this paddle? How does it compare to other paddles you may have tried? Do you have another inexpensive paddle that you like? Or do you have any questions or comments about anything we mentioned in this review?
We'd love to hear from you! Any insight you may have based on your experience could help someone else out with their game. Leave us a reply below, and we'll get back as soon as possible!