FRANKLIN JET ALUMINUM PICKLEBALL PADDLE — INTRO
These days, you can find pickleball paddles made of pretty much any rigid material: wood, polymer, fiberglass, and even aluminum! You'll find quite a few made of more expensive materials like graphite, but more often than not you can find paddles of equal or even greater quality at much lower prices. In this post, we're going to talk all about one of these paddles: the Franklin Jet Aluminum Pickleball Paddle!
If you've seen our 5 Best Cheap Pickleball Paddles of 2020 post, you might have noticed that the Franklin Sports Aluminum Pickleball Paddle is our third place winner. We put together that list so that beginners could get into pickleball at a low cost threshold, and so that other casual players could find great paddles at prices that are easier to commit to!
If you'd like to learn more about other kinds of paddles out there, check out our Pickleball Paddle Ultimate Guide, where we break down the details of how various paddles perform differently, common playing techniques, and more!
Let's get started on why the Franklin Sports Aluminum Pickleball Paddle is such a great choice for an inexpensive paddle!
Franklin Jet Aluminum Pickleball Paddle — Overview
Please Note: This post contains affiliate links. An affiliate link means that we may earn advertising/referral fees if you make a purchase through our links.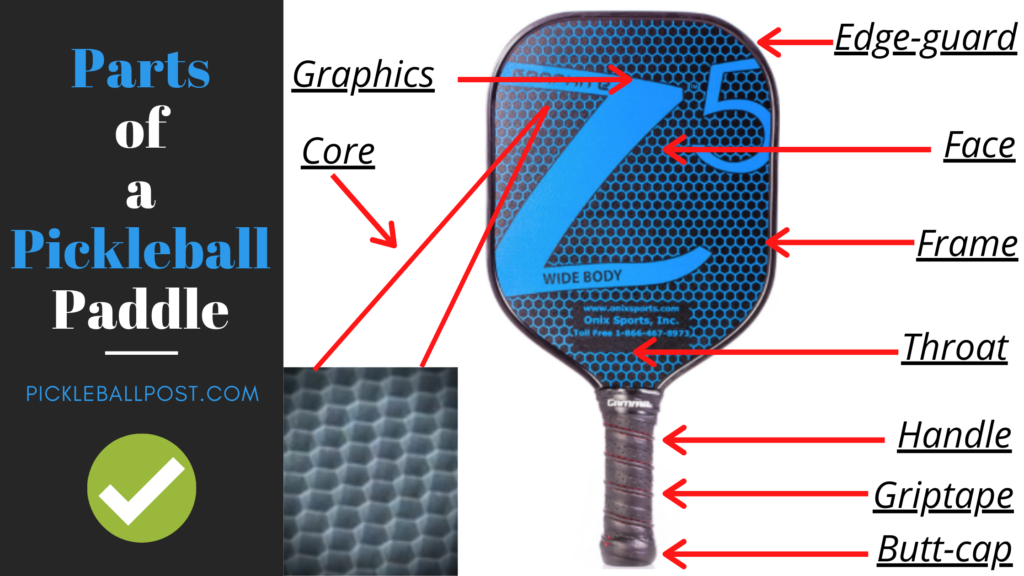 As far as cheap paddles are concerned, often the most inexpensive ones have cores made of wood or polymer. However, we were able to find a great aluminum paddle that performs at a high enough level that we would be remiss to exclude it from our list of 5 Best Cheap Pickleball Paddles of 2020!
Below we'll discuss the paddle's face, surface area, grip, weight and, yes, its aluminum core. These component parts influence the paddle's overall performance, and we'll explain how. After that, we have a nifty pros and cons list for your consideration, in case you're contemplating adding this paddle to your collection.
Ready to learn why this is such a special paddle? Let's get right into it!
Franklin Jet Aluminum Pickleball Paddle — The Basics
Please Note: As an Amazon Associate, I earn from qualifying purchases.
The Face
Not only is the core aluminum, but so is the face. Aluminum paddles are great for allowing players to "feel" the ball in a more responsive way, as aluminum is a lightweight material!
Moreover, the aluminum face is "dual-plated" for extra protection and durability.
For even more added protection, the paddle is bordered by a plastic edgeguard to prevent it from losing its shape due to accidental dings and scrapes, a particular concern with aluminum paddles! Plastic edgeguards work nicely to slide smoothly past rough surfaces instead of clinging to them like rubber ones would.
The Surface Area
At 16 inches (including the 6-inch handle) by 7.75 inches, this paddle is considered a "wide" paddle!
We've featured quite a few wide paddles here on our website, and it's for good reason: they're generally the ideal type of paddle since they have an ample sweet spot on the face but they're not so wide as to be unwieldy on the court.
This applies to the Franklin Sports Aluminum Pickleball Paddle: its size is just right to allow the player maximum flexibility and reliability when returning the ball.
The Weight
This paddle is on the heavy side, weighing in at 10.7 ounces. (For reference, most "heavyweight" category paddles top out at about 8.7 ounces)!
If you don't have anything particular against weight — say, you don't suffer from joint conditions — don't let the weight of this paddle deter you. You'll find that it gives you a better ability to hit more consistent power shots.
On the flipside, the added power may come at the expense of some controllability and — over long matches — player stamina. But as we said, if you're otherwise healthy and strong, this paddle may be your match!
The Grip Size and Feel
On this paddle, you'll find a no-slip grip that is cushioned so that the player can easily adjust their grip without looking down to do so.
In terms of size, the length and circumference are standard, so it should fit most players just fine.
But if you find that the grip is too small, you can easily customize the fit to your hand using overgrips — 1/16th-inch adhesives — that go on top of the original handle. Overgrips are GREAT for helping you avoid calluses and blisters!
The Core
Sandwiched between two layers of dual-plated aluminum is the aluminum core.
You'll find that aluminum paddles like this one produce a nice, satisfying "pop" with every hit, due to the nature of the material.
For this reason, aluminum paddles tend to be on the loud side, so you might want to check with your local pickleball facility to see if it's noise-restricted. If not, feel free to go wild with this paddle!
Pros
dual-plated aluminum face is durable
protective edgeguard prevents unwanted reshaping/denting
generous surface area/sweet spot
comfortable grip
Cons
not suited to players with joint issues due to weight
loud hits
Not sure if this particular paddle is the right one for you? Take a look at the Niupipo Fiberglass Pickleball Paddle or the Champion Sports Rhino Edge Wooden Pickleball Paddle! The Franklin Activator Pickleball Paddle has also recently become very trendy! The WiTCHDUCK Whiplash Composite Pickleball Paddle is a strong option as well!
Conclusion
We hope you learned as much from our review of the Franklin Jet Aluminum Pickleball Paddle as much as we enjoyed bringing you the details! Its unique combination of face, surface area, weight, grip, and core influence its powerful performance on the court, all at a great price.
If you're still on the fence about this paddle, have a look again at our pros and cons list to help you decide!
Comments
Have you ever tried this paddle? Have you tried any others like it, perhaps ones in a similar price range? Or how does this paddle compare to those from other price points that you may have tried? Is there a different inexpensive paddle that you like?
Let us know! We love hearing from our friends in the pickleball community — one of the aspects we love most about the game is that it's such a social sport. Feel free to leave us a comment below, and we'll do our best to get back to you as soon as possible. Stay safe and have fun out there!