SELKIRK AMPED OMNI PICKLEBALL PADDLE — INTRO
Contrary to popular opinion, elongated paddles — despite their longer shape — don't have to be heavier than their wide body counterparts. Take the Selkirk Amped Omni Pickleball Paddle, for example, which weighs as much as the average wide paddle but performs even better in some ways!
This particular paddle took the #3 spot in our list of the 5 Best Lightweight Pickleball Paddles! The unique, elongated shape makes it a competitive choice for those looking to gain an edge over their opponents. Plus, it has all the features of a great lightweight paddle, which we will go into detail below!
If you want to check out other elongated or wide paddles, or if you're looking for a paddle from a different weight category, make sure to peruse our site — including our Pickleball Paddle Ultimate Guide! It has all the basic information about every kind of paddle in one spot!
But without further ado, let's learn more about the Selkirk Amped Omni Pickleball Paddle!
Selkirk Amped Omni Pickleball Paddle — Overview
Please Note: This post contains affiliate links. An affiliate link means that we may earn advertising/referral fees if you make a purchase through our links.
The Selkirk Amped Omni Pickleball Paddle is what's known as an elongated paddle — colloquially called a blade. The shape allows users to leverage the increased weight in the face for more powerful hits with less effort!
Therefore, it doesn't sacrifice power like some other lightweight paddles would. In this review, we will discuss this paddle's face, surface area, weight, grip, and core in detail, analyzing how these features all contribute to an all-around high-performing lightweight paddle. Then, we'll have a short pros and cons section so you can see all these details lined up side by side.
We hope that by the end of this review, you'll be ready to decide whether or not this paddle will be the latest addition to your collection. Ready to find out? Let's get started!
Selkirk Amped Omni Pickleball Paddle — The Basics
Please Note: As an Amazon Associate, I earn from qualifying purchases.
The Face
Elongated paddles have longer, narrower faces. That allows the player to have more horizontal reach on the court. The material it's made of is called FiberFlex Unidirectional fiberglass, a specially engineered face that enhances the innate perks of fiberglass.
Fiberglass affords the player superior control, but the unidirectional patterning helps to give the ball a little extra spin.
Now that we've established this paddle's capacity for control, let's talk a little about what makes it powerful as well.
The shorter handle makes room for a bigger face, which you can use as additional leverage when hitting. In fact, elongated paddles are known for their power!
The Surface Area
Elongated paddles are longer and narrower than the standard wide paddle. These adjusted measurements give players more reach and power, which translate to an added competitive edge on the court!
The Selkirk Amped Omni Pickleball Paddle has a total length of 16 ¼ inches and a width of 7 ¼ inches.
Thus, you may need to adjust your expectations of where the sweet spot is located on this longer face, but once that's done you should have no problem dominating your opponents!
The Weight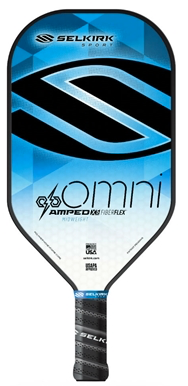 With a weight of 7.8 to 8.3 ounces, this paddle is technically medium weight.
But since pickleball paddles can weigh up to 13 ounces, this range is considered pretty lightweight.
As we mentioned in our intro, this product weighs around the same as other medium weight wide paddles despite the different shape.
That just means the weight will be distributed in a different way, and overall it won't add any unnecessary weight to your swings.
So it's both powerful and light!
The Grip Size and Feel
Like most blades, this paddle's grip is shorter to accommodate more room for the face. It's a 4 ¼-inch handle with a standard 4 ¼-inch circumference.
You can use overgrips to upsize the circumference if needed.
In terms of feel, the handle comes equipped with the Selkirk ComfortGrip, a textured, spiralized material designed for dry and comfortable gripping. This will also help you prevent Blisters and Calluses!
The Core
This paddle comes with the Polypropylene X5 Core, another proprietary blend by Selkirk. It's a variation on the typical polymer honeycomb core.
The Polypropylene X5 is a thicker core that helps stabilize your returns, whether your playing style is more power- or spin-oriented. So it really enhances the advantages offered by the paddle's powerful, longer shape and control-specialized fiberglass face.
Polymer honeycomb cores are also extremely vibration- and noise-dampening, so they are not just comfortable but quiet as well!
Pros
textured fiberglass is great for control
comfortable grip
generous sweet spot
polymer honeycomb core effectively absorbs vibration and noise
Cons
a bit expensive relative to comparable models
face to grip ratio and balance may take getting used to
Not sure if this particular paddle is the right one for you? Take a look at the Paddletek Tempest Wave Pro Pickleball Paddle or the Paddletek Bantam TS-5 Pickleball Paddle! The Selkirk Amped Maxima Pickleball Paddle and the Gamma NeuCore Compass Long Handle Pickleball Paddle are also popular choices in this class!
Conclusion
Thanks for sticking with us to the end of our review of the Selkirk Amped Omni Pickleball Paddle! To recap, we discussed this racquet's unique face, surface area, weight, grip, and core in the context of what they each represent for the product's overall performance. Our pros and cons list succinctly summarizes these features if you ever need to refer back to them.
What do you think? Let us know if we helped you decide what paddle to get next!
Comments
Have you ever seen or tried this paddle before? How does it compare to others you may have tried, whether they were lightweight, medium weight, or heavyweight? Have you ever tried an elongated paddle before? What are your thoughts about it?
We want to know! We love talking to other members of the pickleball community, so feel free to leave a comment (or question) below! We'll get back to you as soon as possible. Until then, stay safe out there!