PADDLETEK BANTAM TS-5 PICKLEBALL PADDLE — INTRO
No matter what experience level you're at, you can benefit from a well-made lightweight pickleball paddle! Allow us to explain. A good lightweight paddle will allow you to swing light but hit hard. That's exactly what you can expect from the Paddletek Bantam TS-5 Pickleball Paddle!
This paddle is our runner-up pick from our review of the top 5 Best Lightweight Pickleball Paddles! In addition to the ease with which you'll be able to hit with this paddle, we'll bring you other reasons why this product should be a top contender when considering a new paddle purchase!
If medium or heavyweight paddles are more your speed, or if you just want to find out more about pickleball in general, head over to our Pickleball Paddle Ultimate Guide for more information!
But if you're here to learn more about the Paddletek Bantam TS-5 Pickleball Paddle, you're in the right place!
Paddletek Bantam TS-5 Pickleball Paddle — Overview
Please Note: This post contains affiliate links. An affiliate link means that we may earn advertising/referral fees if you make a purchase through our links.
Powerful paddles don't have to be heavy. That's the Paddletek Bantam TS-5 Pickleball Paddle's mantra — it's a lightweight paddle that compromises on neither power nor control!
Given the high quality of this racquet, it's constructed in such a way that all its features complement one another: its face, surface area, weight, grip, and core.
We'll discuss how each of these contributes to the paddle's overall performance, and then conclude with a tidy pros and cons list so you can see all the specs side by side. Then you can decide for yourself if the Paddletek Bantam TS-5 Pickleball Paddle is the paddle for you!
Ready to get into this? Let's get started!
Paddletek Bantam TS-5 Pickleball Paddle — The Basics
Please Note: As an Amazon Associate, I earn from qualifying purchases.
The Face
The face of this paddle is made of a one-of-a-kind textured fiberglass epoxy material that enhances the natural perks of a regular fiberglass face.
The texture allows you to pull off spin techniques easier than ever, and the epoxy increases durability.
Thus, the face helps give you that added element of control, which you can really feel with lightweight paddles like this one!
The Surface Area
At 15 ⅝ inches by 7 ¾ inches, this is a typical wide paddle. Wide paddles have the most intuitive balance out of any other paddle size.
This makes them compact and easy to maneuver, but at the same time the broad face still possesses a generous sweet spot for easy returning.
For these reasons, it's the preferred paddle size among most players and perfect for any skill level!
The Weight
This lightweight paddle weighs in the range of 7.2-7.5 ounces, though it could technically be categorized as a medium weight paddle on the lighter side.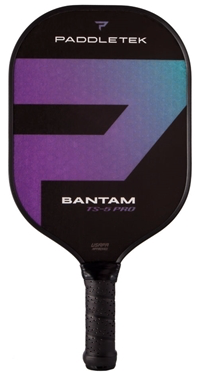 Any way you look at it, though, this paddle will give you outstanding control and easy handling because of that lightness.
In fact, this paddle is a lighter version of Paddletek's popular Bantam EX-L paddle.
So if you like that model and want to try a version of it that's lighter and more nimble, definitely check out the Bantam TS-5! Its a common favorite among pickleballers of all levels of skill and experience!
The Grip Size and Feel
The grip is 5 inches long and has a standard circumference of 4 ¼ inches around.
These dimensions should fit most players perfectly, but if you need a bit more, you can use overgrips to increase the handle size to your preference. If you need a smaller grip, though, you'll need an entirely different paddle.
Material-wise, the handle is made of an ultra cushion high track performance grip. That means you can expect a padded, high-traction feel, which becomes more important the longer you play!
The Core
This paddle has the Bantam PolyCore, which is a special polymer honeycomb core engineered specially for the company's Bantam paddles.
Polymer honeycomb cores are the most reliable core material for its quietness and low transference of vibration.
At the same time, full power shots remain comfortable due to the extremely shock-absorbent core. Therefore, you can depend on this paddle to perform and feel great for a long time to come!
Pros
textured fiberglass epoxy face is great for spin
comfortable grip
generous sweet spot
balanced weight/good control
polymer honeycomb core effectively absorbs vibration and noise
Cons
a bit expensive relative to comparable models
Not sure if this particular paddle is the right one for you? Take a look at the Paddletek Tempest Wave Pro Pickleball Paddle or the Selkirk Amped Omni Pickleball Paddle. The Selkirk Amped Maxima Pickleball Paddle and the Gamma NeuCore Compass Long Handle Pickleball Paddle are also popular choices!
Conclusion

You're now at the end of our review for the Paddletek Bantam TS-5 Pickleball Paddle! We analyzed the product's face, surface area, weight, grip, and core for all the fantastic features they contribute to the paddle's holistic performance. Our pros and cons list summed them all up for you.
Now that you know all about this paddle, we hope you're ready to make an informed decision about which paddle to add to your collection!
Comments

Have you ever heard of or used this paddle before? How does it compare to others you may have tried, whether they were lightweight, medium weight, or heavyweight? Or better yet, do you have a different recommendation for a great lightweight paddle?
Let us know your thoughts! We enjoy interacting with others in the pickleball community, so leave us a comment or question below! We'll get back to you as soon as possible. Who knows? You may help out someone else in the process!