THE 5 BEST LIGHTWEIGHT PICKLEBALL PADDLES — ULTIMATE GUIDE
Pickleball paddles can range anywhere from 6 to 13 ounces. That may not sound like a huge range, but with enough time the player can absolutely feel the difference! Heavier paddles tend to be more of a challenge — especially for beginners — so we wrote this post dedicated to the top 5 Best Lightweight Pickleball Paddles!
By lightweight, we mean paddles lighter than around 8.5 ounces. If you're an astute observer of the different weight categories for paddles, you might actually notice that paddles from around 7.2 to 8.4 ounces are considered "medium weight." But compared to paddles 9 ounces and up, medium weight paddles can be considered light. We'll be operating with this perspective in mind!
If you want to learn more about any other type of paddle — elongated, quiet, spin-oriented, and more — check out our archive of posts or drop by our Pickleball Paddle Ultimate Guide for all things pickleball in one place!
But if it's lightweight paddles you're interested in, let's dive right into this review!
The 5 Best Lightweight Pickleball Paddles — Overview
Please Note: This post contains affiliate links. An affiliate link means that we may earn advertising/referral fees if you make a purchase through our links.
The lighter the paddle, the easier it will be to control. Therefore, the following 5 paddles will ensure the best control on the court. At the same time, they won't be so light that they lose the weight needed for powerful hits. It's the best of both worlds!
For each paddle we will discuss their component parts in detail: the face, surface area, weight, grip, and core. We'll explain how each of these parts contributes to the paddle's overall performance. Then, we'll have a segment answering some frequently asked questions about lightweight paddles and pickleball in general!
There's a lot to cover, so let's get started!
The 5 Best Lightweight Pickleball Paddles — Definitive List
Please Note: As an Amazon Associate, I earn from qualifying purchases.
5 Best Lightweight Pickleball Paddles — The Winner
The Face
Our first place pick is the Paddletek Tempest Wave Pro Pickleball Paddle!
It has a textured graphite face, which is great news for the lucky player using this paddle!
That's because graphite is meant for power, while the texture allows you to put spin into the ball with every return. So really, this paddle's quality materials fit any combination of playing styles!
The Surface Area
The length of the entire paddle is 15 ⅞ inches, while the width is an even 8 inches.
With these dimensions, the paddle qualifies as a typical wide racquet, which happens to be the ideal paddle size for most players.
That's because they are compact enough to handle easily but still broad enough on the face to deliver solid, satisfying shots. The generous sweet spot is in part to thank for the latter!
The Weight
The paddle weighs in the range of 7.6 to 8 ounces, which means it's on the light end of the medium weight spectrum.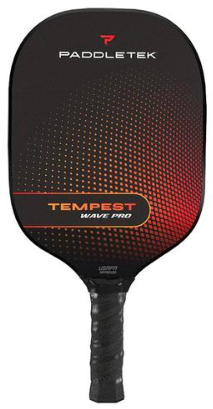 It's not so light that it isn't powerful, but it also is not so heavy that the average player would have any trouble controlling it. In fact, medium weight paddles are generally the "best" weight range because it gives players the best balance between power and control!
Of course, in the general context of paddle weights, 8 ounces is on the light side, which is why we consider this paddle to be lightweight.
But don't let its lightness deceive you — it packs a great amount of power and quality!
The Grip Size and Feel
This paddle comes in a thin grip option and a standard grip option, which tops out at 4 ⅜ inches in circumference. Both choices are 5 ½ inches in length.
Our tips for choosing the right grip size? If you have smaller or average hands, go for the thin grip. It's best to err on the smaller side. If it needs thickening, you can always take care of that using overgrips, which are adhesive strips that go over the original handle.
If you have bigger hands, go for the standard size. (Unlike the thinner grip, there's no downsizing a handle that is too large.)
Both grips are constructed of a contoured, cushioned material that guarantees maximum comfort in hand, even over long matches.
The Core
At the heart of every paddle's performance is its core. With this paddle, you get what is called the Tempest SRT Core, a composite honeycomb core made of a high-quality, proprietary blend of polymers.
The large-cell honeycomb pattern helps to diffuse impact evenly throughout the paddle so that it stays comfortable even through the hardest of hits.
The same pattern is also what makes the paddle quiet on the court, so you can play it up without worrying about violating any noise restrictions your local facility may have!
5 Best Lightweight Pickleball Paddles — Runner Up
The Face
In second place is another one by Paddletek — it's the Paddletek Bantam TS-5 Pickleball Paddle. This paddle face is made of a textured fiberglass epoxy hybrid that increases spin even more than a normal fiberglass face would.
That's because the texture bites into the ball a bit more and sends the return spinning in another direction.
This added element gives the player maximum control, which is something lightweight paddles like this are known for!
The Surface Area
This paddle measures 15 ⅝ inches by 7 ¾ inches, dimensions that make it a typical wide paddle.
Wide paddles provide ample hitting space while remaining nimble in the player's hand. That's why most players like paddles of this size!
The shape is just right and even beginners can quickly get used to it because it's so intuitively sized.
The Weight
Weighing around 7.2-7.5 ounces, this is indeed a lightweight paddle, though by some calculations it can also technically be considered medium weight.
Either way, it's on the light end of the spectrum, so you can be sure that you'll be getting a good amount of control with this product! 
Actually, the Paddletek Bantam TS-5 Pickleball Paddle is a slimmed-down version of the company's popular Bantam EX-L model. So if you're familiar with and like that paddle, you might find the TS-5 to your liking as well!
The Grip Size and Feel
The grip measures 5 inches in length and the standard 4 ¼ inches around. It's standard because it's what fits most players best. However, you can always use overgrips to increase the size to your liking.
There is, however, no equivalent solution to make a grip smaller — you'll simply need a whole different paddle.
In terms of its material, the handle is made of what Paddletek calls an ultra cushion high track performance grip.
This grip is meant for good cushioning and a secure fit in your hand. A secure grip will also help you add more topspin and backspin to the ball!
The Core
Like the EX-L model it was based off of, the Bantam TS-5 has the Bantam PolyCore, which is a responsive polymer honeycomb core.
This material and pattern is highly regarded in the pickleball world for its ability to be powerful without transferring the impact of that power to the player's arm.
It truly allows the player to play the way they want — a great companion to beginners and experts alike!
5 Best Lightweight Pickleball Paddles — Third Place
The Face
In third place is the unique Selkirk Amped Omni Pickleball Paddle!
This elongated paddle has a FiberFlex Unidirectional fiberglass face, a proprietary material that gives the player extra control of the ball.
The unidirectional texturing makes spin techniques easier as well.
Power shots are easier too, since the shorter handle and bigger face allow you to use the face as extra leverage when hitting.
The Surface Area
As we mentioned, it's an elongated paddle — which means it's a bit longer and narrower than the average wide paddle.
The extra length gives players a little more reach and power. This paddle in particular measures 16 ¼ inches in total length by 7 ¼ inches in width.
Elongated paddles — informally called blades — are preferred by intermediate to advanced players, so be sure to give this one a try if you're more experienced!
The Weight
This paddle weighs in the range of 7.8 to 8.3 ounces, so it is technically a medium weight paddle. But considering that pickleball paddles can weigh all the way up to 13 ounces, we'd say 8 ounces is relatively lightweight.
Paddles of this weight range are usually the most ideal for players because they are the right balance of powerful and maneuverable.
Because of the elongated shape, it might take a bit of getting used to the new balance — that is, if the balance and shape of wide paddles are what you're typically used to.
But once that's done, you'll find that this paddle really puts in the work!
The Grip Size and Feel
As with most blades, the grip is a little shorter to give more room to the face. This is true of the Selkirk Amped Omni Pickleball Paddle, which has both a length and circumference of 4 ¼ inches.
These dimensions should satisfy most players, but you can upsize accordingly using overgrips without changing the entire paddle.
The material itself is the patented Selkirk ComfortGrip, which is contoured and spiralized for easy gripping.
The Core
This paddle features the fancily-named Polypropylene X5 Core, another proprietary material by the brand.
It is a polymer honeycomb core that absorbs a great amount of impact and sound, making for a comfortable, quiet paddle. 
It also gives the player even more control in addition to the spin-oriented fiberglass face. That's because the core "absorbs" the ball a little better than more rigid core materials would and stabilizes the ball's direction upon return.
5 Best Lightweight Pickleball Paddles — Honorable Mention
The Face
Our first honorable mention is another Selkirk Amped paddle — this time the Selkirk Amped Maxima!
Like the third place Omni paddle, this one has got the Fiberflex Unidirectional fiberglass face that makes spin techniques a breeze.
You'll have great control over your returns with this paddle, and the edgeguard ensures that your investment is protected throughout the years!
The Surface Area
Also like the Omni, the Maxima is an elongated paddle, but it has a longer grip. That means that there will be slightly less hitting space on the face, but there's still plenty of room to work with.
To be exact, the entire paddle measures 17 inches in length by 7 inches in width. The grip takes up about 5 ¼ inches off the length.
The sweet spot on the face remains generous, but because of the rounded, elongated shape you may need to make slight adjustments to your estimations of that spot. Still, it's a solid paddle that measures up nicely against others like it!
The Weight
Weighing between 7.6 and 8.1 ounces, this blade is technically a medium weight paddle, but compared to how heavy pickleball paddles can be, it's pretty lightweight.
Its lightness makes it an excellent paddle to control, while the elongated shape allows the player to leverage the paddle's unique balance to make power hits.
Thus, one can get both strength and control from this paddle!
As mentioned, the grip is 5 ¼ inches long with the standard circumference of 4 ¼ inches.
The Grip Size and Feel
It's also the Selkirk ComfortGrip, which is specially designed to absorb perspiration and provide ample cushion throughout all your matches.
It's a popular grip because of how well it feels in the hand and performs for the paddle as a result!
The Core
This paddle also has the X5 Polypropylene Core, a large-cell polymer honeycomb core that dampens vibration and noise with every hit.
This material and pattern are well-known for their sound and impact-absorbing qualities.
That makes the Selkirk Amped Maxima Pickleball Paddle perfect for anyone who has joint sensitivities, prefers a quieter paddle, and/or plays in a pickleball club with strict noise regulations!
5 Best Lightweight Pickleball Paddles — Honorable Mention
The Face
We've talked about the Gamma NeuCore Compass here on our site before, but now we want to bring you the long-handled version of that same great paddle!
This paddle has a powerful graphite face, which nicely complements the double-handed power techniques one would use with this paddle.
Graphite paddles are known for their superior power, so be prepared to be blown away by the amount of strength you can garner with this long-handled Gamma paddle!
The Surface Area
This wide paddle is 16 ⅝ inches long and 7 ⅛ inches in width.
The grip is a whopping 6 ¼ inches off the length to accommodate two-handed returns. That leaves a smaller face, but it also results in a lighter paddle, which we will discuss shortly.
The face shape is similar to most other wide paddles, so it'll have a similar feel but with a longer reach!
The Weight
The Gamma NeuCore Compass Long Handle Pickleball Paddle weighs only 7.2 ounces, so it's light and nimble enough to maneuver around the court even with both hands on the grip.
Despite its weight, you won't be losing too much power in your shots because you'll mostly be putting both arms behind every hit.
Therefore, you'll still be wielding power while having maximum control!
The Grip Size and Feel
The grip measures over 6 inches long but its circumference is 4 ⅛ inches, just ⅛ inch shy of the standard handle circumference.
So if the grip is too small, feel free to use overgrips to customize it to your preferred size. The grip's cushioning features a clever honeycomb texture to help guide the hand. That way, it stays comfortable and tacky for the duration of your games.
The increased length is specially designed for players to use both hands on the grip. So if you're the type of player that likes good control and power behind every shot, this is the paddle for you!
The Core
What makes this paddle's core unique is the 25% thicker polymer honeycomb core that gives great pop!

The extra thickness helps dampen noise and vibration even more than regular polymer honeycomb cores normally would. You really do get maximum comfort with this paddle. 
So this paddle is perfect for people who like quieter paddles or who genuinely need them because of conditions like tennis below or arthritis.
Frequently Asked Questions
Why Should I Get a Lightweight Paddle?
Lightweight paddles are great for players of all skill levels, especially beginners! They're easy to handle and control — which is usually what most players starting out are most concerned about.
At the same time, the paddles we highlighted in this review also give great power due to the high-quality, strength-oriented materials they're made out of.
So you should consider getting a lightweight paddle if you want the most amount of control in your games, and/or if you develop swing fatigue easily with heavier paddles and want one that will allow you to play longer!
How Do Lightweight Paddles Compare To Medium And Heavy Weight Paddles?
As we mentioned, the lighter the paddle, the more control for the player. The heavier the paddle, the more power, but less control.
It all depends on your particular preferences — when you tend to develop swing fatigue during a game, if you prefer more control or power, or how sensitive your joints are to repeated impact.
If you tend to develop swing fatigue early, try a lighter paddle. If you can go on for quite a while before becoming tired, maybe you can try a heavier paddle. If you're somewhere in the middle, go for a medium weight paddle.
Also go for a medium weight paddle if you have joint conditions like arthritis or tennis elbow. A paddle of medium weight tends to hit the sweet spot between absorbing enough of the impact while staying light enough to swing easily.
All These Paddles Have a Polymer Honeycomb Core. What's So Special About That Core?
Polymer honeycomb cores are among the best types of cores on the market. Its noise-cancelling and vibration-dampening qualities are some of the most important features of this core.
Lots of people prefer quieter and comfortable, shock-absorbent paddles, so paddles with polymer honeycomb cores tend to be the most popular.
The large-cell, loose pattern density of this type of core — as well as the polymer material — are very effective at diffusing noise and impact throughout the paddle before it gets up to the player's arm through the handle.
Plus, the thicker the core, the better able it'll be to distribute that impact.
What Player Skill Level(s) Can Benefit Most From Lightweight Paddles?
Any! Lightweight paddles are great for players of all skill levels, but if we had to pick a certain level we'd recommend them for beginners.
Beginners are just starting to learn how to control the paddle and ball, so lightweight paddles give them the opportunity to get used to the unique movements and power-to-control ratio required of the game.
Still, that doesn't mean more advanced players can't use a good lightweight paddle! In fact, many of our picks for this list are recommended for intermediate to advanced players.
Take the long-handled Gamma NeuCore Compass Pickleball Paddle, for instance: the long handle is specially designed for two-handed play, which seasoned players are more likely to experiment with.
Bottom line is — don't let recommended experience levels prevent you from picking up a certain paddle! You might find that the perfect one for you doesn't come close to its advertised player level.
Is There A Difference Between Indoor And Outdoor Pickleballs or Paddles?
For pickleballs, yes! Indoor and outdoor pickleballs may look similar, but they have some key differences.
Outdoor balls are heavier, made of harder plastic, and have smaller holes. These features allow the ball to withstand both the rough texture of outdoor courts and the sometimes unpredictable wind conditions unique to outdoor play.
Indoor balls, in contrast, are made of lighter plastic and have larger holes in order to bounce better on smoother indoor surfaces. Gym floors are smoother than the ground outside, and wind isn't a factor in indoor games.
But unlike pickleballs, the same indoor/outdoor distinctions don't exist for paddles! You can use any paddle for both kinds of games without experiencing too much change.
Are Lightweight Paddles Durable?
Yes! Despite being lighter than their heftier counterparts, lightweight paddles aren't inherently more or less durable than heavier paddles.
It all depends more on the quality of the materials used. And in this list, we included the top tier of quality, which is reflected in the higher price point of these products.
Lightweight paddles can truly be as great an investment as any other type of paddle — it all comes down to the overall craftsmanship of the racquet.
How Do I Properly Maintain My Paddle?
To properly maintain your paddle, keep it out of the sun as much as possible, since UV rays can create dead spots (the opposite of a sweet spot) over time. We recommend keeping it in a case when it's not being used.
Alternatively, some paddles come treated with a special UV protective coating so that it doesn't break down in the sun. Still, to err on the side of caution, we still recommend keeping these paddles in a case at least to keep them free of environmental debris.
Excess rain or moisture can also cause dead spots on paddles. Thus, avoid playing outside when it's raining, and even if you play indoors, shield your paddle from the rain as you go in and out of the facility.
What Are Edgeguards For?
Edgeguards protect the paddle from dents, scrapes, and reshaping as a result of contact with hard surfaces, like the ground.
Many people prefer paddles with edgeguards because they preserve the good construction of their paddle and are easier to take care of than edgeless paddles. All of our picks for this list are edged paddles.
Edgeless paddles, on the other hand, look sleeker because there isn't a border around the face. But the main reason why some players opt for edgeless paddles is that there isn't a raised edgeguard to interfere with shots taken from along the border of the paddle.
So the "better" choice is really up to what you value most — overall protection for your paddle or just a little bit more surface area on the face.
Are Lightweight Paddles Good For Players With Wrist Or Elbow Issues?
Not all of them. We generally recommend medium weight paddles with polymer honeycomb cores for people with joint issues because those paddles are light enough to stave off swing fatigue yet heavy enough to absorb most of the impact from hits.
Technically, it's generally believed that medium weight paddles are more comfortable for those who have tennis elbow, whereas lightweight paddles are better for arthritic players.
By that logic, the more medium weight paddles on this list — #1 Paddletek Tempest Wave Pro Pickleball Paddle, #3 Selkirk Amped Omni Pickleball Paddle, and #4 Selkirk Amped Maxima Pickleball Paddle — will be better for players with tennis elbow since they absorb more impact than their lighter counterparts.
On the other hand, #2 Paddletek Bantam TS-5 Pickleball Paddle and #5 Gamma NeuCore Compass Long Handle Pickleball Paddle would be better suited for players with arthritis.
However, everyone's issues are unique, so you might find that a medium weight paddle is more comfortable despite having arthritis, for example.
Handles are also responsible for the amount of shock you experience. A good grip is one that is sufficiently cushioned, sweat-absorbent, and tacky enough so that you can grip with minimal effort. All of our picks have some kind of spiralized, cushioned grip designed for maximum comfort.
To find the best paddle for you, we suggest you try out different paddles — of different weights especially — at your local pickleball facility, to see which one works best for you!
Are Lightweight Paddles Better For Playing Singles Or Doubles?
Light to medium weight paddles tend to be better with doubles games since wins are less likely to be made by power shots. (It's harder for a player to shoot the ball past a court covered by two players than by one.)
Thus, you're more likely to need the control that a lighter paddle can give you in order to execute dinks and drop shots.
On the flipside, medium to heavy weight paddles are slightly better for singles matches since they're more powerful. You'll be more likely to hit a fast shot past an opponent in a singles match, so heavier paddles make that easy.
That said, all paddles can be used for either singles or doubles games! The advantages you tend to get with a lighter versus a heavier paddle are relatively negligible. Feel free to experiment with different paddles and game types!
Conclusion
We've reached the end of our comprehensive review of the 5 Best Lightweight Pickleball Paddles of 2020! Now that you're armed with the strengths and potential drawbacks of lightweight paddles, we hope you're ready to choose your next pickleball paddle!
For each of our picks, we discussed how the face, surface area, weight, grip, and core affect overall performance. Because of their light weight, these paddles are easy to control. They're made of high-quality materials, including great polymer honeycomb cores that deflect impact and noise. Plus, all 5 are USAPA-approved for tournament play!
We concluded with some responses to common questions about lightweight paddles and pickleball in general. Hopefully we answered your questions, but if you have others feel free to reach out to us!
Comments
Have you ever tried any of these paddles before? How do they compare to other paddles you may have played with before, especially heavier paddles? Do you have a preference for a certain paddle weight? Or, in your opinion, is there another lightweight paddle we missed in our review?
We want to hear your thoughts! Let us know if you have any comments or questions on anything we've mentioned here on our site. We love meeting new members of the community, so leave a reply below and we'll get back to you as soon as possible!