PROBETTER PICKLEBALL PADDLE — INTRO
If you're looking for a great deal on a new pickleball paddle that's both quiet and powerful, we know just the paddle for you! The ProBetter Pickleball Paddle is our #3 pick from the top 5 Best Quiet Pickleball Paddles of 2020!
There are a handful of reasons why a paddle would qualify as "quiet", most of all the core of the paddle. The material and pattern that the core is made of is integral to the paddle's sound level on impact, and in this post we'll share further insight into these particular parts!
Head over to our Pickleball Paddle Ultimate Guide for more information on different types of paddles — loud and soft — as well as general playing tips and frequently asked questions!
But if you're ready to dive into this review, let's begin!
ProBetter Pickleball Paddle — Overview

Please Note: This post contains affiliate links. An affiliate link means that we may earn advertising/referral fees if you make a purchase through our links.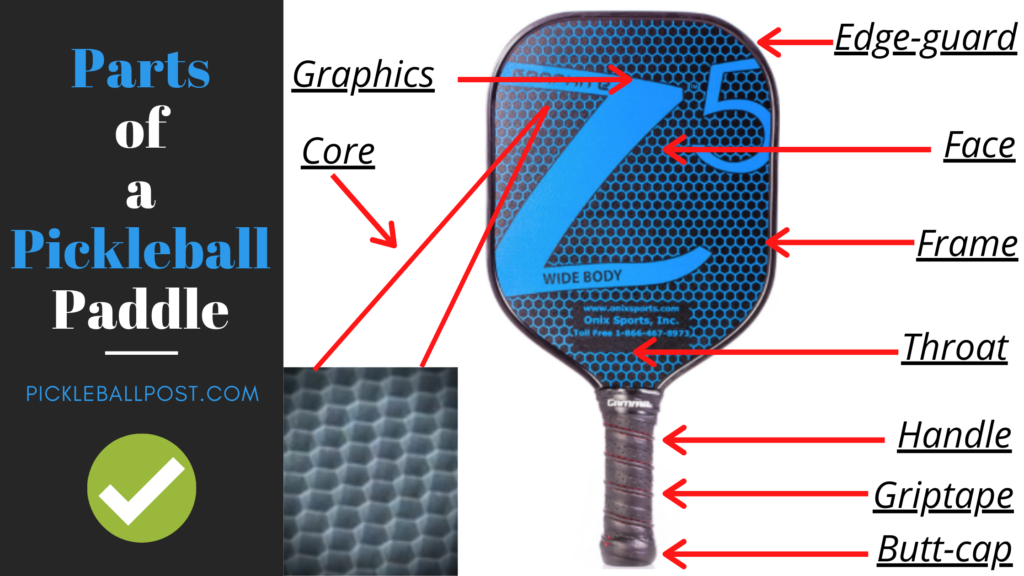 Right out the gate, there's lots to love about this paddle! First is the fact that it comes with a complimentary protective cover, so you can keep your investment safe and clean for a long time to come.
You don't need to look that much farther to find the other reasons: the face, surface area, weight, grip, and core all contribute unique elements to the paddle's overall performance and feel. Altogether, they make for a pretty swell paddle! At the end of this post, we'll conclude with a little pros and cons list so you can see these features in the context of their advantages and potential disadvantages.
There's much to cover, so let's get right into it!
ProBetter Pickleball Paddle — The Basics
Please Note: As an Amazon Associate, I earn from qualifying purchases.
The Face
The ProBetter Pickleball Paddle has a strong, resilient graphite face.
Graphite paddles tend to give players great power, so volleys and other power moves are easy with this one.
At the same time, the player has a good degree of control thanks to the core — but more on that in a moment!
The Surface Area
At 15.75 inches by 7.87 inches, this is the consummate wide paddle. Wide paddles are the most common and versatile type of paddle on the market because they fit most players' needs: they're easy to handle and have a pretty generous sweet spot.
To seal the deal, there's a protective edgeguard around the face that ensures the shape and good construction of the paddle in the long term.
On top of that, you've got a protective cover, so this paddle will surely last you a very good number of games!
The Weight
At around 7.7-8.1 ounces, this paddle is medium weight.
Medium weight paddles are great because they give the player the best of both power and control, since they're heavy enough to make power hits easy while remaining light enough to retain control.
Paddles of this weight, like the ProBetter Pickleball Paddle, also make particularly good quiet paddles that are also comfortable: they're heavy enough to absorb most impact but light enough that swing fatigue doesn't become an issue.
The Grip Size and Feel
The grip is a bit over 5 inches long and has the standard circumference of 4 ¼ inches. These dimensions usually fit most players, but if you're an exception you have a few options open to you.
If you need to increase the size of the grip circumference, you can do so by adding overgrips, which also offer additional traction for your hand.
But if you need a grip that's smaller, you'll simply need a paddle with a smaller grip circumference.
The grip itself is made of a perforated, spiralized pattern that resists slipping and feels ergonomic in hand. The cushioning helps to further stabilize impact with every hit. Proper cushioning will also help you avoid developing blisters and calluses!
The Core
As we hinted at in the opening of this review, the core is crucial to absorbing impact from returns!
That's why this paddle has a polymer honeycomb core, the perfect material and pattern for reducing shock and noise.
What's more, polymer honeycomb cores can give the player additional control, since the shock- absorbent material allows the ball to sink further into the face. This helps steady the ball's direction on its way back to the other side of the court.
Pros
graphite face is powerful
balanced weight
comfortable grip
generous sweet spot
polymer honeycomb core effectively absorbs vibration and noise
comes with a protective cover
Cons
face is not textured for spin control
Not sure if this particular paddle is the right one for you? Take a look at the NewFit Blur Pickleball Paddle or the Prince Response Pro Pickleball Paddle! The SLK Selkirk NEO Polymer Graphite Pickleball Paddle and the GRM Graphite Pickleball Paddle are popular choices in this category as well!
Conclusion
We've concluded our review for the ProBetter Pickleball Paddle! We hope you've learned a great deal about what makes this paddle both quiet and comfortable to play with — the core and grip are key.
Long story short, if you want a quiet and comfortable paddle at a great price, this is the one for you!
Comments
Have you ever played with this paddle before? How does it compare to others you may have tried? Do you have any other suggestions for a good quiet paddle? We'd like to know! All questions and comments are welcome!
We love hearing from our fellow members of the pickleball community — it's the main reason we started this website! Let us know your thoughts below and we'll make sure to get back to you soon!