SLK SELKIRK NEO POLYMER GRAPHITE PICKLEBALL PADDLE — INTRO
This review is dedicated to another pair of fantastic paddles by a trusted brand in the pickleball world. The SLK Selkirk NEO Polymer Graphite Pickleball Paddle is as full of assets as its name is long! It was also featured recently in our list of top 5 Best Quiet Pickleball Paddles!
What makes a paddle quiet? Why would a player want or need such a paddle? Why is this product a good choice? We'll answer all these questions below, plus give you even more information on this paddle's specs!
If you need a refresher on all the types of pickleball paddles, the rules of the game, and all other things pickleball, be sure to check out our Pickleball Paddle Ultimate Guide for a full rundown of these details and more!
But since you're here now, let's get you started on why this paddle deserves a top spot on our short list of best quiet pickleball paddles!
SLK Selkirk NEO Polymer Graphite Pickleball Paddle — Overview
Please Note: This post contains affiliate links. An affiliate link means that we may earn advertising/referral fees if you make a purchase through our links.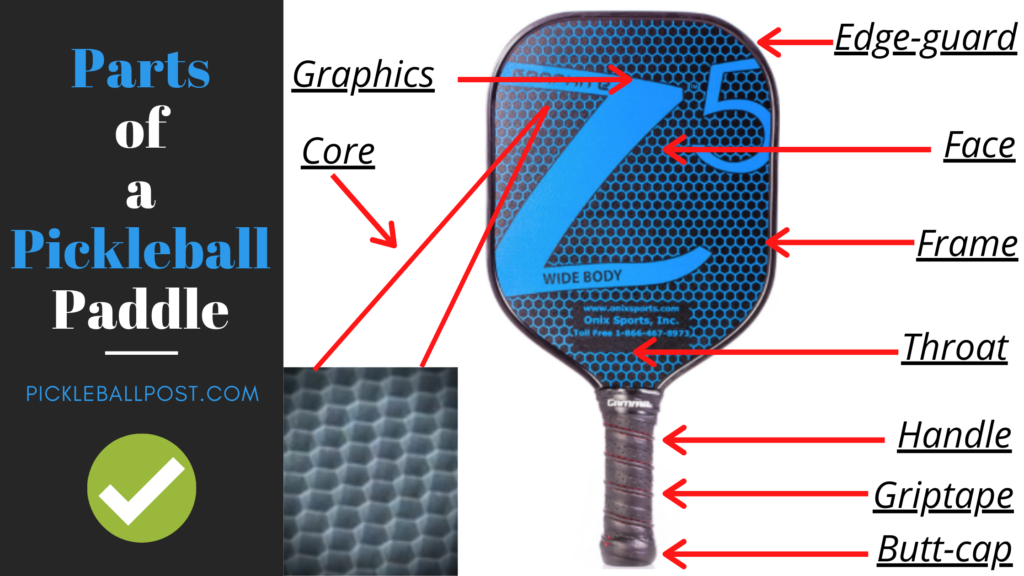 Even before we talk about the nitty gritty details of the paddle itself, it's worth noting that this product comes with not only one but two paddles (so you can get started right away with a friend) as well as a protective carrying case for both. The paddles themselves are well-made and durable, giving you excellent value for their price!
The paddles' composition — the face, surface area, weight, grip, and core — makes it a high-performing, comfortable quiet paddle. At the end of this review, we'll leave you with some final thoughts about the product, a concise pros and cons list laying out all its benefits and potential shortcomings side by side.
That's a lot to discuss, so let's begin!
SLK Selkirk NEO Polymer Graphite Pickleball Paddle — The Basics
Please Note: As an Amazon Associate, I earn from qualifying purchases.
The Face
Both SLK by Selkirk NEO Polymer Graphite Pickleball Paddles have a strong, responsive graphite face — one paddle has red accents and the other has blue.
Graphite paddles are known for providing their users with an advantage when it comes to overpowering your opponents during games, so you can rely on this paddle to get the job done well!
The Surface Area
Each paddle measures 15 ⅔ inches by 7 ⅞ inches, categorizing them as wide paddles.
Wide paddles have a generous sweet spot while still being small enough to control nimbly.
It's for these reasons that wide paddles are preferred by most pickleball players: they get to have the perfect balance of power and control.
The Weight
Each paddle weighs in the range of 6.9-7.5 ounces, so they are light to medium weight paddles.
Even on the high end of this range, it's a tad light, but practically that means an even greater level of control for the player.
The heavier the paddle, the more innate power, but that power will eventually come at a cost to the overall maneuverability of the paddle.
The Grip Size and Feel
The grip is 5 ¼ inches long and the standard circumference of 4 ¼ inches around.
The material it's made of is called the SLK Ultra-Comfort Grip, a proprietary handle designed for the highest level of comfort, absorbing both perspiration and impact as it travels from the paddle face to the hand.
Of course, if you happen to require a larger grip than this, you don't have to switch paddles. You can simply use overgrips to adjust the handle for a customized fit.
The Core
What makes the SLK by Selkirk NEO Polymer Graphite Pickleball Paddle quiet is its polymer honeycomb core, the best pickleball paddle core for quietness and comfort.
That's because the material is arrayed in a large-celled honeycomb pattern that effectively reduces the noise and vibration that result from even the hardest hits.
Thus, quiet paddles like these are great for all players but especially those who prefer quieter games, play in noise-restricted pickleball facilities, or have certain joint conditions that become irritated with too much impact.
Pros
graphite face is powerful
comfortable, shock- and sweat-absorbent grip
generous sweet spot
comes in a set of two paddles and a protective case
Cons
may be too light for some players
Not sure if this particular paddle is the right one for you? Take a look at the NewFit Blur Pickleball Paddle or the Prince Response Pro Pickleball Paddle. The ProBetter Pickleball Paddle and the GRM Graphite Pickleball Paddle are VERY popular models in this category, as well!
Conclusion

That does it for our review of the set of two SLK by Selkirk NEO Polymer Graphite Pickleball Paddles! We've finished discussing the face, surface area, weight, grip, and core of this paddle — all the things that make it such a comfortable and powerful performer. The core and grip are key to its quietness in particular.
Basically, if you want a paddle that's quiet, comfortable, performs well, and gives you amazing value for your money, look no further than the SLK by Selkirk NEO Polymer Graphite Pickleball Paddle!
Comments
Have you ever tried out this paddle before? How does it compare to others you may have played with? Do you have a different suggestion for a good quiet paddle? We want to know!
Leave a comment and we'll get back to you ASAP. We started this website in order to build a community of like-minded pickleball enthusiasts, so feel free to share your insights or questions below!