PRINCE RESPONSE PRO PICKLEBALL PADDLE — INTRO
The Prince Response Pro Pickleball Paddle is one of the most exceptional paddles we've ever reviewed. Why? That's for you to find out in this review!
This paddle is what is known as a quiet paddle, namely because of the material its core is made from. Not only are quiet paddles soft on the ear, but they are also soft on the arm. Both sound and impact are easily absorbed by quiet paddles, few better than this paddle. There's good reason why it's the #2 paddle from our list of top 5 Best Quiet Pickleball Paddles!
If you want to learn more about the game, check out our Pickleball Paddle Ultimate Guide — which has all the basic info you need in one place!
But for now, here's all the info you need to know about the Prince Response Pro Pickleball Paddle!
Prince Response Pro Pickleball Paddle — Overview
Please Note: This post contains affiliate links. An affiliate link means that we may earn advertising/referral fees if you make a purchase through our links.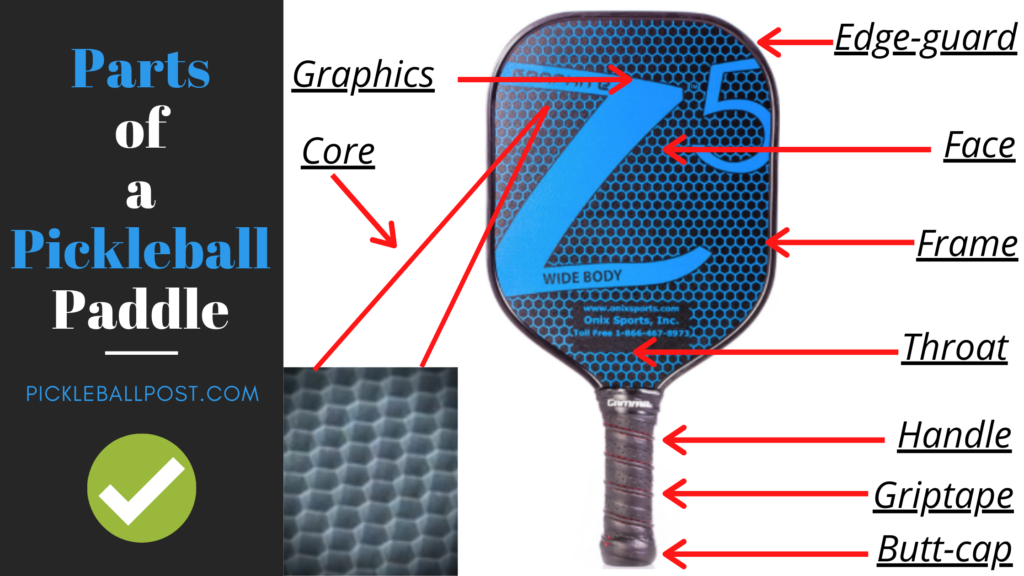 Quiet paddles are the most comfortable paddles on the market. And since comfort happens to be a high-ranking factor for most players when asked what they want most from their paddles, we think that alone makes a great case for the Prince Response Pro Pickleball Paddle!
But there are many other reasons why this paddle stands out from the crowd. In addition to being very well-made, it has a special coating for protection during outdoor play that most other paddles don't have!
Indeed, we'll tell you all about the face, surface area, weight, grip, and core of this paddle and how each element contributes to overall performance. At the end, you'll find a concise pros and cons list bringing all these features together.
That's a lot to cover, so let's get started!
Prince Response Pro Pickleball Paddle — The Basics
Please Note: As an Amazon Associate, I earn from qualifying purchases.
The Face
The Prince Response Pro Pickleball Paddle has a textured fiberglass face, meant to help you with spin and control, since the roughened texture provides traction for the ball.
But what makes this paddle truly special is its UV coating, which helps the paddle withstand the sun's rays, much like sunscreen for our skin.
That means that the paddle comes with built-in protection against damage done by the sun during outdoor play. Thus, you can be sure that this paddle pays for itself in terms of durability and integrity over time!
The Surface Area
This USAPA-approved paddle is 15 ¾ inches by 8 ¼ inches, so it's categorized as a typical wide paddle.
But unlike other wide paddles, this one has a slightly different silhouette: the sides are rounded.
This shape suggests that the sweet spot is just that little bit broader and can diffuse impact better than other wide paddles can. Truly, this premium paddle is a cut above the others!
The Weight
With this paddle, you can choose from two different weight options: light (7.1-7.6 ounces) or standard (7.7-8.1 ounces).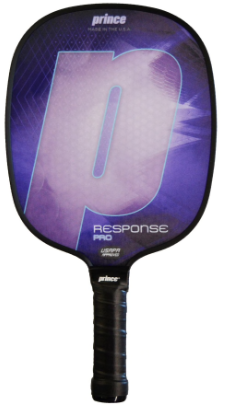 The light range is considered to be on the low end of the medium weight spectrum, while the standard range is on the heavier side of the medium weight scale.
If you opt for the lighter paddle, you'll have superior control. If you go for the standard, you'll have much of that control but also a bit more power through the heavier weight. The "better" paddle will depend on what your preferences and playing style are!
The Grip Size and Feel
Like the two weight options, there are also two grip circumferences: 4 ¼ inches or 4 ⅜ inches. The former is the standard measurement for grip circumferences, whereas the latter is better suited to players with bigger hands.
Length is 5 inches, with an XL option to extend it to 5 ½ inches. This selection will allow you to sprinkle double-handed techniques into your game!
The grip material itself is a perforated, sweat-absorbent cushion that helps keep even more vibration from your hand.
The Core
So we've established that the face and shape of this paddle are exceptional, but so is the core!

It's an extra thick polymer honeycomb core, which means that it can absorb vibration and noise better than even other quiet paddles can.
The large-cell pattern of the honeycomb holes paired with the additional thickness makes this a superior paddle for both quietness and comfort!
Pros
textured fiberglass face good for spin techniques
UV coating protects against harmful UV rays
different weight and grip options
generous sweet spot due to rounded sides
extra thick polymer honeycomb core effectively absorbs vibration and noise
Cons
a bit expensive relative to comparable models
Not sure if this particular paddle is the right one for you? Take a look at the NewFit Blur Pickleball Paddle or the ProBetter Pickleball Paddle are worth a look. The SLK Selkirk NEO Polymer Graphite Pickleball Paddle and the GRM Graphite Pickleball Paddle are popular choices as well!
Conclusion
You've reached the end of our review of the outstanding Prince Response Pro Pickleball Paddle!
To recap, the UV coating, unique shape, and extra thick polymer core are key highlights that separate this paddle from other contenders in the quiet paddle space.
Plus, it comes in different weight and grip options in order to cater to your individual needs. In all, these are the most obvious reasons to have this paddle in your collection!
Comments
Have you ever tried this paddle before? How does it compare to others you may have used? Are you willing to pay a little more for a paddle of superior quality? Do you have a different suggestion for a good quiet paddle?
Let us know! We love hearing from our friends in the pickleball community, so share your thoughts in the comments below and we'll get back to you soon. You may help out someone else by making your insight known!