GRM GRAPHITE PICKLEBALL PADDLE — INTRO
Pickleball is perfect for people looking for a social sport with a lower impact than tennis. If this describes you as a pickleball player, you're probably concerned about finding a super comfortable racquet. Good thing we have a great paddle just for you! The GRM Graphite Pickleball Paddle is a fantastic quiet paddle that diffuses impact and shock to maximize comfort even over the course of long games!
This paddle is our final pick from our review of the 5 Best Quiet Pickleball Paddles of 2020! Quiet paddles aren't just good on the ears — they're also the most comfortable for players, especially those who struggle with joint sensitivities. But even if you don't have any of these issues, it's still a good idea to get a quiet paddle!
Check out our Pickleball Paddle Ultimate Guide for details on other types of paddles, playing techniques, answers to frequently asked questions, and more!
But if you're ready to move forward with this paddle, let's start the review!
GRM Graphite Pickleball Paddle — Overview
Please Note: This post contains affiliate links. An affiliate link means that we may earn advertising/referral fees if you make a purchase through our links.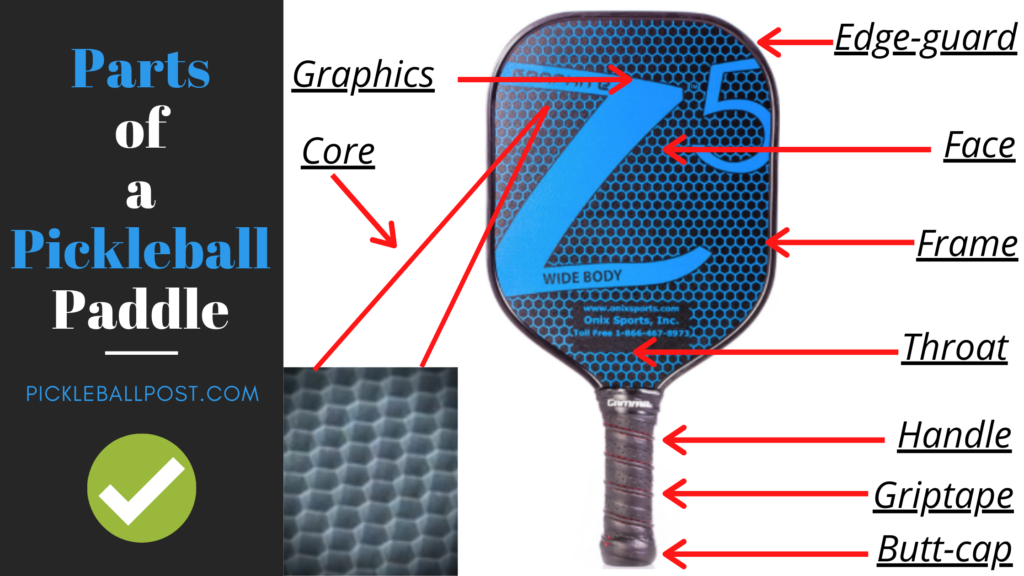 The GRM Graphite Pickleball Paddle is a great choice for anyone looking for a sturdy, simple choice among all the quiet paddles out there! It's got a bunch of attributes going for it aside from being quiet and comfortable, and we'll discuss them all in the following review!
The paddle's face, surface area, weight, grip, and core all contribute to its holistic performance. We'll summarize all these features at the end of the post, where we'll give a tidy pros and cons list so you can decide for yourself what's important to you in a paddle!
Let's get right into it!
GRM Graphite Pickleball Paddle — The Basics
Please Note: As an Amazon Associate, I earn from qualifying purchases.
Please Note: This paddle comes in different colors and designs!
The Face
This paddle possesses a graphite face, a material that is known for its ability to deliver outstanding power shots on the court.
Around this powerful face is an edgeguard to protect the whole thing from regular wear, including the dings and scrapes that result from bending low to retrieve the ball.
The Surface Area
It measures 15.3 inches by 7.8 inches, qualifying it as a typical wide paddle.
Paddles of this size are generally preferred by most players because they're easy to handle as well as easy to hit well with, due to the generous sweet spot available on the face.
One thing that gives this paddle even more surface area is the shorter handle, which we'll discuss in further detail below. But in simple terms, the handle is shorter than normal, which leaves just a little bit more room for the hitting face!
The Weight
This paddle weighs 7.9 ounces, making it a sound medium weight paddle.
In addition to wide paddles, medium weight paddles are also the preferred weight by most players because they embody the best of what both light and heavy paddles offer.
In other words, they're light enough that they're still easy to control but heavy enough so that the paddle stays powerful.
The Grip Size and Feel
Now we come to grips. On this paddle, it's 4 ½ inches, about ½ inch shorter than the typical 5 inches you would see on a paddle like this.
But don't be disheartened — the difference doesn't take away from the grip so much as it gives more surface area to the face. The handle is 4.3 inches around, which is approximately the standard circumference for pickleball grips.
The material of the grip itself is cushioned and sweat-absorbent, so it stays dry and shock-absorbent even throughout long matches. The material will also help you prevent calluses and blisters!
The Core
The most important thing that makes this paddle quiet and impact-resistant is its polymer honeycomb core.

Both the material and pattern are optimal so that the player experiences the least amount of sound and vibration from the paddle as possible.
People who would really benefit from these racquets are those who play at noise-regulated clubs, have joint issues, or just prefer quieter paddles!
Pros
graphite face is powerful
comfortable, shock- and sweat-absorbent grip
generous sweet spot
polymer honeycomb core effectively absorbs vibration and noise
comes with a protective case
Cons
grip may be too short for some
Not sure if this particular paddle is the right one for you? Take a look at the NewFit Blur Pickleball Paddle or the Prince Response Pro Pickleball Paddle. The ProBetter Pickleball Paddle and the SLK Selkirk NEO Polymer Graphite Pickleball Paddle are also VERY popular choices!
Conclusion
You've reached the end of our review of the GRM Graphite Pickleball Paddle! We discussed its face, surface area, weight, grip, and core, the last of which is particularly crucial to every quiet paddle. We hope you learned what you needed to in order to make a decision about the kind of paddle you'd like to add to your collection next.
The bottom line is, if you want a paddle that's quiet, comfortable, and durable, the GRM Graphite Pickleball Paddle just might be for you!
Comments
Have you ever tried this paddle before? How does it compare to others you may have tried, quiet or not? Do you have any other suggestions for quiet paddles? Let us know in the comments below!
We love interacting with other people in the pickleball community, so tell us your thoughts and experiences with the sport. We'll make sure to get back to you as soon as possible!