RALLY PXL GRAPHITE PICKLEBALL PADDLE — INTRO
If you're in the market for a brand-new elongated pickleball paddle, look no further! In this review, we'll be talking about the Rally PXL Graphite Pickleball Paddle, an excellent choice for intermediate to advanced players looking to gain an edge on the court!
This paddle is one of the honorable mentions from our list of the 5 Best Elongated Pickleball Paddles of 2020. That's because there's a lot that makes this paddle stand out from the crowd, and we want to tell you all about it!
Check out our Pickleball Paddle Ultimate Guide for more details on wide, elongated, and oversized paddles, as well as all other things pickleball-related!
Now, we invite you to find out more about this exceptional paddle!
Rally PXL Graphite Pickleball Paddle — Overview
Please Note: This post contains affiliate links. An affiliate link means that we may earn advertising/referral fees if you make a purchase through our links.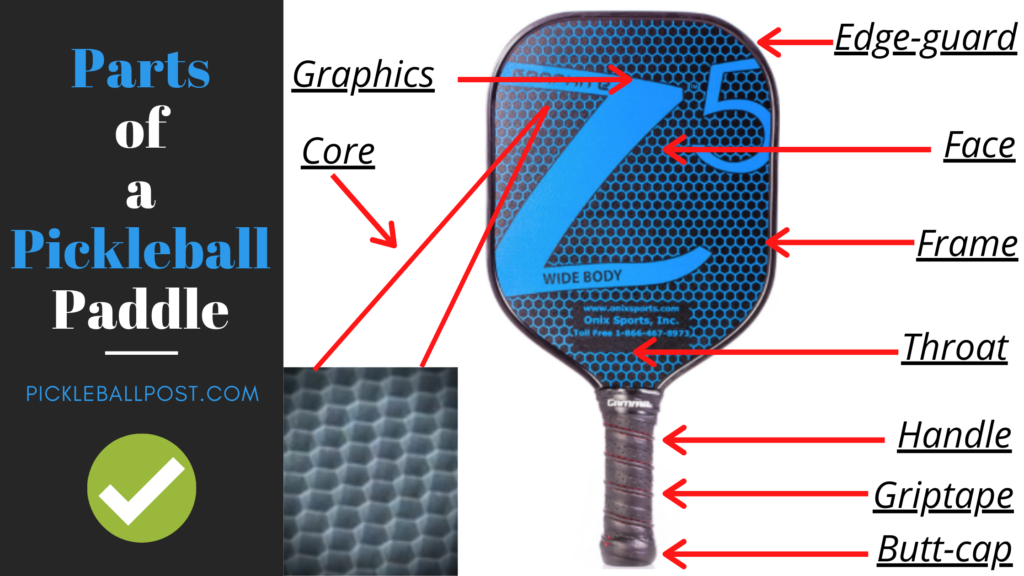 On first sight, you might notice that the Rally PXL Graphite Pickleball Paddle comes in four different and very striking colors, but beauty is more than skin deep. This elongated paddle is constructed of some of the best material combinations in the pickleball world, and it's all designed to give you — the player — the best possible advantage.
Elongated paddles — or blades, as they're sometimes referred to informally — generally give the player more reach and power than do normal wide paddles. That's especially true with the Rally PXL Graphite Pickleball Paddle, which has a face, surface area, weight, grip, and core that all work in tandem.
Ready to learn all about it? Let's get started!
Rally PXL Graphite Pickleball Paddle — The Basics
Please Note: As an Amazon Associate, I earn from qualifying purchases.
The Face
Like our other top picks for best elongated pickleball paddle, this paddle sports a graphite face that — by nature of this face material — already gives the player good power!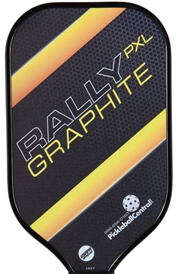 Couple that with it being on an elongated paddle, and you've got one very powerful paddle.
What's more, the graphite face is textured to allow for spin returns should the player desire to use them.
The Surface Area
At 16 ½ inches by 7 ¼ inches, this blade provides the player with extra reach that they wouldn't otherwise get using a wide paddle, the standard paddle type in most of the pickleball world.
Instead of a square, the Rally PXL Graphite Pickleball Paddle is more rectangular, and so is its sweet spot!
Therefore, players will enjoy a larger sweet spot and range with this paddle.
The Weight
This paddle is firmly in the medium weight range at 7.6-7.8 ounces.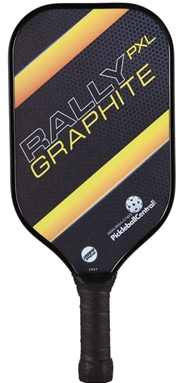 Some elongated and oversized paddles are comparatively heavier than their wide body counterparts, but not this paddle. It's the same weight as many medium weight wide paddles!
Because elongated paddles are already longer than one might be used to, additional weight would make it unnecessarily harder to handle. But you don't need to worry about that with this paddle, since it's relatively light for its size.
One last note about the weight: because the grip is shorter and the face longer, more of the paddle's overall weight will be found in the face. That's why lots of players who use blades use the heavier face as additional leverage in strength-based returns.
The Grip Size and Feel
With a length of 4 ¼ inches and standard circumference of 4 ¼ inches, the grip is shorter than that of typical wide paddles and much shorter than that of long-handled paddles.
Still, it should provide plenty of space for your hand. If the grip circumference feels too small, overgrips can be used to compensate.
But if you don't need overgrips, you'll find that the original grip is ergonomic and remains tacky even as you sweat.
The Core
The Rally PXL Graphite Pickleball Paddle features a composite polymer honeycomb core.
What this means is that the core is made of two or more kinds of polymer, and it's all arranged in a honeycomb pattern. All of this is meant to boost the paddle's already sturdy performance.
Polymer cores generally do a very good job of offsetting the vibration and noise that result upon impact. Further proof that this paddle is meant to feel as comfortable and quiet as possible, for as long as your games last.
Pros
textured graphite face gives both power and control
increased hitting face provides greater reach and power
comfortable grip
composite honeycombed polymer core absorbs more impact and sound
Cons
not typically for beginners
Not sure if this particular paddle is the right one for you? Take a look at the Gamma Needle Elongated Pickleball Paddle, the Gamma Compass NeuCore Elongated Pickleball Paddle, or the HEAD Radical XL Pickleball Paddle, each of which are GREAT paddles in this particular category!
The HUDEF HB2.0 Graphite Elongated Pickleball Paddle is also worth a look!
Conclusion
You've reached the end of our review of the Rally PXL Graphite Pickleball Paddle, an honorable mention from our list of the 5 Best Elongated Pickleball Paddles.
We singled it out for its winning combination of graphite face, ample surface area, good weight, comfy grip, and resilient core, and we hope you're able to see it for yourself now, too.
Comments
Have you ever tried this paddle? How does it compare to other paddles you may have tried, especially other elongated ones? Is there an elongated paddle out there that you prefer?
Let us know in the comments below. We love hearing from fellow members in the pickleball community, and we believe that everyone has important insight that others can benefit from!