GAMMA COMPASS NEUCORE ELONGATED PICKLEBALL PADDLE — INTRO
When you get to a high level of playing pickleball, it becomes more and more important that you cover your side of the court well and take advantage of every little advantage you can get your hands on! One thing that can give you the upper hand is a good elongated paddle, like the Gamma Compass NeuCore Elongated Pickleball Paddle!
This paddle is our runner-up choice from our list of the 5 Best Elongated Pickleball Paddles of 2020. It was also one of our honorable mentions from our 5 Best Pickleball Paddles for Spin review. These accolades are well-deserved; in the right hands, this paddle can pull off pretty much any move you can think of!!
If you need a refresher on the different kinds of pickleball paddles, playing techniques, and common concerns when it comes to the game, check out our Pickleball Paddle Ultimate Guide!
If you're ready to dive into this review, let's do it!!
Gamma Compass NeuCore Elongated Pickleball Paddle — Overview
Please Note: This post contains affiliate links. An affiliate link means that we may earn advertising/referral fees if you make a purchase through our links.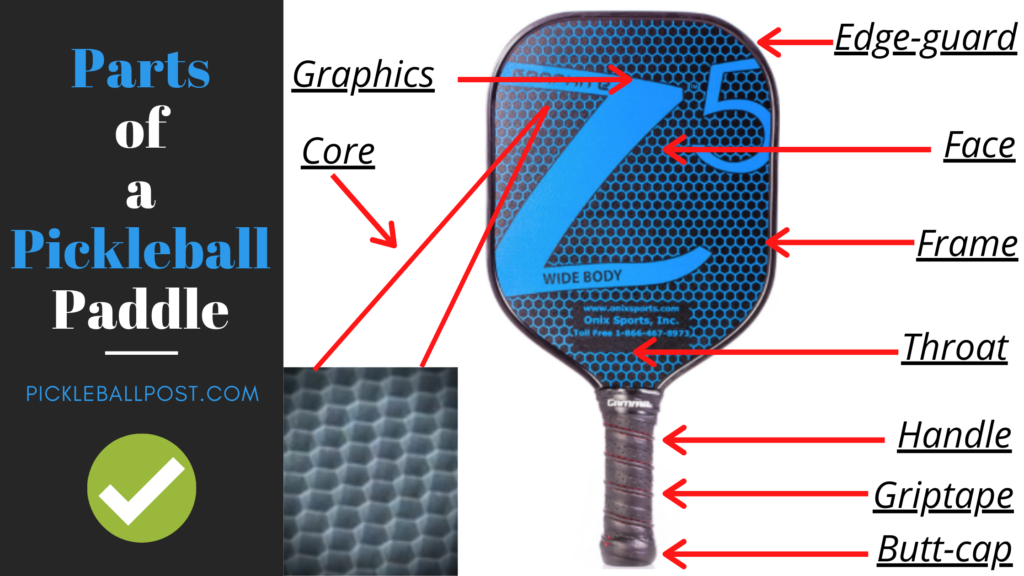 One of the reasons why elongated paddles — or blades — are preferred by many advanced or tournament competitors is that it provides extra reach. That and a player's ability to use the blade's unique weight distribution are prime reasons to reach for an elongated paddle!
In this post, we'll discuss how this weight and surface area play a role in the paddle's performance, but so do its other component parts. We'll make sure to fill in all the blanks. Then we'll round it all off with a concise pros and cons list so you can see for yourself if this paddle is right for you!!
It's a lot to cover, so let's get started!
Gamma Compass NeuCore Elongated Pickleball Paddle — The Basics
Please Note: As an Amazon Associate, I earn from qualifying purchases.
The Face
The Gamma Compass NeuCore Elongated Pickleball Paddle has a face made of textured graphite.
This type of face material is well known for being powerful on the court, but the rough texture leaves it open for players to perform spin techniques as well!
They can do so by allowing the return to originate from a flick of the wrist, and the face will bite into the ball for just long enough to send it spinning in a new direction. The paddle's thicker core helps even further with this technique, but more on that later.
The Surface Area
What makes this an elongated paddle is that it extends past 16 inches lengthwise — at 16 ½ inches — and its 7-inch width is narrower than a wide paddle by about an inch.
USAPA directives say that paddles cannot exceed a combined length and width of 24 inches, and that the length cannot be more than 17 inches, so this paddle still easily fits official tournament requirements!
Different dimensions also mean an altered sweet spot. It's still very generous, but it will be more oval than circle. Therefore, it might take a while when playing to get used to the exact area where hits come off best!!
The Weight
As we alluded to earlier, the weight distribution of this paddle is different from that of wide paddles, due to the blade's longer length.
In sum it weighs 7.8 ounces, about the same as any other medium weight paddle, but since the handle is shorter and the face longer, more of the weight will be in the face!
Keep this in mind when swinging. Try to use it to your advantage by allowing the weight to put more power behind your smash hits.
The Grip Size and Feel
The Gamma Compass NeuCore Elongated Pickleball Paddle, like most other elongated paddles, has a shorter grip to maximize the face.
It is just 4 ¼ inches in length (rather than the average 5 inches) and 4 ⅛ inches in circumference!!
This circumference is ⅛ inch smaller than the standard, but people with smaller hands will find that comfortable. If that's too small a grip, overgrips easily solve the problem by enlarging the original grip to your preferred size.
Furthermore, the grip features a textured honeycomb pattern that cleverly matches the paddle's core, which we'll get into right below!
The Core
The paddle's NeuCore Technology — or large-cell honeycomb polymer core — makes it 25% thicker than that of the average paddle.
Practically speaking, this translates to a comfortable, shock- and noise-cancelling playing experience.
What's more, the added thickness allows the ball to sink into the face for just a bit longer on a return, so that the player can easily and successfully perform spin shots.
Pros
textured graphite face gives both power and control
increased hitting face provides greater reach and power
comfortable, sweat-resistant honeycomb textured grip
thicker honeycombed polymer core absorbs more impact and sound
Cons
grip may be small/narrow for some players
more expensive than other elongated paddles
Not sure if this particular paddle is the right one for you? Take a look at the Gamma Needle Elongated Pickleball Paddle!
The HEAD Radical XL Pickleball Paddle, the Rally PXL Graphite Pickleball Paddle and the HUDEF HB2.0 Graphite Elongated Pickleball Paddle are also options worth considering in this space!
Conclusion

In conclusion, the Gamma Compass NeuCore Elongated Pickleball Paddle is a great choice for the intermediate to advanced player looking to gain an edge over their opponents! Its textured graphite face, ample surface area, good weight, comfortable grip, and shock-absorbent core are all compelling reasons to have this paddle on your side the next time you compete!!
Comments
Have you ever tried out this paddle before? How is it similar to or different from other paddles you may have tried, especially elongated paddles? Is there a different elongated paddle that you prefer? Let us know!
We want to hear your input on what's helped you most in your pickleball game, because who knows? It might help someone else out, too!