SELKIRK LATITUDE WIDEBODY COMPOSITE PICKLEBALL PADDLE — INTRO
The great thing about composite pickleball paddles is that you don't have to choose between playing with power or with finesse! Composite paddles give you the best of both worlds, and this is certainly true of the Selkirk Latitude Widebody Composite Pickleball Paddle, our third place pick from our 5 Best Composite Pickleball Paddles in 2020 Review.
If you aren't familiar with the pros and cons of every type of paddle out there, be sure to check out our Pickleball Paddle Ultimate Guide, where we break down paddles, techniques, rules, and more!
There are good reasons why this Selkirk paddle deserves that place on our top 5 composite paddles list, and this post will reveal them all. So without further ado, let's get right into it!
Selkirk Latitude Widebody Composite Pickleball Paddle — Overview
Please Note: This post contains affiliate links. An affiliate link means that we may earn advertising/referral fees if you make a purchase through our links.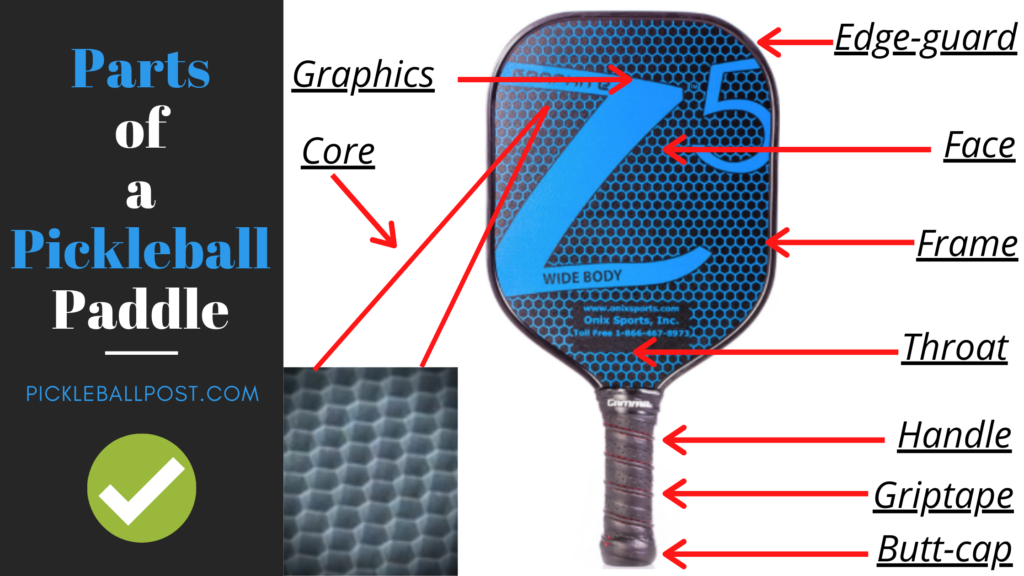 Before we talk about the individual features, here's a bit of clarification when it comes naming. The Selkirk Latitude Widebody Composite Pickleball Paddleis categorized as a composite paddle because the face material is composite, or "made of two or more different components."
With pickleball paddles, these components are usually glass fibers and plastic — otherwise known as fiberglass — because this is the most common composite material for pickleball paddles. This is why you'll often see manufacturers and marketers use the words "composite" and "fiberglass" interchangeably.
Composite paddles like this Selkirk paddle are known for providing the best balance between control and power. If you're a player who likes to switch between power shots and spin techniques, then this might be the perfect racquet for you.
In this review, we'll discuss this paddle's face and core materials, as well as the dimensions of its grip, surface area, and weight. Don't worry — we'll explain what these specs indicate for performance, too. And lastly we'll include pros and cons about the product, should you decide to consider this paddle for your growing collection. Now, let's get right into it!
Selkirk Latitude Widebody Composite Pickleball Paddle — The Basics
Please Note: As an Amazon Associate, I earn from qualifying purchases.
The Face
The Selkirk Latitude Widebody Composite Pickleball Paddle has a mouthful of a name, but simply put, it is a versatile paddle that works well for beginners and more experienced players, as well as for a variety of playing techniques.
Thanks to its textured "Polyflex composite" face, this paddle can execute great spin shots as well as pure power hits.
Not only can the textured face create great spin, it can also neutralize your opponents' spin shots. So you could say that this paddle is a great defender as well as attacker on the court.
The Surface Area
The key to a successful spin shot is having enough surface area to do so.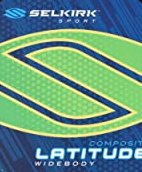 At 15.65 inches in length by 8.25 inches in width, the Selkirk Latitude Widebody Composite Pickleball Paddle is more than capable of giving you satisfying spin shots.
Being a "widebody" paddle also means being the preferred size for most players, given the enhanced sweet spot and overall comfort players have with these kinds of racquets.
The Weight
This paddle can weigh anywhere from 6.9 to 7.5 ounces, a range that means it is a lightweight to medium weight paddle.
Even if it's on the high end of this range, it's still considered on the light side, which guarantees maximum control.
In exchange, however, it won't give you as much power as a heavier paddle would.
This implies that you'll have to use higher swing speed and/or force to really pull off strength-based returns.
The Grip Size and Feel
The grip on this paddle is something called the Selkirk ThinGrip, which promises to be sweat-absorbent and textured for comfort.
It's 5.25 inches long with a circumference of 4.125 inches — a hair smaller than the average 4.25 inches.
This subtle difference is great news for players with smaller hands. However, if a thicker grip is required, overgrips work great on any paddle for a customized fit in your hand. This will also help you avoid blisters and calluses!!
The Core
The Selkirk Latitude Widebody Composite Pickleball Paddle has a "PowerCore" polymer core made up of loosely packed honeycombed O's.
This feature makes the paddle excellent for quiet play and maximum vibration absorption.
The response you get from this paddle complements the spin capabilities of the fiberglass face, "grabbing" onto the ball slightly longer before sending it spinning to the other side of the court.
Pros
fiberglass face achieves good balance between control and power
polymer honeycomb core absorbs vibration and noise
comfortable grip
generous surface area and sweet spot
Cons
might feel too lightweight to some players
grip is a bit smaller than standard
Not sure if this particular paddle is the right one for you? Take a look at the Upstreet Composite Pickleball Paddle and the Niupipo Composite Pickleball Paddle, each of which are GREAT offerings in this particular class! The Onix Composite Z5 Pickleball Paddle is another popular model! As is the Gamma Mirage Composite Pickleball Paddle!!
Conclusion
We hope this review was helpful in informing you on the ins and outs of the Selkirk Latitude Widebody Composite Pickleball Paddle. It's #3 on our 5 Best Composite Pickleball Paddles list, so it's a standout pick if you're in the market for a composite paddle.
The face, surface area, grip, weight, and core all go into different aspects of the paddle's performance. These aspects include spin ability as well as overall strength, two things that composite paddles are particularly known for. And finally, our pros and cons list puts it all in perspective.
Comments
Have you ever tried this paddle before? Do you like it compared to other paddles? Or is there something you would change about this paddle? Do you have any further questions or comments about our review?
We would love to hear from you! Every member of the pickleball community has a unique perspective that others can benefit from, so leave us a reply below and let's talk pickleball!