THE 5 BEST COMPOSITE PICKLEBALL PADDLES [*Ranked*] in 2020
Pickleball is one of the fastest growing sports in the U.S. The marketplace for pickleball paddles, as a result, has increasingly churned out a wide variety of options over the years. The benefit of having so many products to choose from is that there's something for everyone, for all playing styles and situations. The downside is that it can be overwhelming to know where to start. However, let this guide to the 5 Best Composite Pickleball Paddles of 2020 help you out!
As we kick off our series on the best composite paddles out there, we will first explain what "composite" means and why this type of paddle is so special. Then we'll go through in detail the 5 specific products that we consider to be the best in the composite category. Not familiar with all the different types of paddles? You can read up on our Pickleball Paddle Ultimate Guide to learn more!
Ready? Let's get right into our extensive guide on composite pickleball paddles!
The 5 Best Composite Pickleball Paddles — Overview
Please Note: This post contains affiliate links. An affiliate link means that we may earn advertising/referral fees if you make a purchase through our links.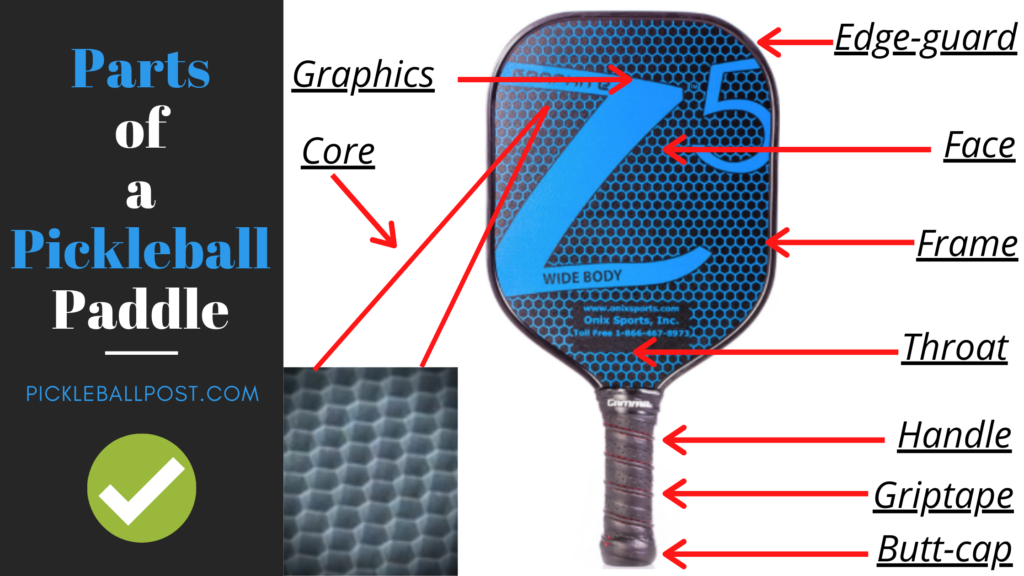 Different paddle surfaces achieve slightly different results on the court. Carbon fiber paddles, for example, are best for spin and control, whereas graphite paddles are best for powerful hits. Composite — or fiberglass — paddles strike a good balance between power and control. There's a very good reason for this, and that is because the textured surface of fiberglass makes it easier for a player to put a spin on their return.
The labels "composite" and "fiberglass" are often used interchangeably because "composite" simply means "made of more than one material," and the most common type of composite material is fiberglass, which is a glass fiber-reinforced plastic. Here at Pickleball Post, you'll see us refer to this type of paddle material using both names, but in this article we'll mostly stick to "composite"!
We'll be discussing the 5 best composite pickleball paddles on the market in 2020, ranked by us. This will include a comparison and contrast of all the factors that make them the best composite paddles, including their grip, weight, surface area, core, and more.
Without further ado, here are the 5 Best Composite Pickleball Paddles!
The 5 Best Composite Pickleball Paddles — Definitive List
Please Note: As an Amazon Associate, I earn from qualifying purchases.
5 Best Composite Pickleball Paddles — The Winner
The Face
The Upstreet pickleball paddle is our top pick for best composite paddle, but not for reasons you may expect.
The face of this paddle is actually made of high-quality graphite. It's the core that's made of composite materials — but more on that later.
The power of the core paired with the power of the graphite face make this an unbeatable racquet on the court, as graphite-face paddles are best for strength-oriented shots.
The Surface Area
Measuring 15.75 inches in length (including the 4.75-inch handle) and 7.75 inches in width, this is an average wide paddle. Wide paddles are the ideal size to create spin on your returns as well as for making plenty of sweet spot contact with the ball.
It isn't the widest paddle on the market, but that's a good thing. If it's too wide, even marginally, you can feel the subtle changes in your ability to control the paddle.
Too narrow, and it may be more difficult to hit the ball consistently on the paddle's sweet spot.
The Weight
At 8.6 ounces, this paddle has a meaty heft to it compared to most of the other paddles we've discussed thus far on this website, including the ones you'll read about further down on this list. But — for a powerful, graphite-face/composite core paddle — this extra weight will definitely work in your favor.

For one, you'll find that your swing speed won't need to be so fast because this paddle does most of the work for you.
Another great thing about heavy weight paddles is that it absorbs a lot more vibration and noise than medium weight paddles do. Thus, it's easier on your joints and quieter on the court.
The Grip Size and Feel
The handle — or grip — is another important factor to consider when buying a new pickleball paddle. The Upstreet pickleball paddle has a grip that is 4.75 inches long and has a circumference of 4.25 inches, the standard.
This size fits most players, but if you find yourself needing a bigger grip, there are such things called "overgrips" that are specifically designed to go over the original handle so that it fits your hand better.
In regards to grip material, it's made of something the company calls "Micro-Dry Comfort Grip," which features a sweat-absorbent, perforated texture meant to fit snugly in the hand.
The Core
The heart — or core — of this paddle is the reason we've chosen it as our top pick.
The paddle's proprietary "polypro honeycomb composite core" blends different synthetic polymers, resulting in a powerful, responsive composite core.
This is what puts it a cut above our other picks in this list, whose cores are mostly composed of a single kind of polymer.
5 Best Composite Pickleball Paddles — Runner Up
The Face
Our second place pick is by a brand we've previously praised in our 5 Best Graphite Pickleball Paddles Review. Unsurprisingly, Niupipo's composite paddle is also top-notch: using spin techniques with the textured fiberglass face allows you to "grab" onto the ball for a fraction of a second longer than a normal hit.
The slight "grab" subtly changes the ball's spin direction as it's returned to your opponent's side of the court.
This feature works in tandem with the paddle's core, which we will discuss shortly.
The Surface Area
Surface area is another important factor when judging a paddle's potential performance.
This paddle measures 15.5 inches in length by 7.85 inches in width, making it a standard wide paddle.
These kinds of paddles are the usual size you'll find at most pickleball facilities and equipment stores, as they are considered the ideal shape for maximum maneuverability and sweet spot.
The Weight
At 8 ounces, this paddle falls in the middle of the medium weight range.
Paddles of this weight category are just light enough that they're comfortable for long periods of play but heavy enough that you don't lose too much power in your hits.
It's great to have a medium weight composite paddle because it gives you a good combination of power and control.
The Grip Size and Feel
The grip on this paddle is 4.8 inches in length and 4.5 inches in circumference. This circumference is slightly thicker than the standard 4.25 inches, but it's a pretty negligible difference.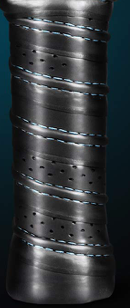 In the event that it's too big, you will need to switch to a paddle with a smaller grip. But if you have the opposite problem, you can add 1/16th-inch thick overgrips that mold to the original grip.
Furthermore, the perforated and stitched pattern on this grip is cushioned and sweat-absorbent, so that your hand remains as comfortable as possible.
The Core
As we mentioned before, the fiberglass face contributes to the "bite" of this paddle, but what about the core? This paddle's honeycombed polymer core is designed to absorb impact, both vibration and sound.
What this also means is that it's more absorbent as opposed to responsive.
This adds even more "grab" to every hit, which is what every player looking for spin capabilities wants.
5 Best Composite Pickleball Paddles — Third Place
The Face
In third place is the Selkirk Latitude Widebody Composite pickleball paddle. This is a versatile paddle that works well in the hands of beginners as well as more advanced players.
It competently executes both powerful shots as well as spin shots, thanks to the textured "Polyflex composite" face of this paddle, uniquely designed for spinning in the game of pickleball.
Be sure to take advantage of this feature, since it might make the difference between winning and losing in certain games.
The Surface Area
In order to pull off successful spin shots, however, the paddle must possess the right amount of surface area. The Selkirk Latitude Widebody Composite paddle fits the bill, measuring 15.65 inches in length by 8.25 inches in width.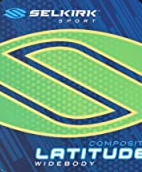 These dimensions, as the name of this product indicates, make it a widebody paddle.
This category is the preferred size for most players, because it ensures a generous sweet spot on the face while not being unwieldy on the court.
The Weight
This paddle has a variable weight that ranges anywhere from 6.9 to 7.5 ounces.
This puts it on the lightweight to medium weight range when compared to other paddles.
Light paddles like this one allow for maximum maneuverability and preserve energy over extended matches, but you might find that it sacrifices a bit of power in the process.
The Grip Size and Feel
The cushioned Selkirk "ThinGrip" promises good control and moisture-wicking technology.
It measures 5.25 inches long, with a circumference of 4.125 inches, which is a hair smaller than the average of 4.25 inches.
This difference is great news for players who tend to need smaller-than-standard grips.
But if you need a thicker grip, overgrips will work perfectly on any paddle so that it fits your hand.
The Core
The "PowerCore" polymer core of this paddle guarantees the best in quiet, impact-absorbent play. The loose O's of the honeycomb pattern are the main reason why.
Like the core of the Niupipo composite paddle, the absorbent core of the Selkirk Latitude Widebody Composite paddle adds a little extra "hold" to the ball, making spin techniques easier.
5 Best Composite Pickleball Paddles — Honorable Mention
The Face
Our next pick is the Gamma Mirage pickleball paddle, which — in addition to coming in a variety of aesthetically pleasing designs — is a solid composite paddle.
The textured composite face, bordered with a low-profile edgeguard, makes hits come off exactly as the player intends, whether they be spin or power shots.
The weight and surface area also influence the paddle's performance of these types of hits, and we'll go over how so below.
The Surface Area
With a 16-inch length (with the handle) and 8-inch width, this paddle fits the dimensions of a typical wide paddle.
This means that it's got plenty of surface area to pull off spin techniques as well as power shots.
Furthermore, the paddle has a generous sweet spot that complements the spin-oriented composite face.
The Weight
Compared to our third place paddle, the Gamma Mirage has quite a bit more heft to it, weighing in at a full 8 ounces, putting it solidly in medium weight territory.

Practically, this means that it's a better balance between control and power — light enough to use wrist-flicking spin techniques but heavy enough that strength-focused shots come off fairly easily, without the player having to increase the force of their swing too much.
The Grip Size and Feel
The grip on this product measures 4.25 inches long and 4 ⅛ inches in circumference, making it just shy of fitting the average player (the standard grip circumference is 4.25 inches).
However, having a smaller grip than desired is usually better than having a grip that's too large since overgrips only work to make a grip bigger, while nothing can make a grip smaller.
Moreover, the cushioned grip has a textured honeycomb pattern for added comfort for your fingers when finding their position on the handle.
The Core
This paddle sports a core the company calls "Sensa Poly Core technology." Despite the fancy name, you may have heard of this type of core before: it's a honeycombed polymer core, which is the preferred core for quiet play.
In fact, the pattern is designed to absorb vibration as well as noise, so tennis elbow should be less of a worry when playing with this racquet.
5 Best Composite Pickleball Paddles — Honorable Mention
The Face
Last but not least, it's our final pick for this list of top 5 best composite pickleball paddles: the Onix Composite Z5.
The composite face on this paddle, like the previous paddles discussed in this review, has a roughened texture that gives players a good spin.
At the same time, it's a great all-around paddle, so old-fashioned power shots come off this paddle perfectly well.
The Surface Area
At 18 inches by 8 inches, this oversized paddle packs a very generous sweet spot into its surface area.
Typical paddles are around 16 by 8 inches, so the extra space on this paddle adds a little extra weight (more on this later) and makes it especially good for power hits.
Because of its increased size, beginners might find that they prefer the increased ease with which they can hit the ball using this paddle. But players of all skill levels can benefit from this paddle in their own way.
The Weight
Remember the added length we mentioned in the previous section? Turns out that it also means added weight. This 8.4 to 8.7-ounce paddle is solidly in the heavyweight category.
Heavy paddles are usually selected by players who want more power and/or to avoid the symptoms of tennis elbow.
Of course, heavier paddles absorb more of the impact that would otherwise transfer to a player's joints, but instead swing fatigue becomes a potential issue.
The Grip Size and Feel
The Onix Composite Z5 has a 4.5-inch long handle with a typical circumference of 4.25 inches, which is the standard grip size.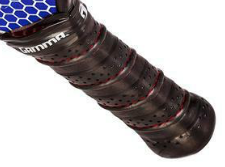 So the circumference shouldn't be a problem for most players, but if you do require a bigger grip, putting on 1/16th-inch thick overgrips will enlarge the original grip.
The grip is sweat-absorbent and cushioned for maximum comfort during play.
The Core
The honeycombed nomex core of this paddle offers a great amount of "pop" with every return.
Nomex cores are known to be louder than polymer cores, since the nomex patterns tend to feature more tightly packed O's.
Because of this, the Onix Composite Z5 is also more responsive and power-oriented when compared to the other composite paddles on this list.
Frequently Asked Questions
What Level of Player are Composite Paddles Best Suited?
Composite paddles are best for intermediate to advanced players. This is simply because — since composite paddles offer a good balance of power and spin — players who master spin techniques tend to be more advanced.
Granted, of course there will be certain composite paddles that are especially suited to beginners, as well as certain beginners that prefer composite paddles. For example, the Onix Composite Z5 paddle, our second honorable mention, is an oversized composite paddle oriented towards power shots. Beginners might like this paddle for its enlarged sweet spot. Then again, beginners might not like the fact that it's on the heavy side.
The market for paddles is too saturated for us to generalize paddle material and player level, so keep in mind that it tends to be down to individual preference.
Why Would I Choose a Composite Paddle over Graphite or Carbon Fiber?
If you're a player that loves freedom of choice — between spinning and hitting with power — we recommend a composite paddle.
The textured fiberglass face lends itself beautifully to spin techniques, while being rigid enough to execute powerful hits. It's up to you when you want to do either of these while squaring off against your opponent.
If you're looking for a spin-oriented paddle, check out our list of the 5 Best Pickleball Paddles for Spin! On the other hand, if you're looking for a power-oriented paddle, we recently published our list of the 5 Best Graphite Pickleball Paddles! There's something out there for everyone, and we hope you find your perfect match.
Are Composite Paddles Better for Spin or Power?
Composite paddles strike an equal balance between spin and power. That's what makes it so great — instead of having to compromise spin or power, this paddle gives you the chance to have both at your fingertips!
Spin-speciality paddles tend to be made of carbon fiber, while power-focused ones are usually graphite face paddles.
Are Composite Paddles Durable?
Any good quality paddle — no matter the material it's made of — can last a long time, as long as it is properly maintained. That said, carbon fiber paddles are generally the most durable, but there's no reason your high-quality composite shouldn't last just as long.
So that begs the question: What should you do to prolong the life of your paddle? For one, you should keep it out of the sun, as UV rays gradually damage a paddle's construction — especially polymer core paddles. An easy way to take care of this problem is by storing your paddle in a case whenever it's not in use, especially before and after outdoor play.
Our first and second place picks — the Upstreet and Niupipo paddles — both come with protective neoprene covers for convenient storing when not in use!
Some paddles are coated with a special UV protective covering. But out of an abundance of caution, protect your investment by limiting its exposure to sunlight.
Another element that might compromise the integrity of your paddle is moisture. If the paddle face gets wet and doesn't dry completely, it could result in dead spots (the opposite of a sweet spot). And it's a given, but try not to play outside when it's raining.
Can I use my Composite Paddle Outdoors?
The simple answer is yes! As we cautioned in our previous answer, however, most paddles are not meant to withstand prolonged exposure to outdoor elements like sunlight and rain. So if you play outdoors, keep it in a case when it's not in use.
At certain facilities, both indoor and outdoor, there may be noise restrictions that require your paddle to be "Green Zone"-approved. These usually comprise quieter polymer-core paddles, but just double check that whatever product you want to buy is compliant.
Are Composite Paddles Loud?
It isn't the face material that determines loudness as much as it is the core material. Polymer cores — like the cores of the Upstreet, Niupipo, Selkirk Latitude Widebody, and Gamma Mirage pickleball paddles discussed in this guide — tend to be quietest. Wood, aluminum, and nomex core paddles — such as the Onix Composite Z5 — are louder.
What's the Difference Between Composite and Fiberglass Paddles?
As we explained in the intro, the names "composite" and "fiberglass" are often used interchangeably to refer to the same type of paddle material. This is because fiberglass is a kind of composite material — made of glass fibers interwoven in plastic — but not all composite materials are necessarily fiberglass. "Composite" is simply a catch-all term — usually referring to the paddle face — to describe materials made of more than one component. In the case of fiberglass, it's plastic and glass.
Are Composite Paddles Good for Players with Wrist or Elbow Issues?
It's the core rather than surface material that determines the proportion of impact that is absorbed by the paddle versus your arm. Honeycombed polymer cores tend to work best at reducing vibration, and most of the composite paddles discussed above have this kind of core.
If you suffer from conditions like tennis elbow or arthritis, it can be difficult to find a comfortable paddle. Lighter paddles are best for people with arthritis, while medium weight paddles are better suited for players with tennis elbow. However, it ultimately comes down to the individual player, who might decide that a medium weight paddle is more comfortable despite having arthritis, for instance.
In addition to weight, the grip must also feel comfortable when playing with these conditions. The more traction and cushion you have, the easier it'll be to stay in your hand with a relatively loose grip while absorbing as much shock as possible.
If possible, try out the different weights and grips of the paddles at your local pickleball facility — most should offer paddles you can borrow. Judging by your comfort level with those, you'll be in a better position to choose a paddle that works for you.
Are Composite Paddles Better for Playing Singles or Doubles?
We think it's great for both singles and doubles. Because composite paddles give you such a good balance of spin ability and power, you can really choose your playing style as you go. Composite paddles are the most versatile when it comes to adjusting between the unique challenges of singles versus doubles games.
In singles matches, players tend to win by smash hits — something composite paddles can do very well. Doubles games, on the other hand, tend to last longer, so it isn't so much the paddle material that will determine a winner but perhaps the team using the lighter paddles, as they'll be more likely to outlast their opponents. We mentioned a particularly light paddle above — the Selkirk Latitude Widebody Composite — that will work especially well in doubles games.
Conclusion
You've made it to the end of our extensive guide on the 5 best composite pickleball paddles of 2020! If you're in the market for a composite pickleball paddle, we hope we helped in narrowing down your options at least a little bit.
To sum up, we discussed the face material, surface area, weight, grip, and core of each paddle, as well as how each factor affects its performance. We talked about what makes composite paddles a compromise between carbon fiber and graphite paddles — a balance between control and power. We also compared some of these products to each other, ultimately leaving it up to you to decide which features are important depending on your style of play and other preferences. Lastly we addressed some frequently asked questions that people have about composite paddles.
Comments
Now that you've read about our picks, what are yours? Do you have a hierarchy of preferred paddles, composite or otherwise? If you own any of the paddles we mentioned, what are your thoughts on them? Is there a composite paddle we missed that you think deserves to be on this list?
Or, if you have more information regarding one of the FAQs, what would you add to our responses?
We love hearing from our friends in the pickleball community, as we believe that everyone has something valuable to offer to their fellow players. Leave a comment below and we'll get back to you as soon as we can. Have a ball, and stay safe out there on the court!